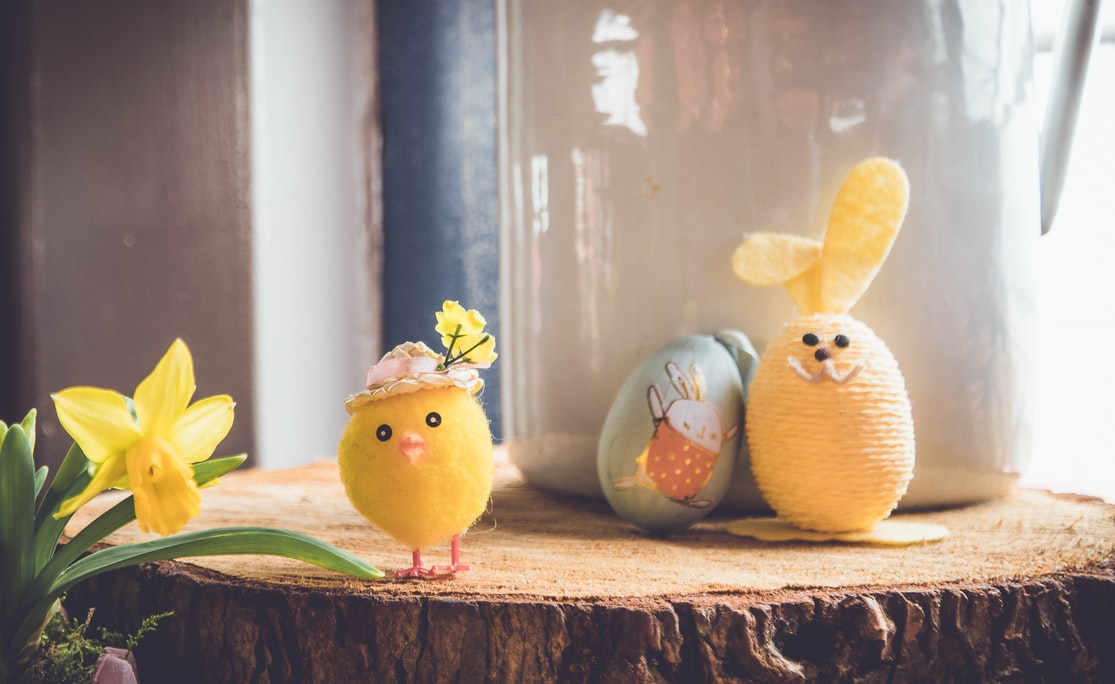 [Click Here To Go Back To Page 2]
…
G
Spring Floral Displays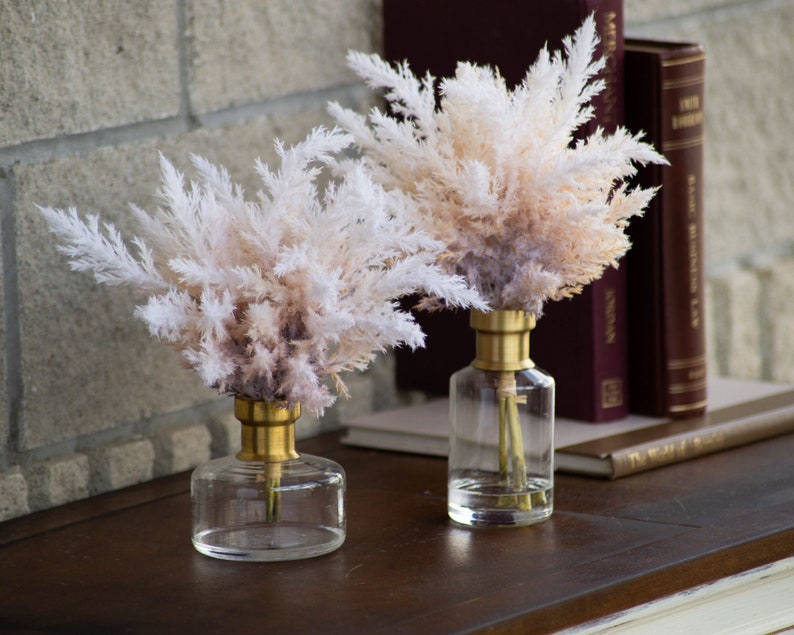 [148] Ombre Pampas Grass Arrangement is the perfect statement piece for your kitchen, dining room, office, or any space that needs a little life this Spring..
---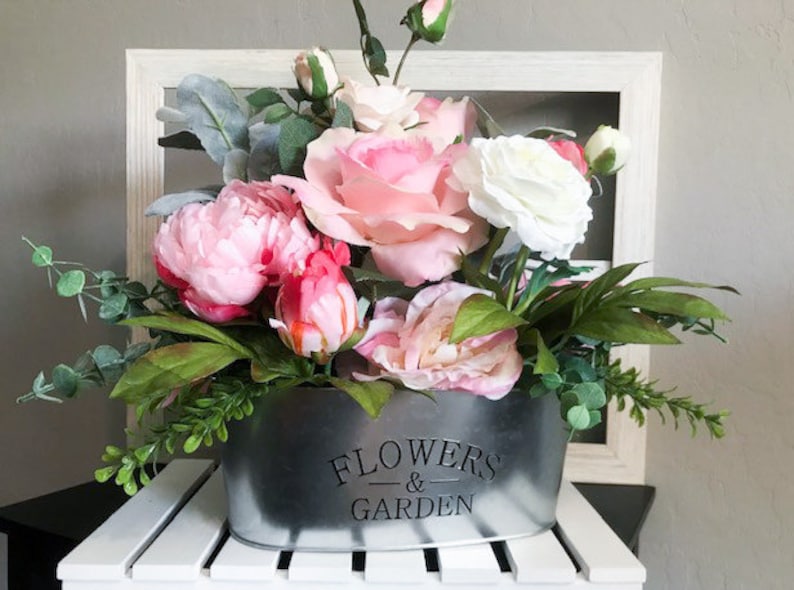 [149] This arrangement is made in a gorgeous color palette of blush, light pinks white and different shades of greens..
---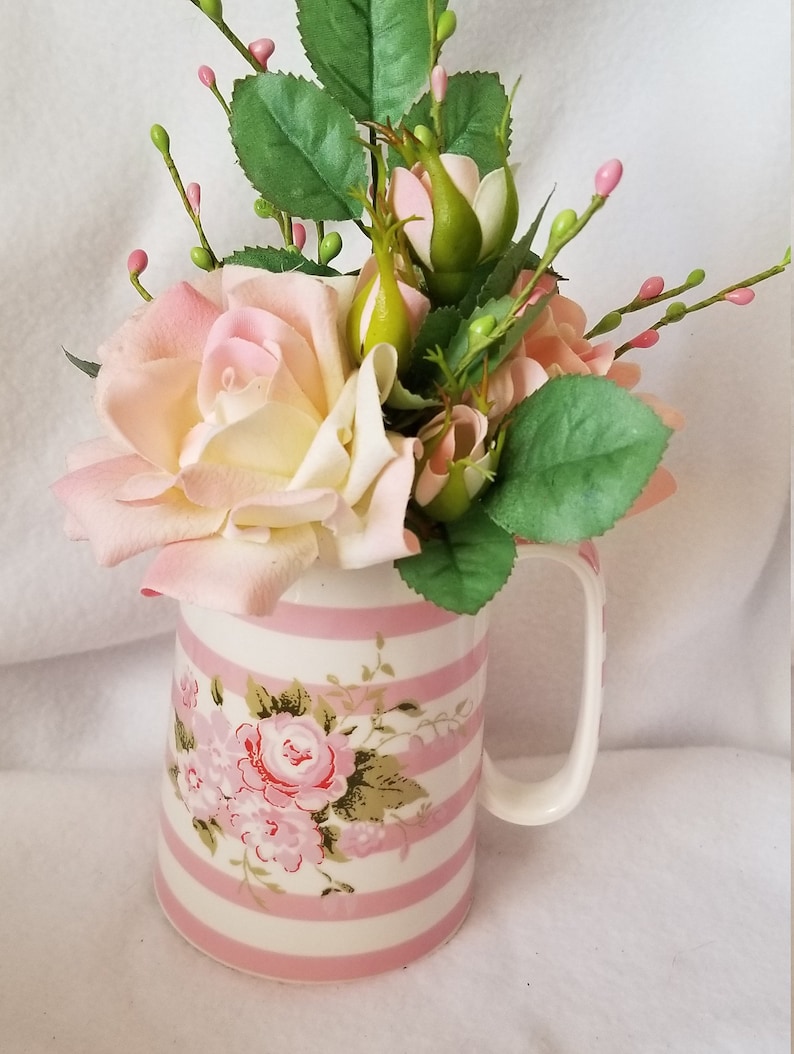 [150] Pink Ceramic Pitcher with Silk Spring Floral Arrangement..
---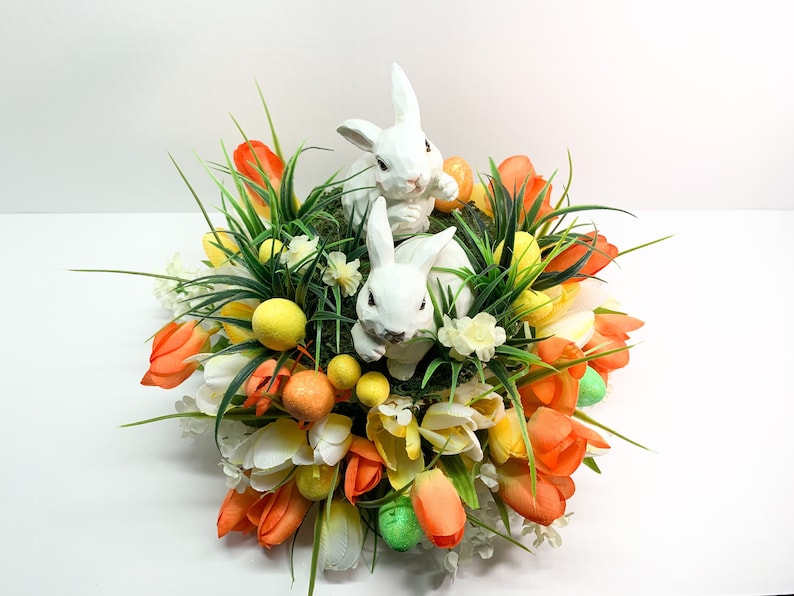 [151] This centerpiece comes with 2 white bunnies sitting on a base of grass surrounded by beautiful orange and yellow tulips and Easter eggs..
---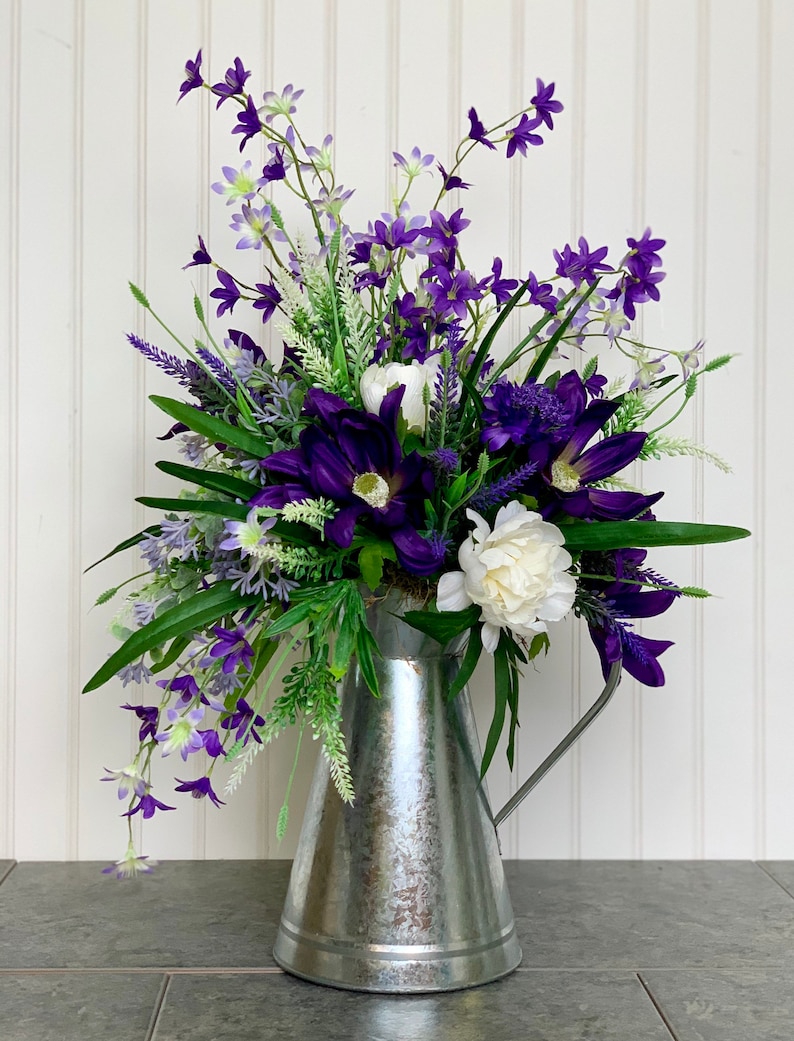 [152] Full of gorgeous shades of purple flowers, brilliant whites, and vibrant spring foliage in a delightful farmhouse loose bouquet style..
---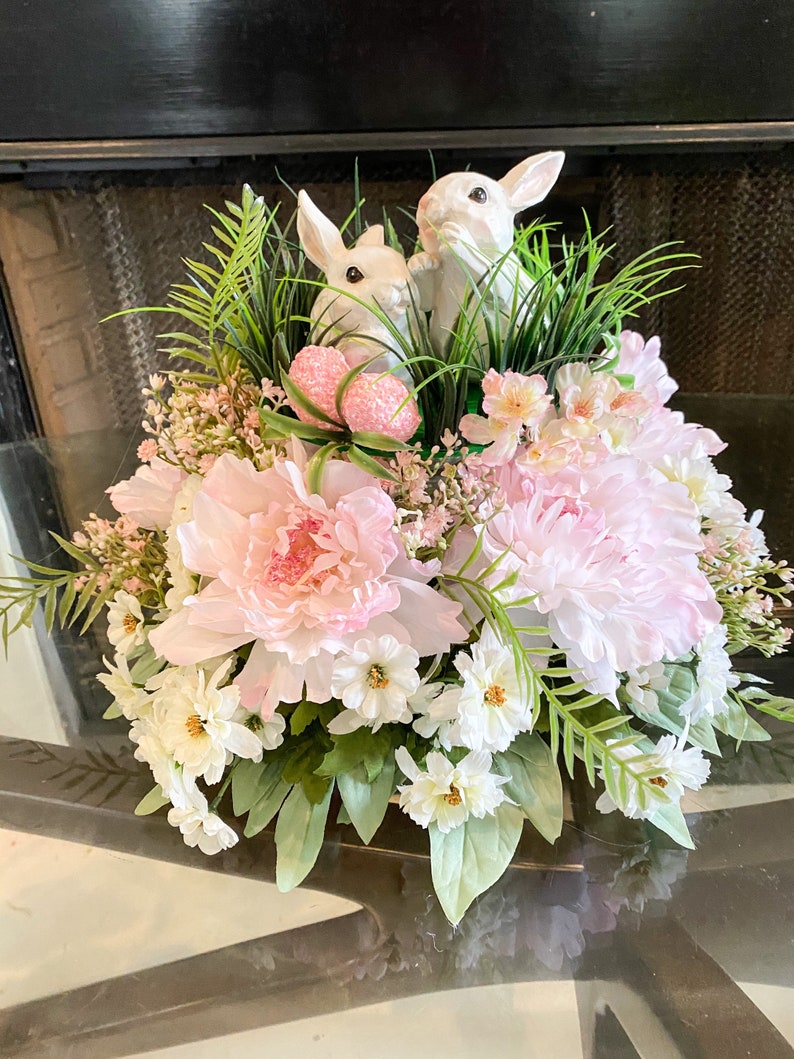 [153] 2 white bunnies sitting on a base of grass surrounded by beautiful light pink peonies, white florals and Easter eggs..
---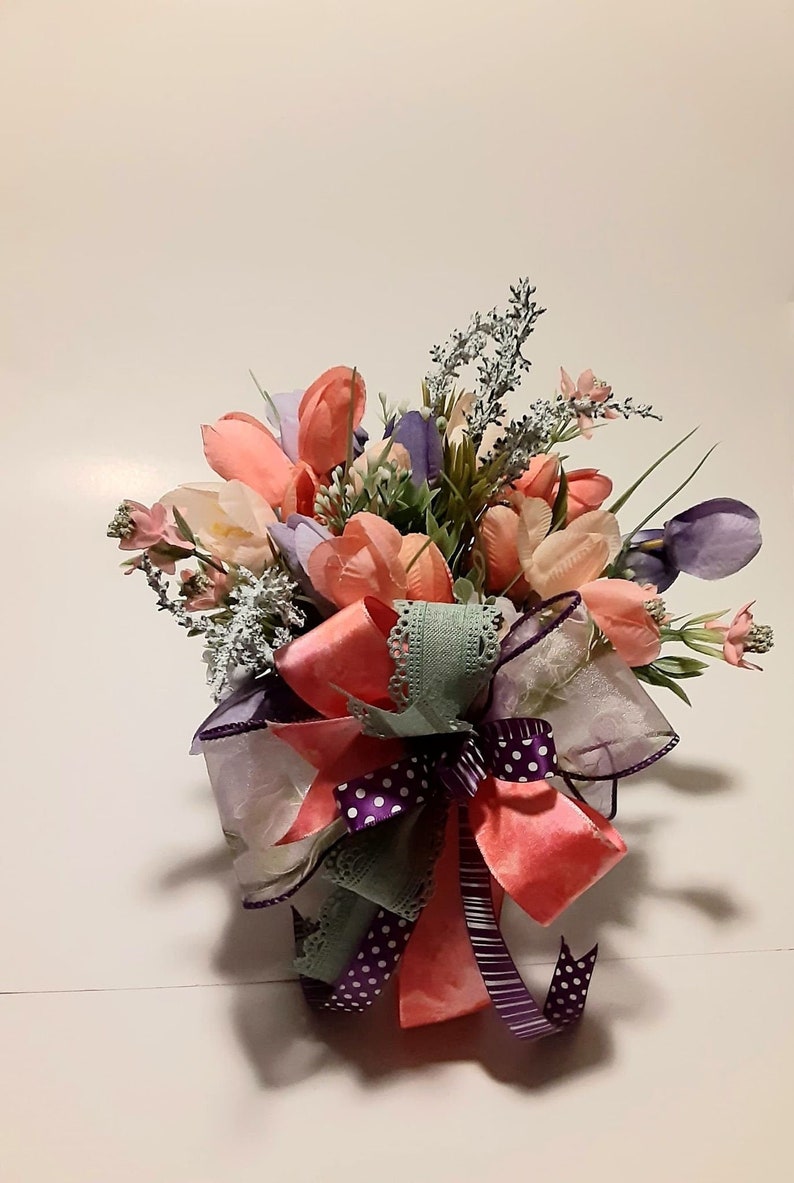 [154] Purple and different shades of peach tulips in a purple glitter container..
---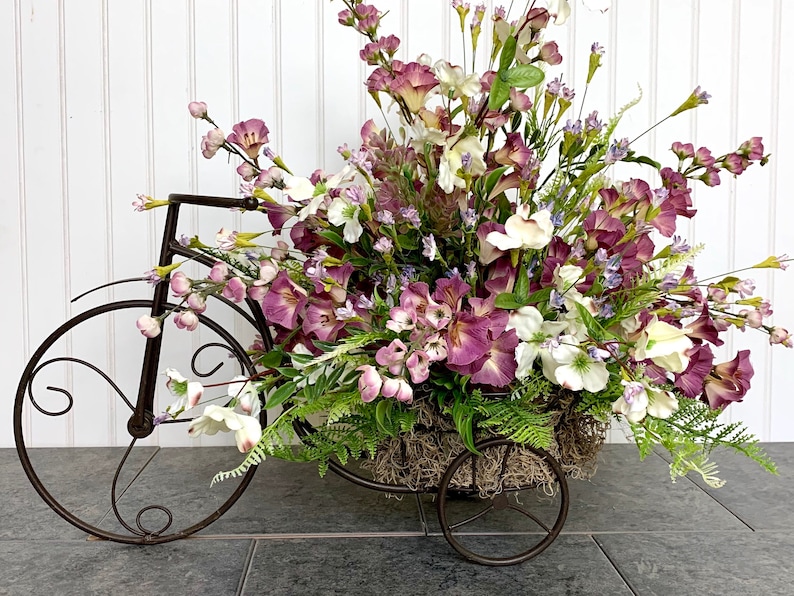 [155] This beautiful Spring floral arrangement will be that perfect accent to brighten any spot – entry table, kitchen counter, or fireplace..
---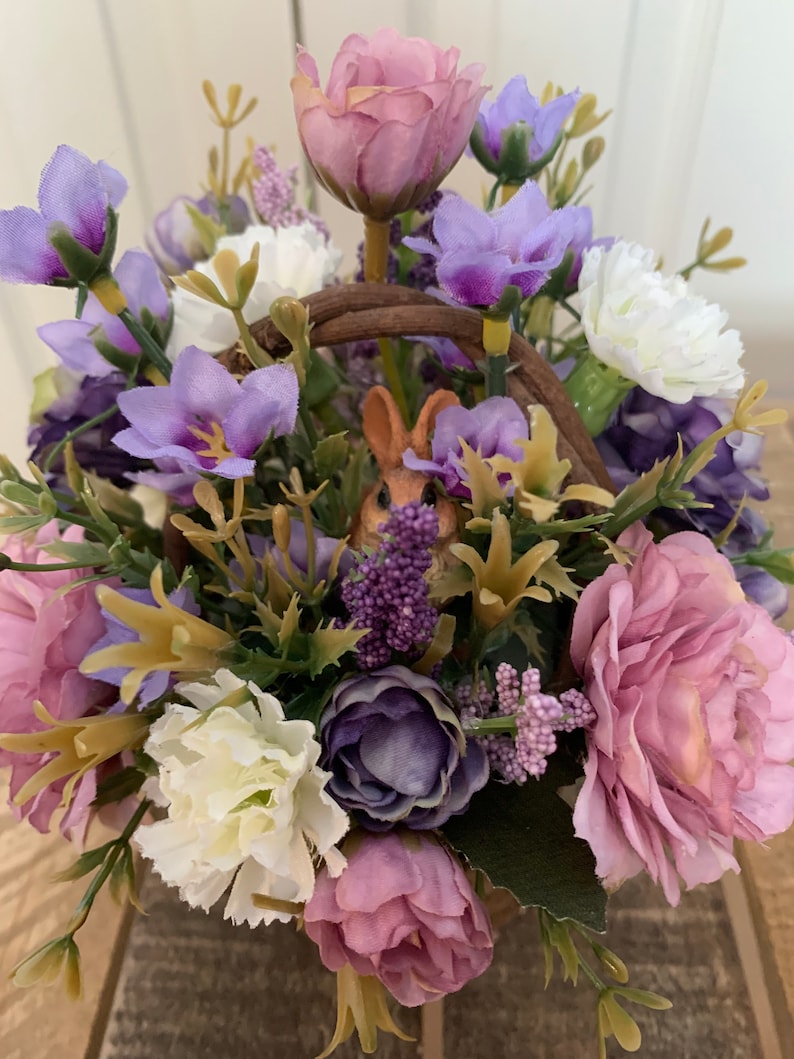 [156] In the center of the arrangement is a little brown bunny. He is hiding among the flowers (a perfect little touch of whimsy!)..
---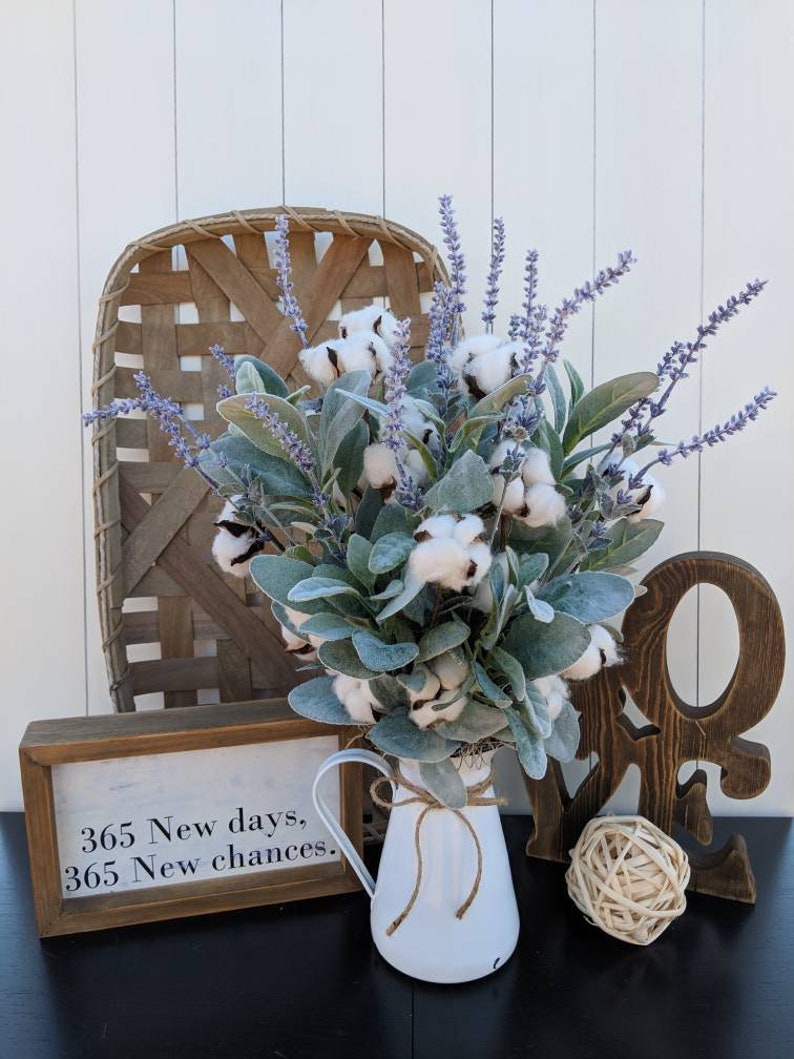 [157] This beautiful arrangement has everything farmhouse all rolled up in it's lovely rustic, white enamel metal pitcher..
---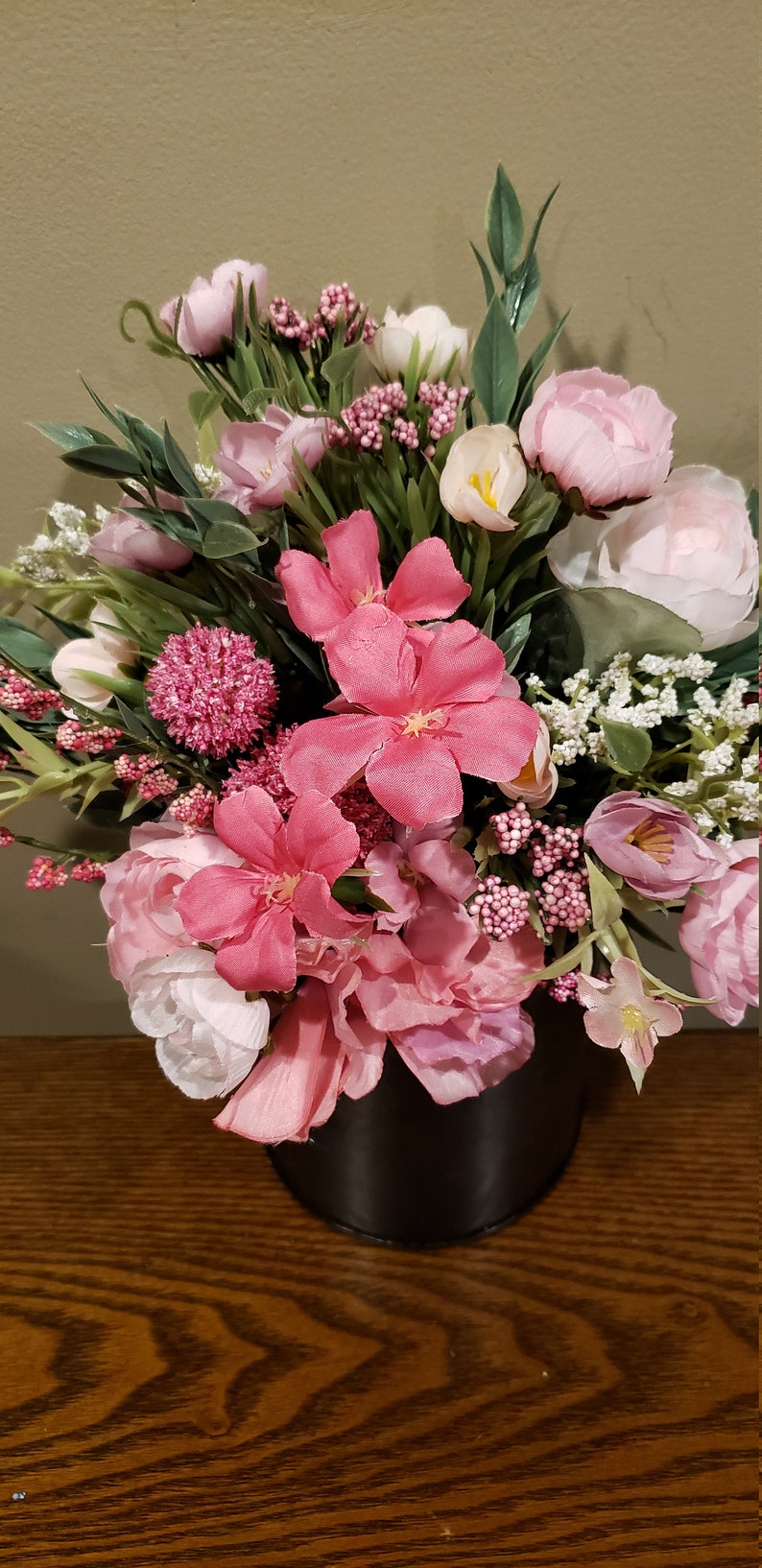 [158] Pink hued Spring florals in a small galvanized wall/table container. Versatile piece for small spaces..
---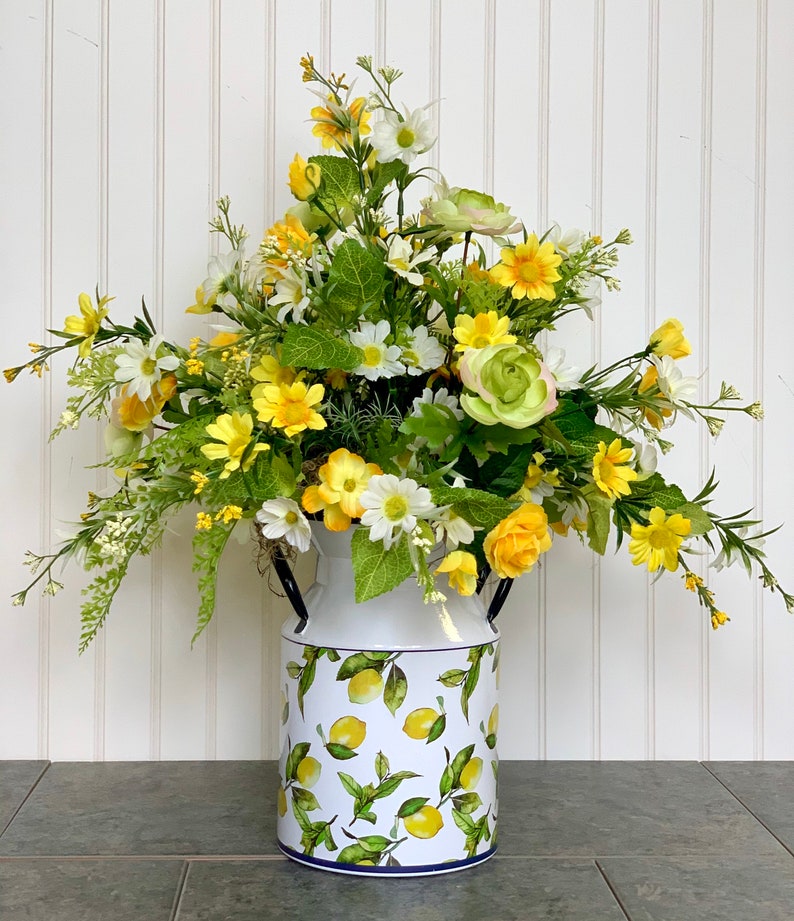 [159] The base is a shiny metal farmhouse style bucket with a lemon motif – the perfect setting for the lovely bouquet of "just-picked" yellow and white spring flowers and full assortment of pretty spring foliage..
---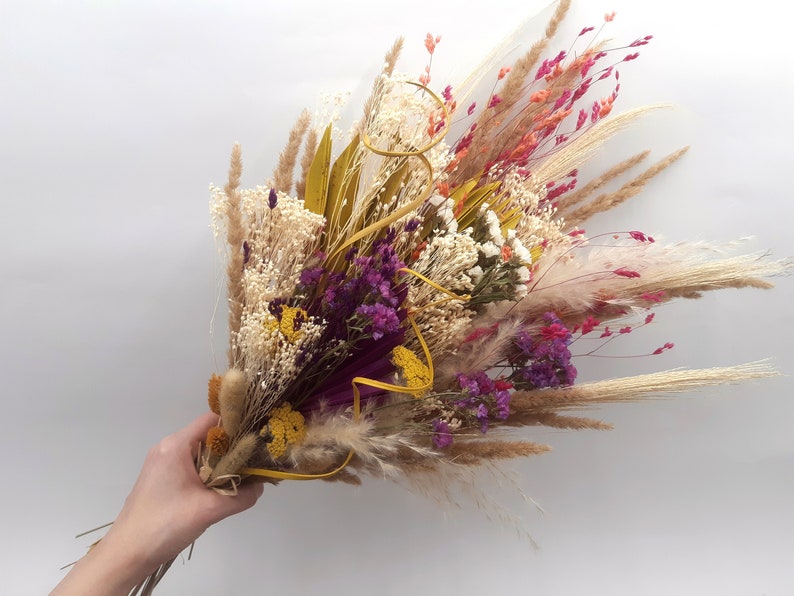 [160] This colorful bouquet is made of natural palm leaves, Statice flowers, Pampas grass and many other different flowers and grasses..
---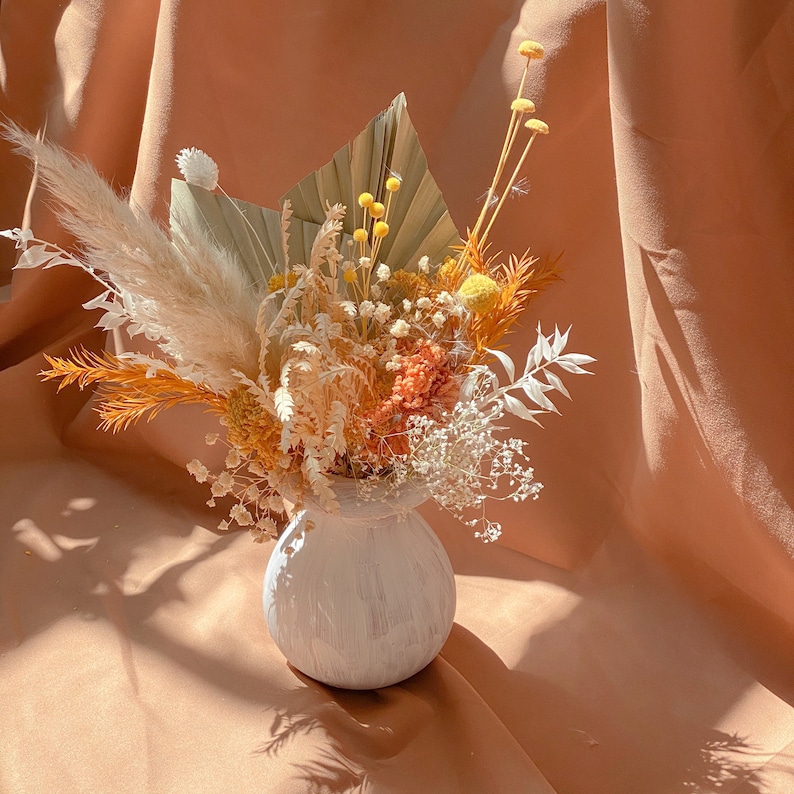 [161] Pampas Grass Dried Palm Spear Floral Vase Arrangment..
---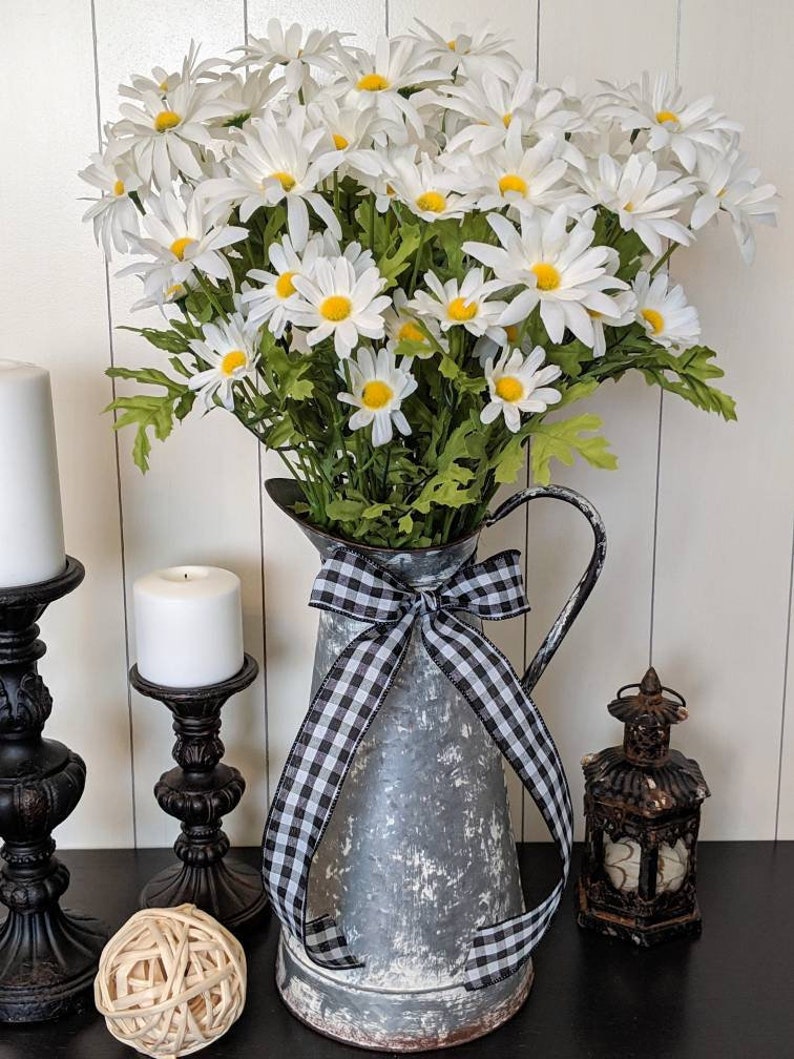 [162] Daisy floral arrangement, farmhouse arrangement..
---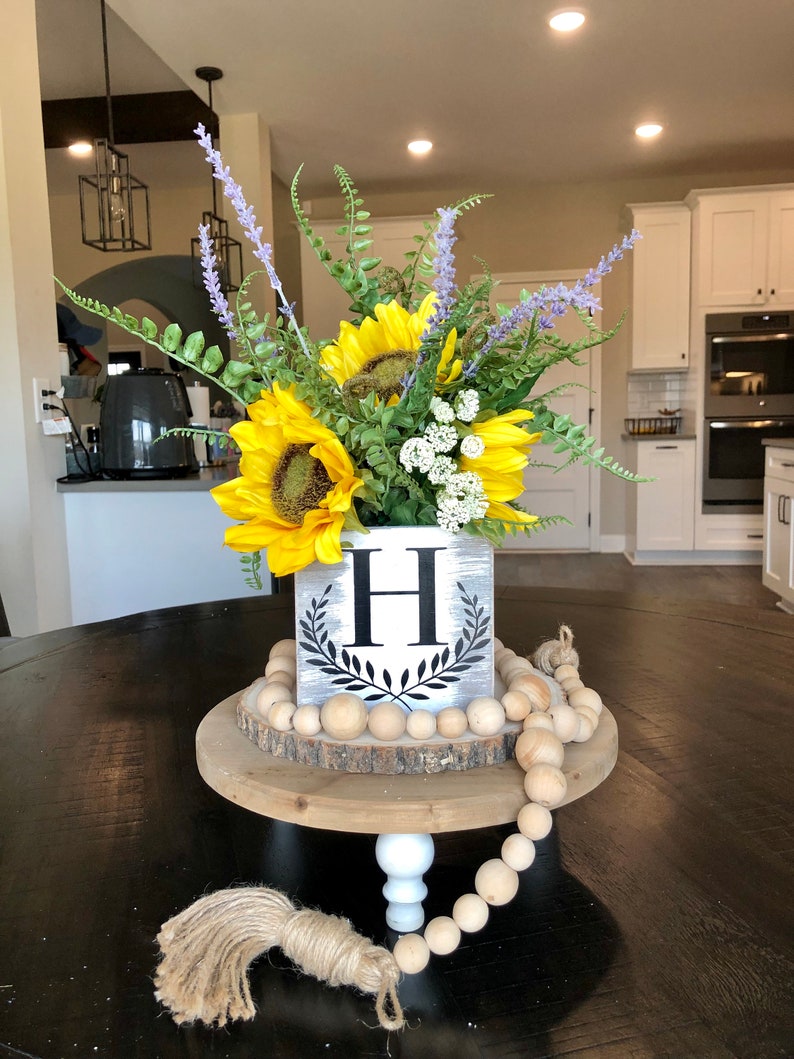 [163] Fill your home this spring season with the forever bright sunflower unit..
---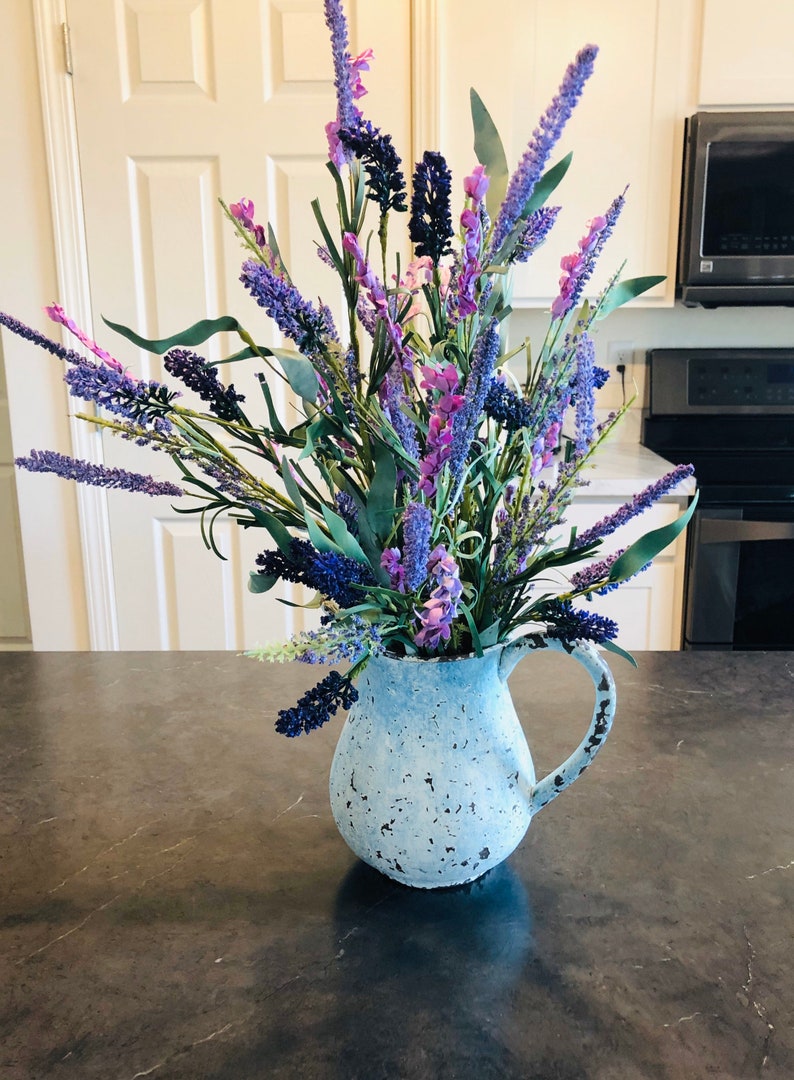 [164] This farmhouse, everyday arrangement is made in a rustic light blue tin pitcher and is full of a variety of shades of purple flowers..
---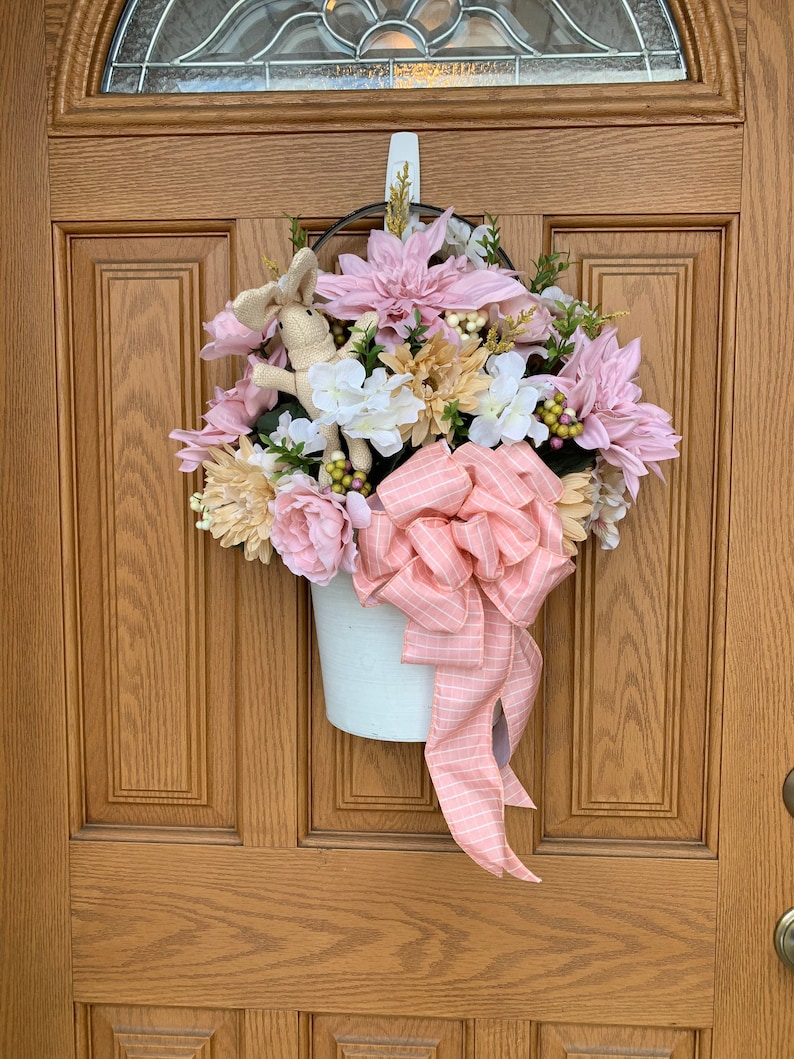 [165] This floral arrangement is loaded with artificial flowers, berries, greenery and of course, a little cream colored bunny..
---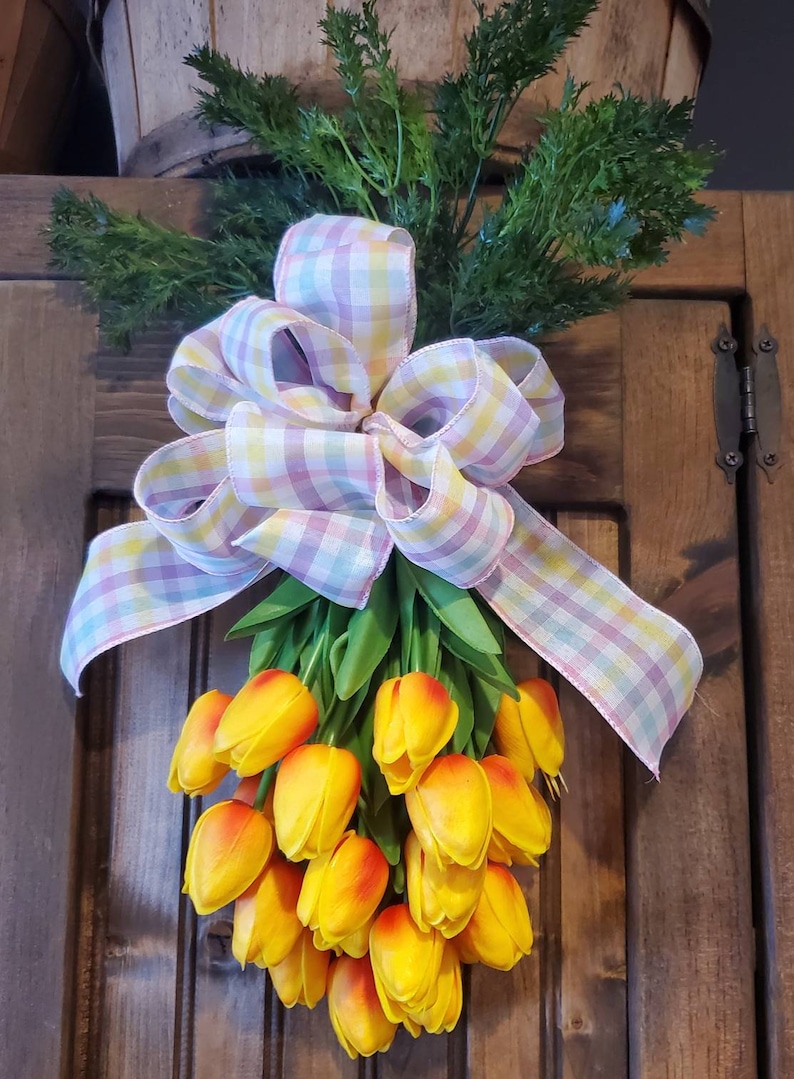 [166] Faux orange/yellow tulips with faux carrot greens tied together with a beautiful spring bow..
---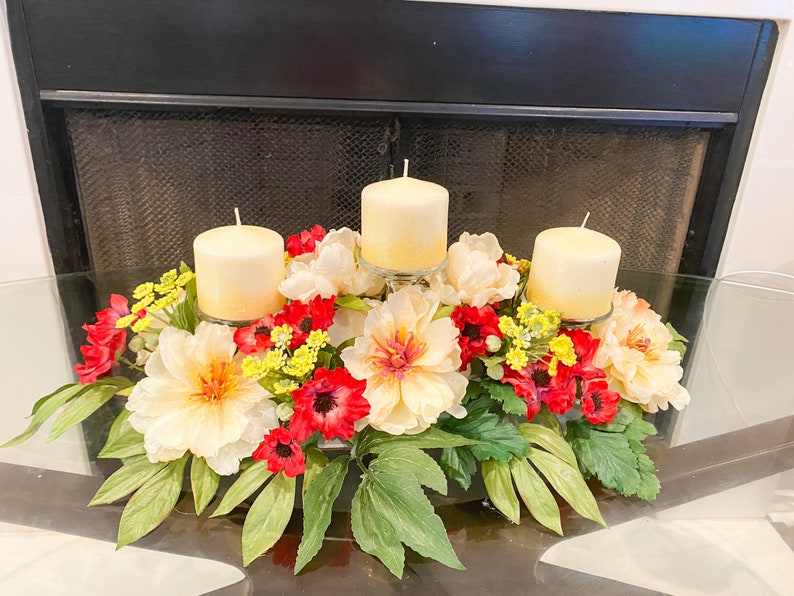 [167] This beautiful spring centerpiece is loaded with yellow peonies, red florals and loads of greenery..
---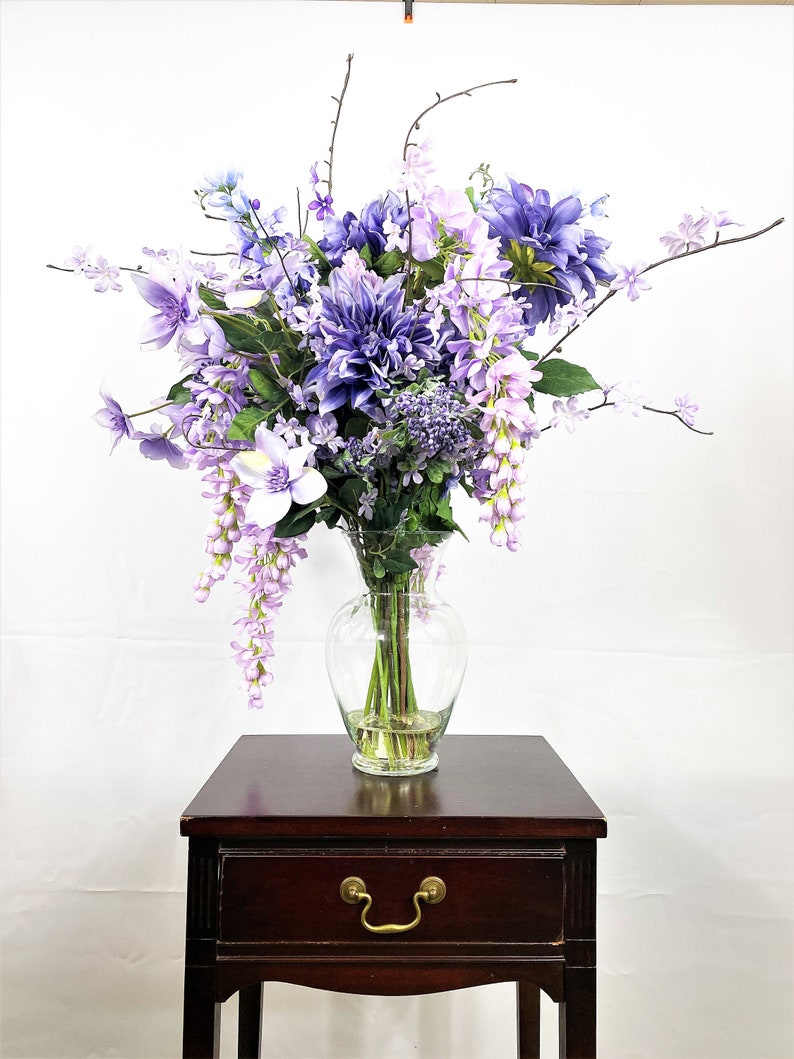 [168] This beautiful wisteria flower arrangement will add a touch of elegance to your décor..
---
…
H
Spring Bunny Decor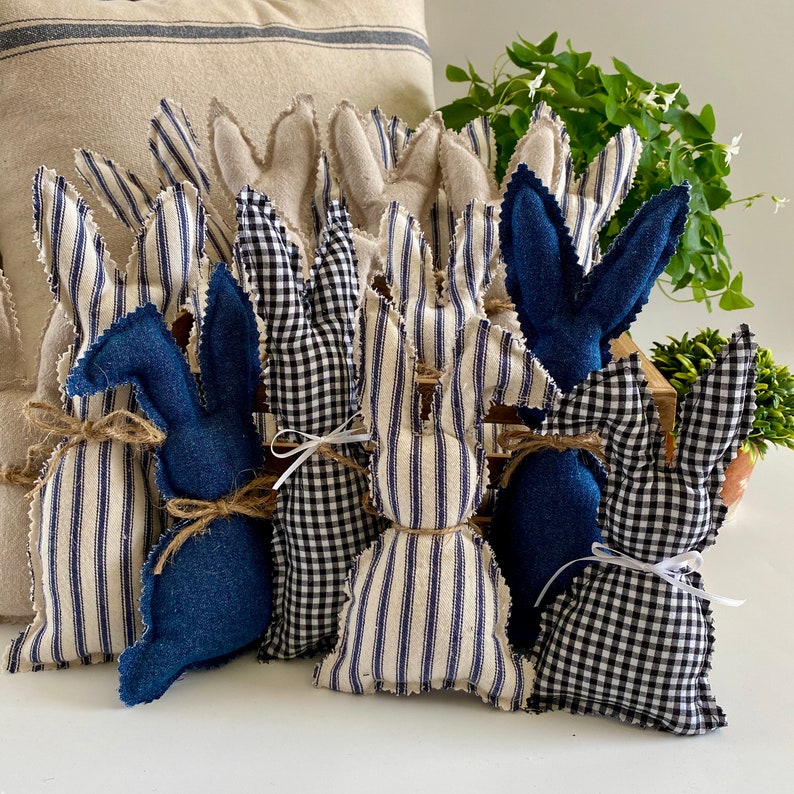 [169] Sweet bunnies are a perfect addition to your Easter decor. Use them in baskets, displays or in our mini crates with wooden carrots..
---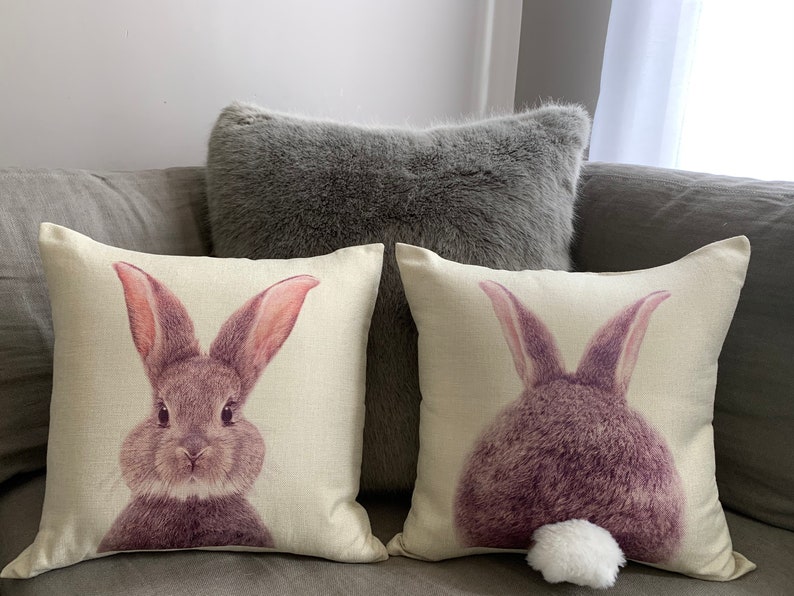 [170] Your bunny tail decor never looked so fluffy..
---
[171] This mini farmhouse sign is the perfect size to accent your coffee bar, a tiered tray, a shelf, etc..
---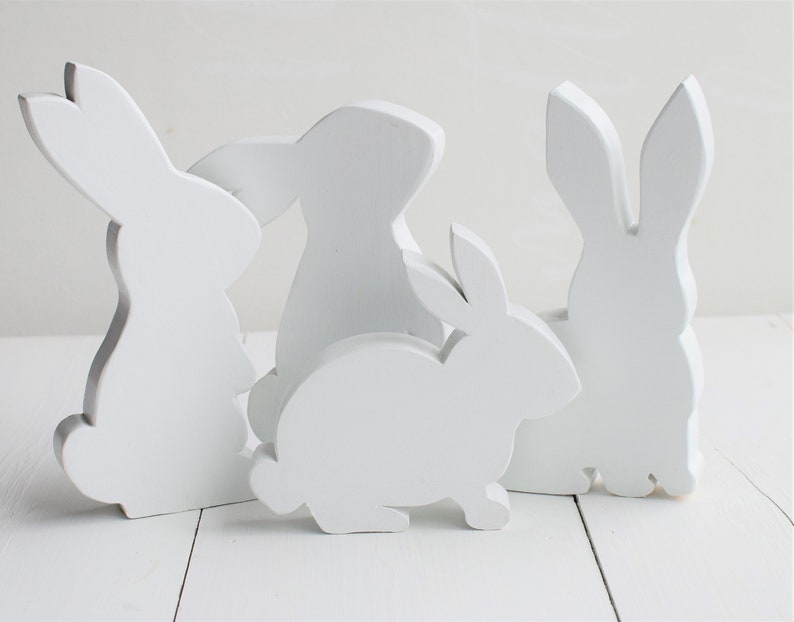 [172] Wooden Easter bunny decor for your table and shelves..
---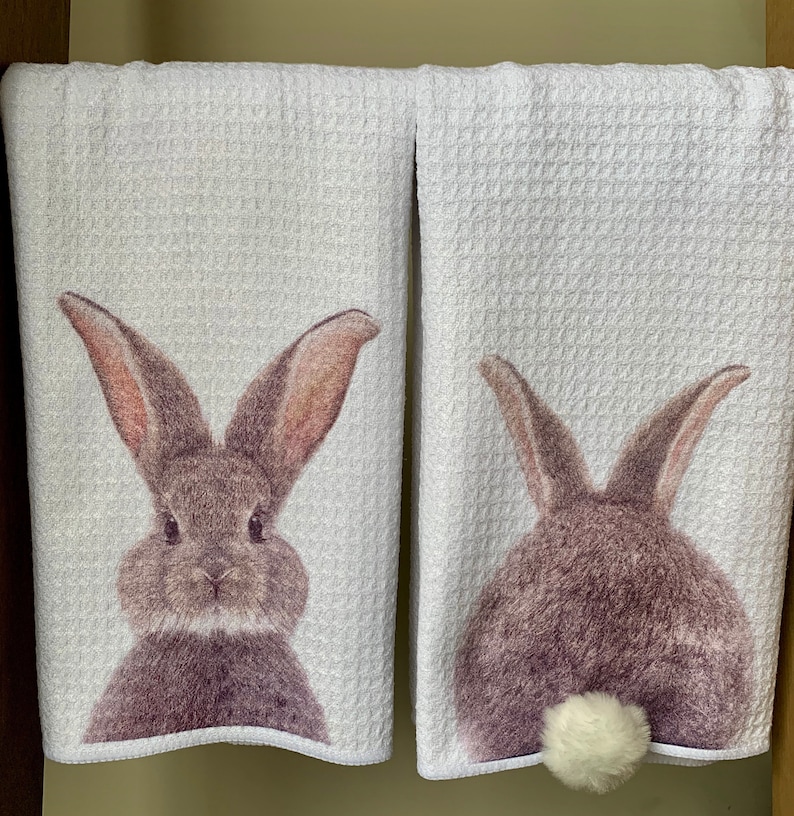 [173] Easter bunny towel with face and butt..
---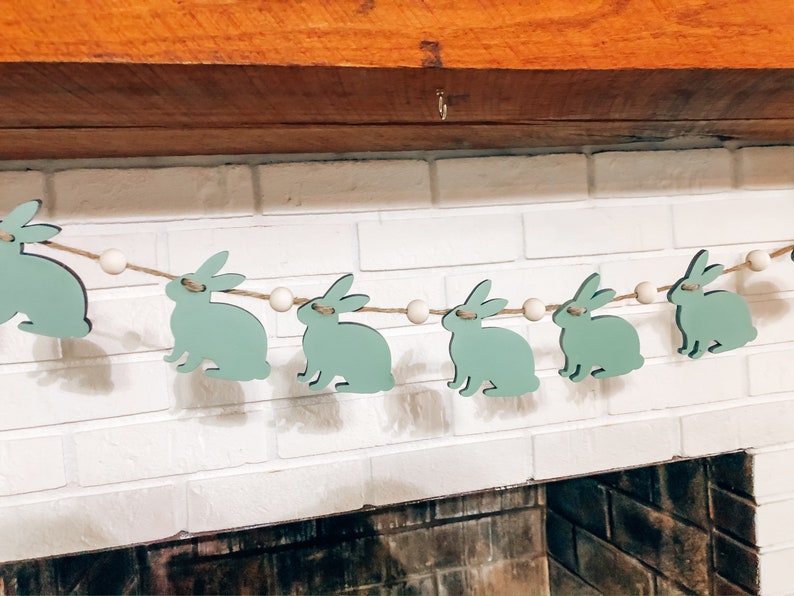 [174] This wooden bunny garland is perfect for Easter time but also can be used in a nursery or for a baby shower..
---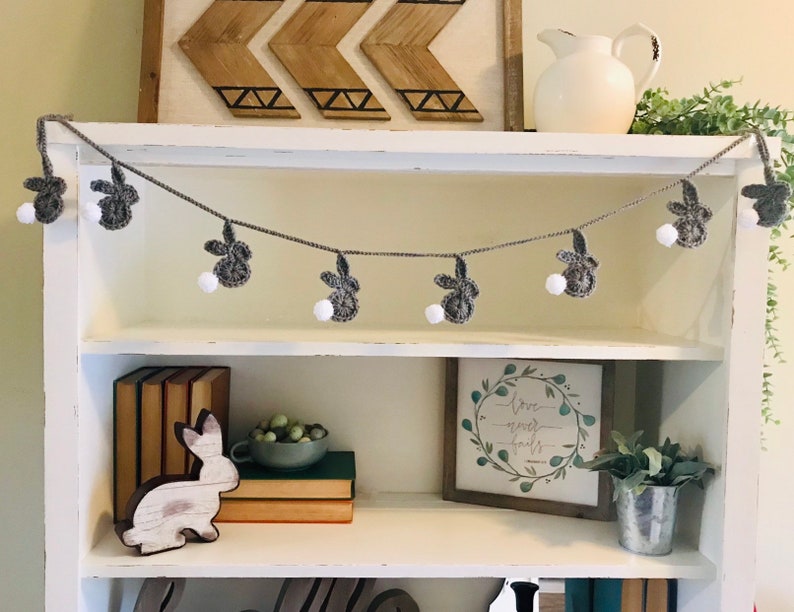 [175] This adorable bunny garland would be a perfect Easter decoration. It would also make an adorable garland for a nursery and kids room..
---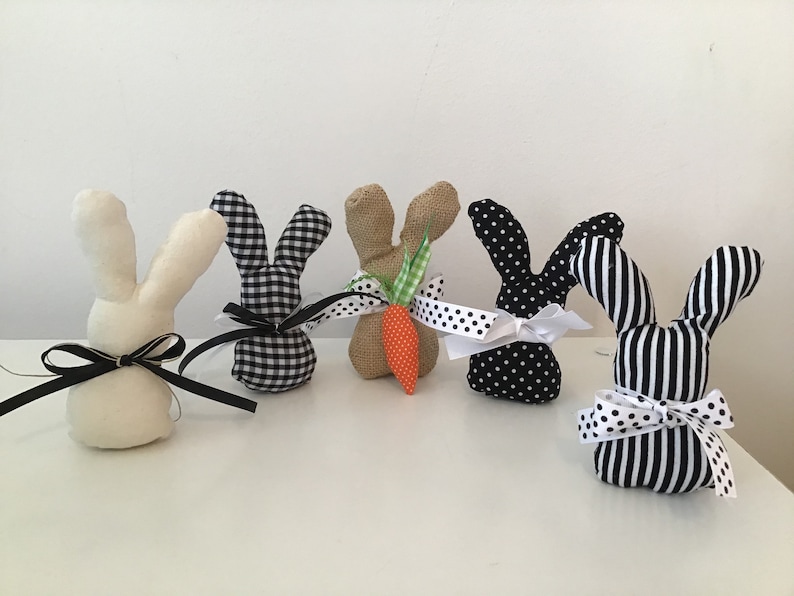 [176] They are tiny, cute, fluffy and looking for some Easter Day friends to play with..
---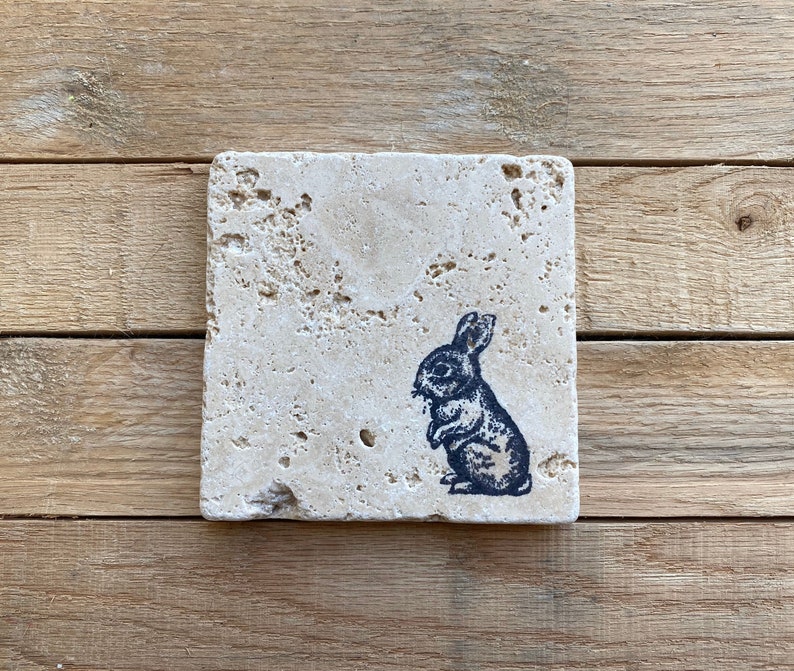 [177] Rabbit travertine tile coasters. Perfect gift or addition to the home..
---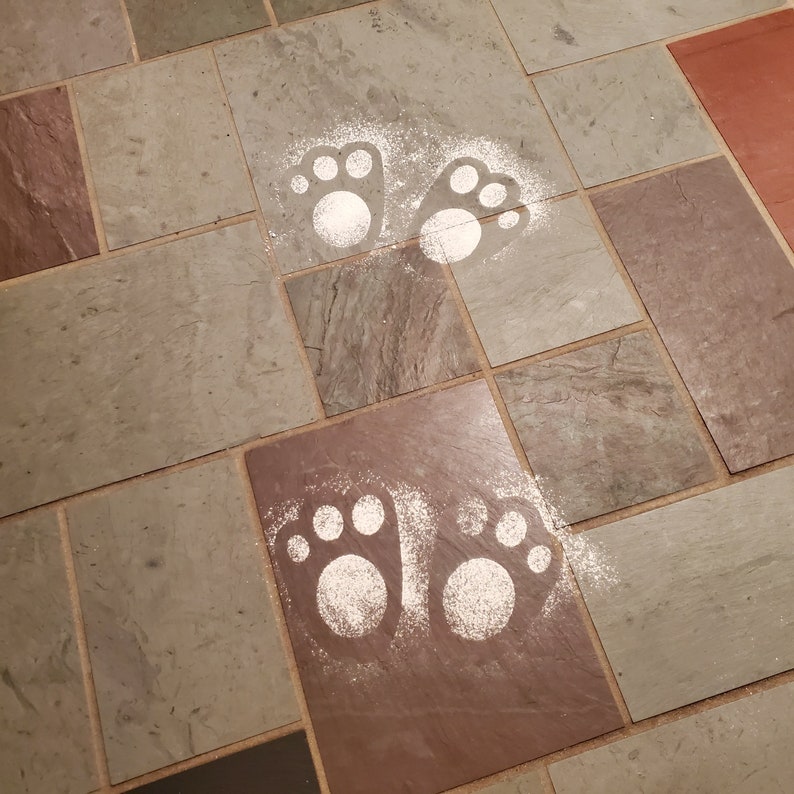 [178] These Easter Bunny Footprint stencils truly add a little magic to Easter, to show that the Easter Bunny has been hopping around your house and leaving an Easter basket for your children or grandchildren..
---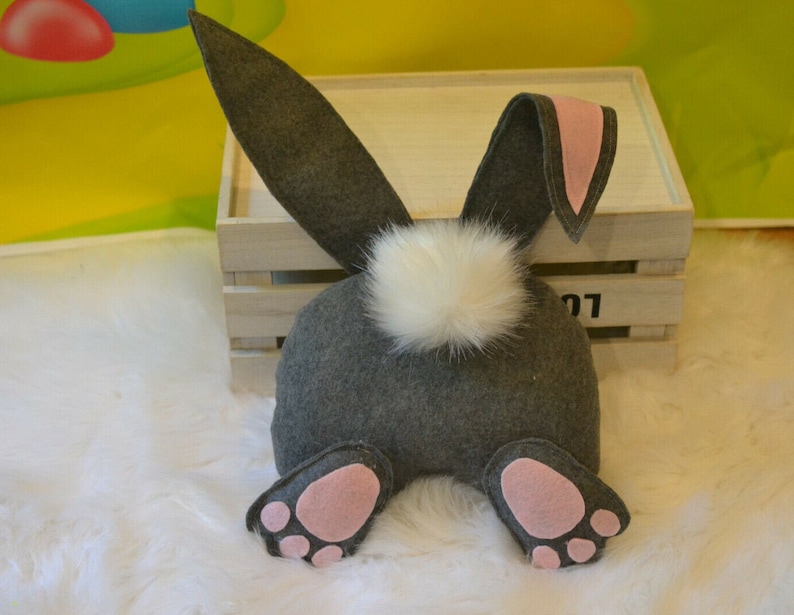 [179] Hand made Cute bunny butt and long ears perfect for Easter wreath, flower pot, garland and etc..
---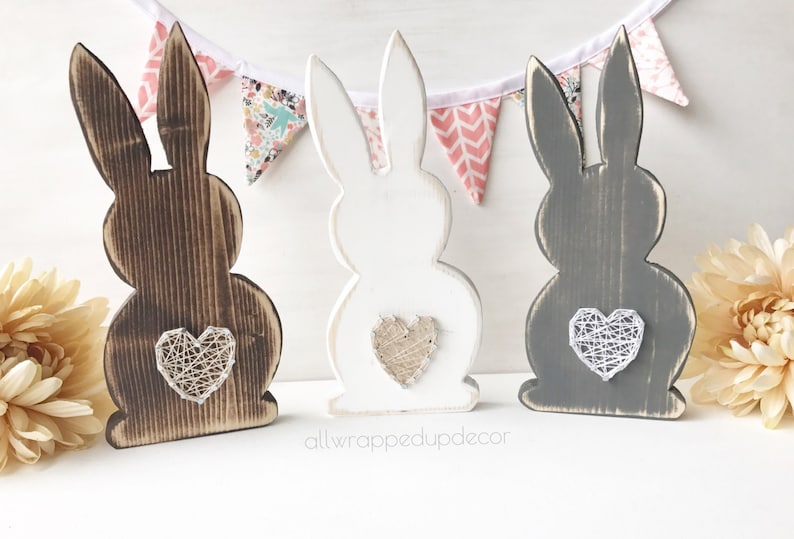 [180] Farmhouse easter decor, lovely bunny signs..
---
[181] 3 bunnies in carrot purse. Great addition to your Easter decor, perfectly decorate your room or can be a memorable gift for your beloved ones..
---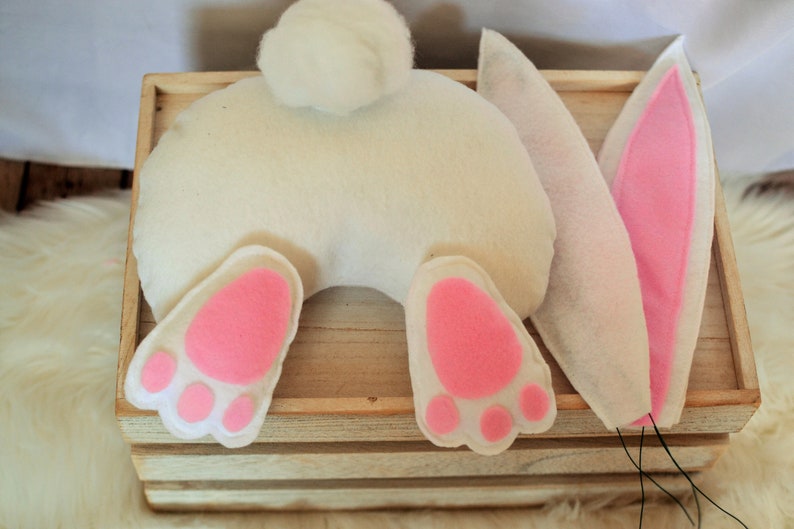 [182] White bunny butt with ears perfect for wreath or flowers pots decoration..
---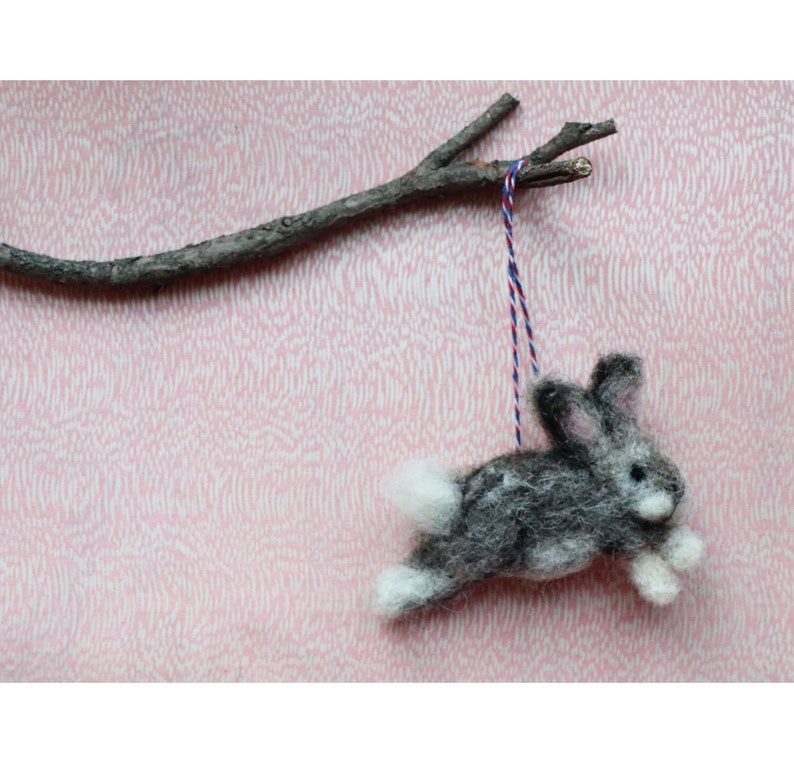 [183] Needle felt bunny ornament will leap into your heart. Makes a little magical gift for someone special..
---
…
I
Spring Door Hangers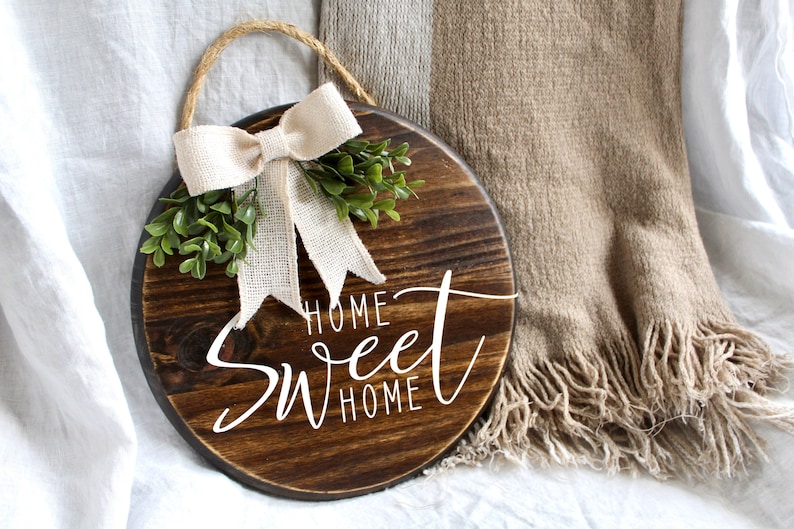 [184] Each hanger is 12 inches in diameter, are hand painted and include a burlap and greenery accent and wooden hanging rope..
---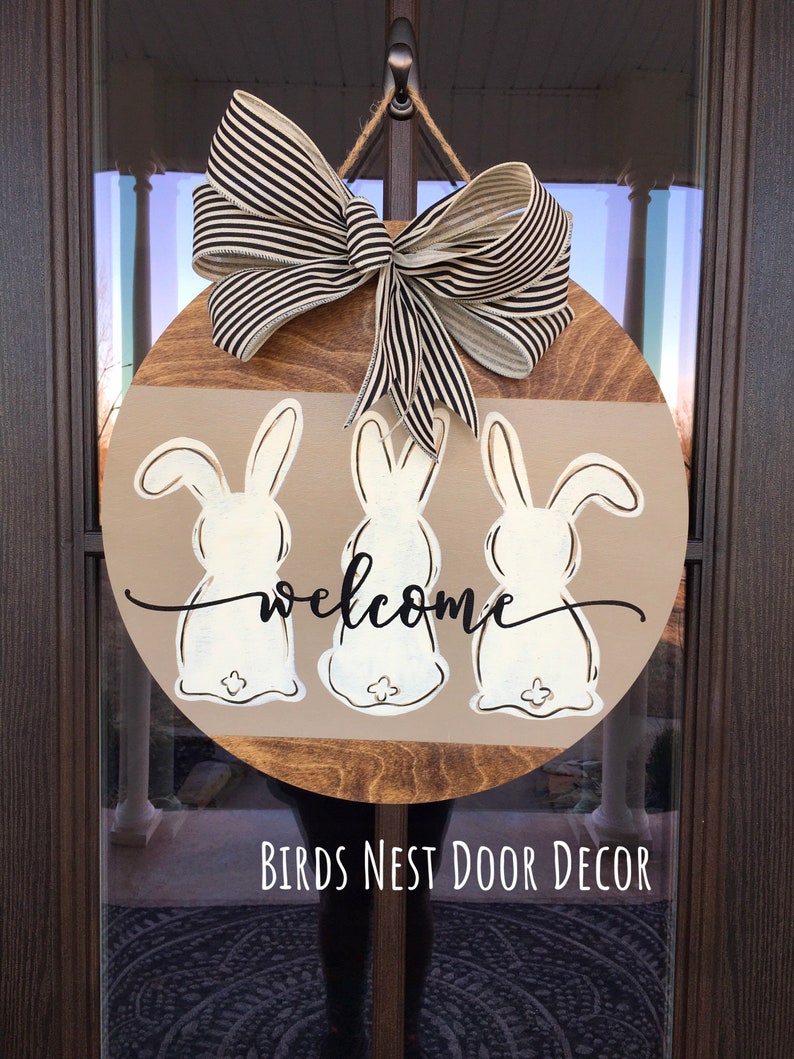 [185] Three Bunnies Spring Welcome Door Hanger..
---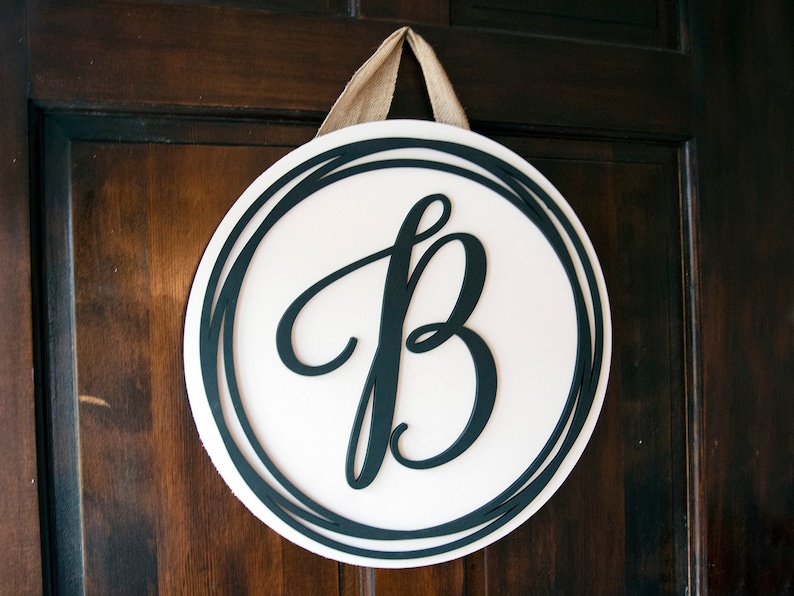 [186] This wood door hanger is essential for any front door or entry way wall decor..
---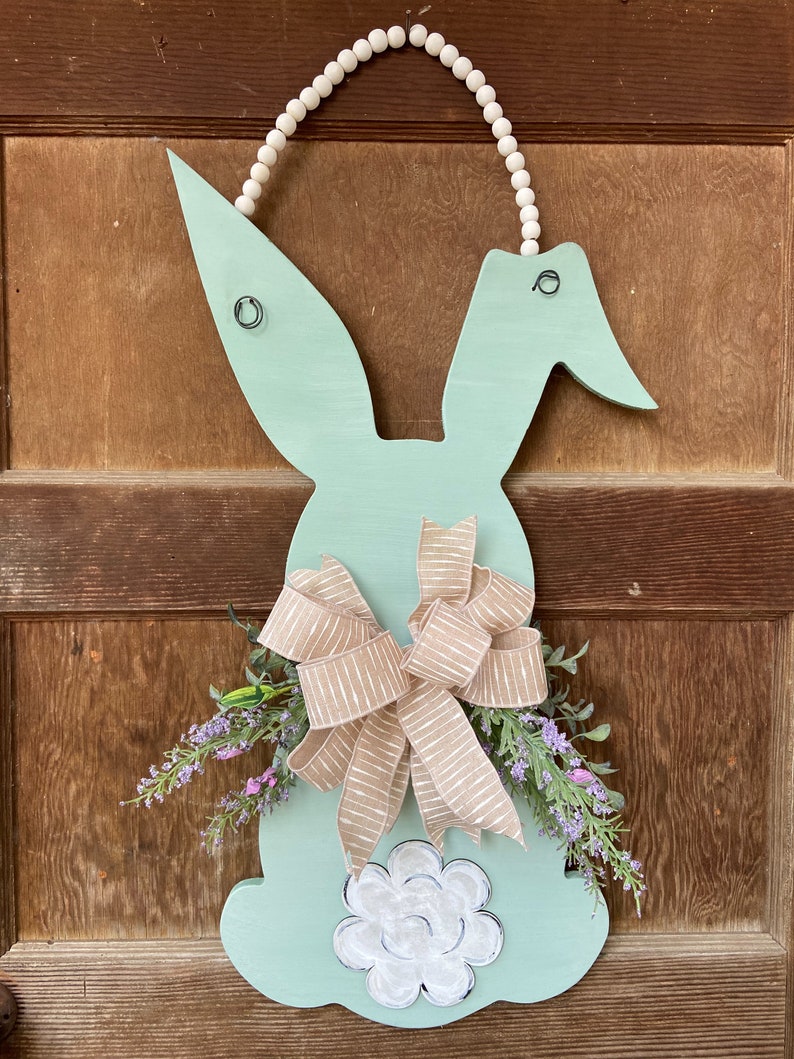 [187] Wood bunny cutout door hanger/sign with greenery and a bow. This would also look cute in a baby nursery..
---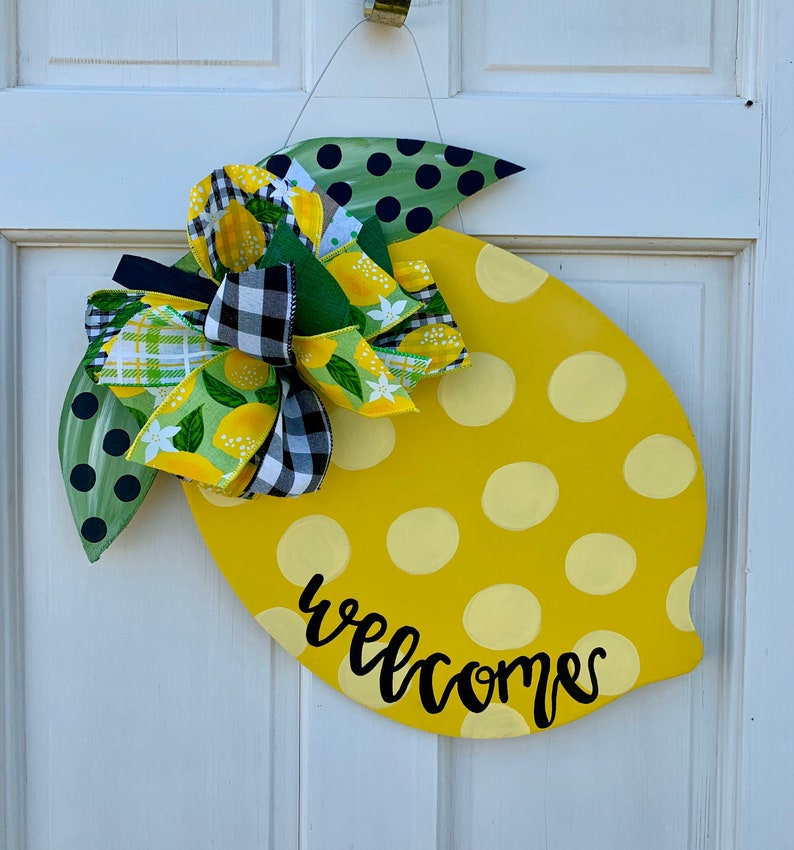 [188] This bright door hanger will have your front door ready for spring and summer days..
---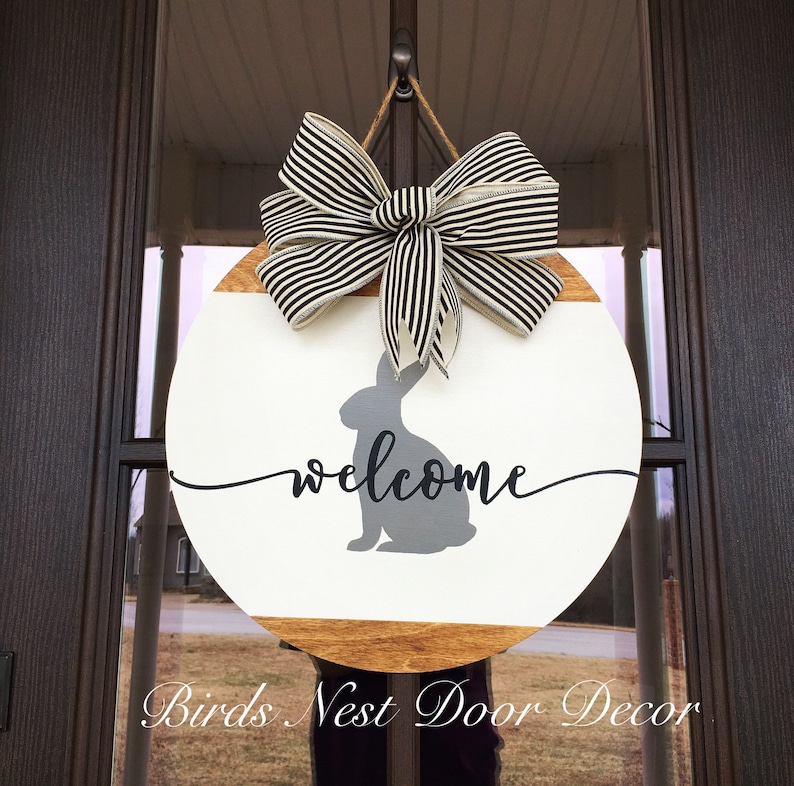 [189] The perfect spring door hanger to welcome your guests..
---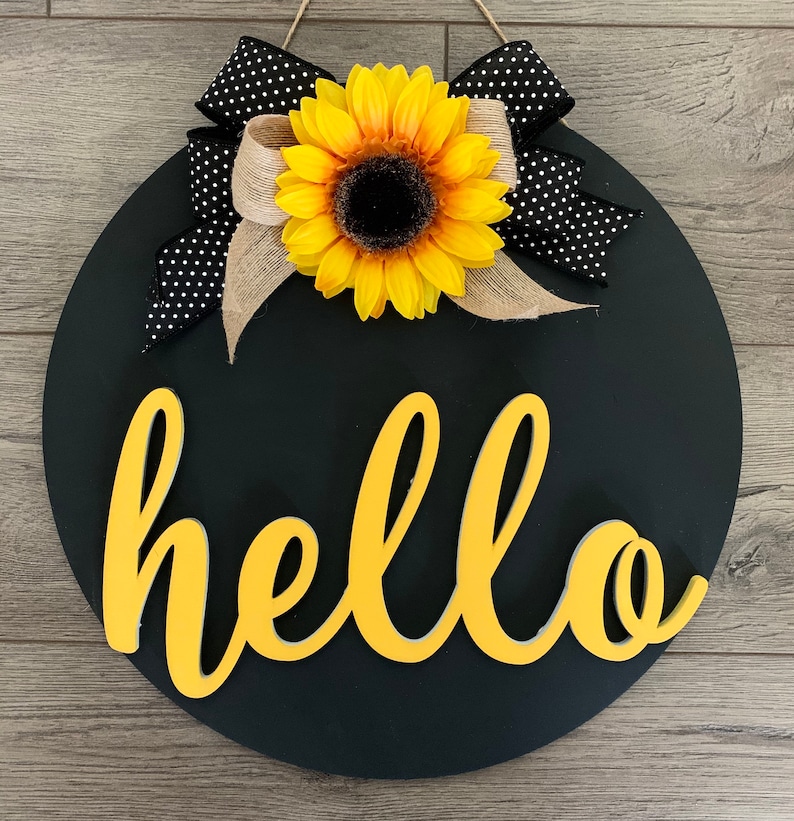 [190] Get your front door ready with this Sunflower, Hello door hanger..
---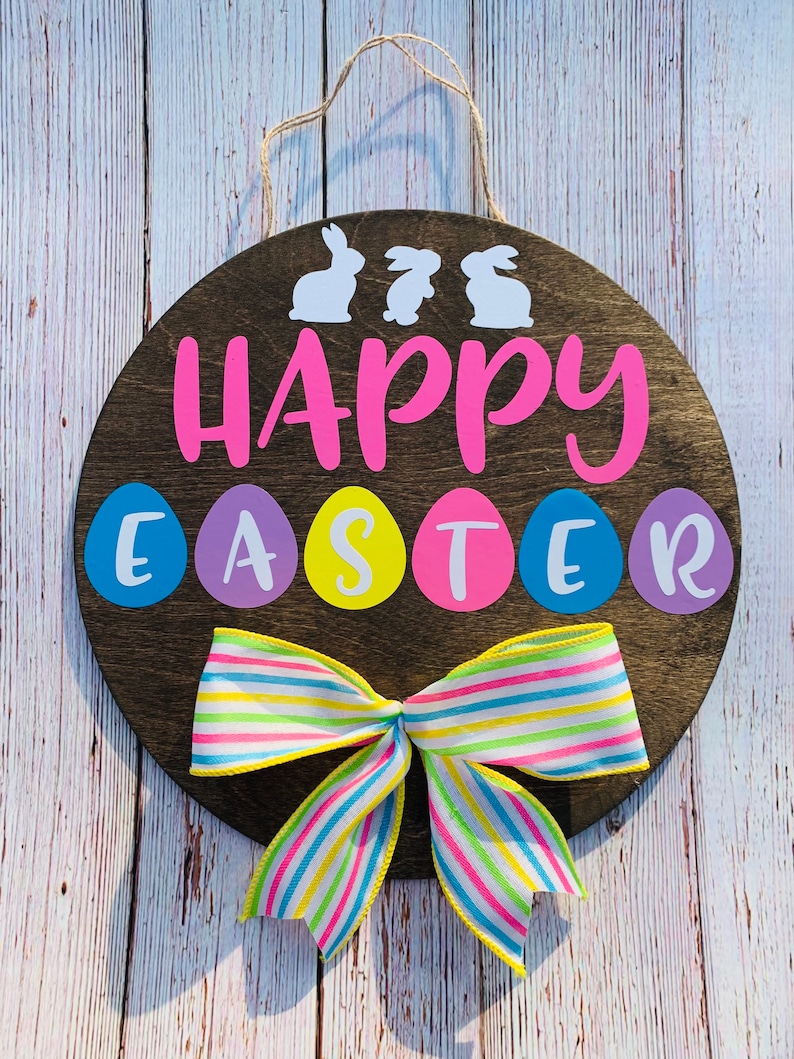 [191] Perfectly colored to match most pastel decor, this will go great with any other decorations you have for Easter and Spring..
---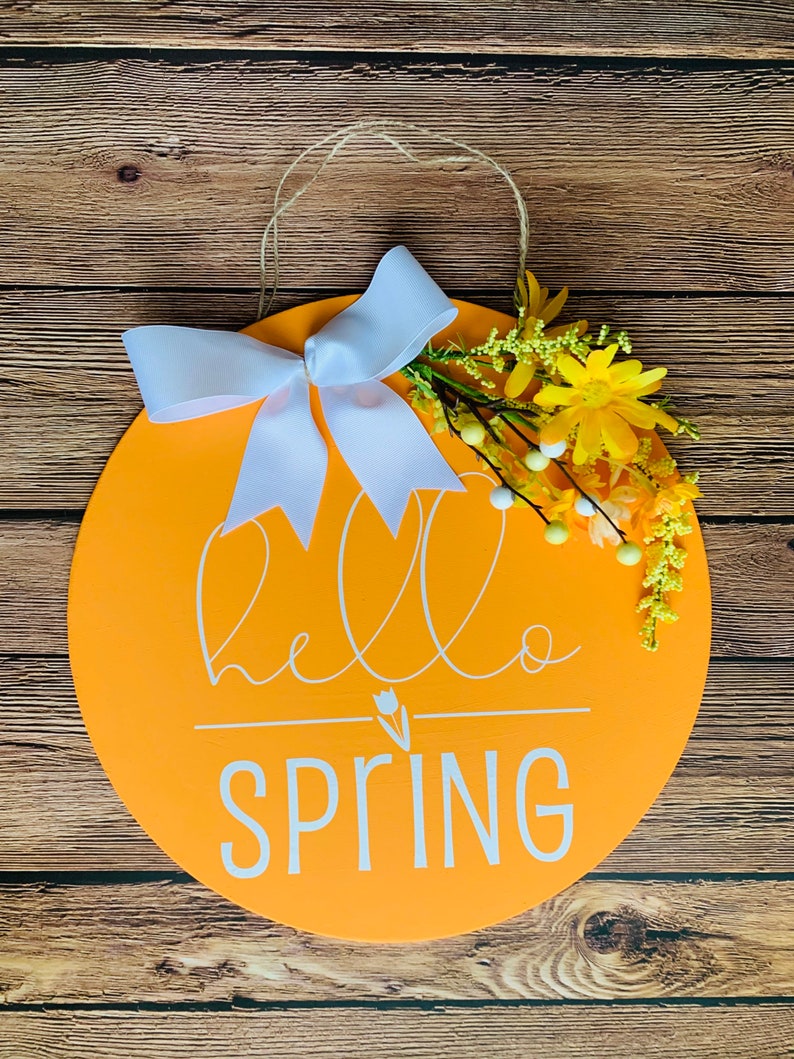 [192] This farmhouse style wood sign is like a smile for your front door..
---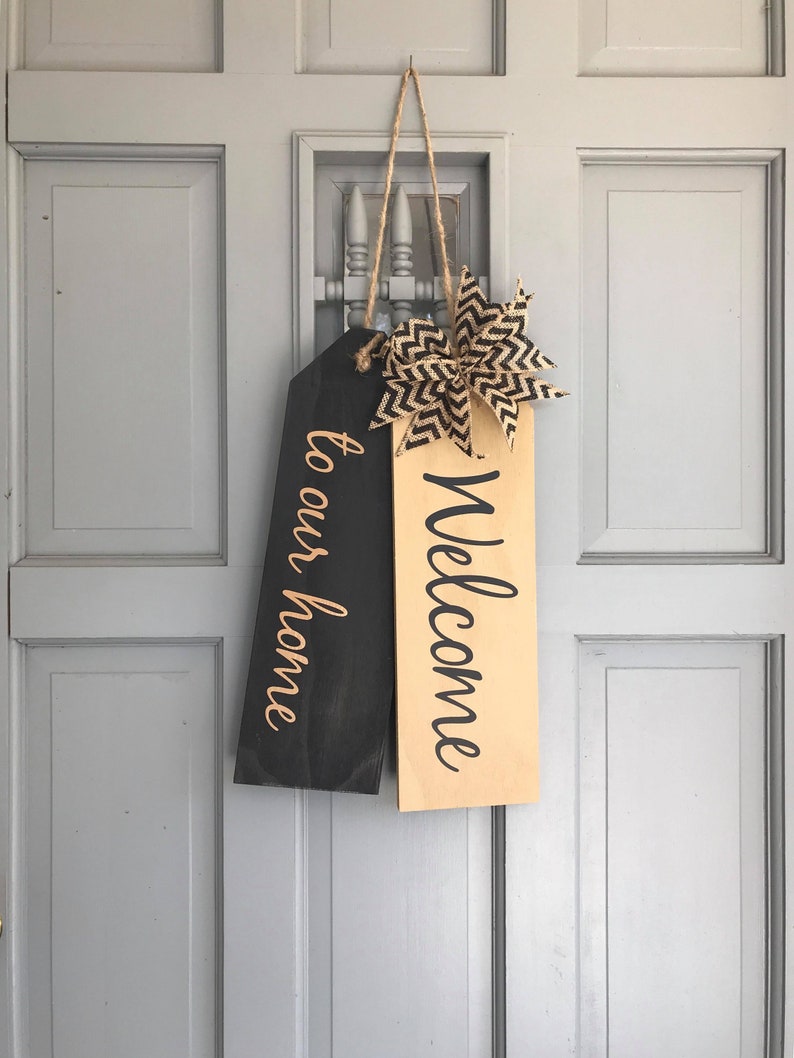 [193] Each tag measures 16" tall by 5" wide by ¼" thick. Tags are made from wood that has been hand painted black and tan..
---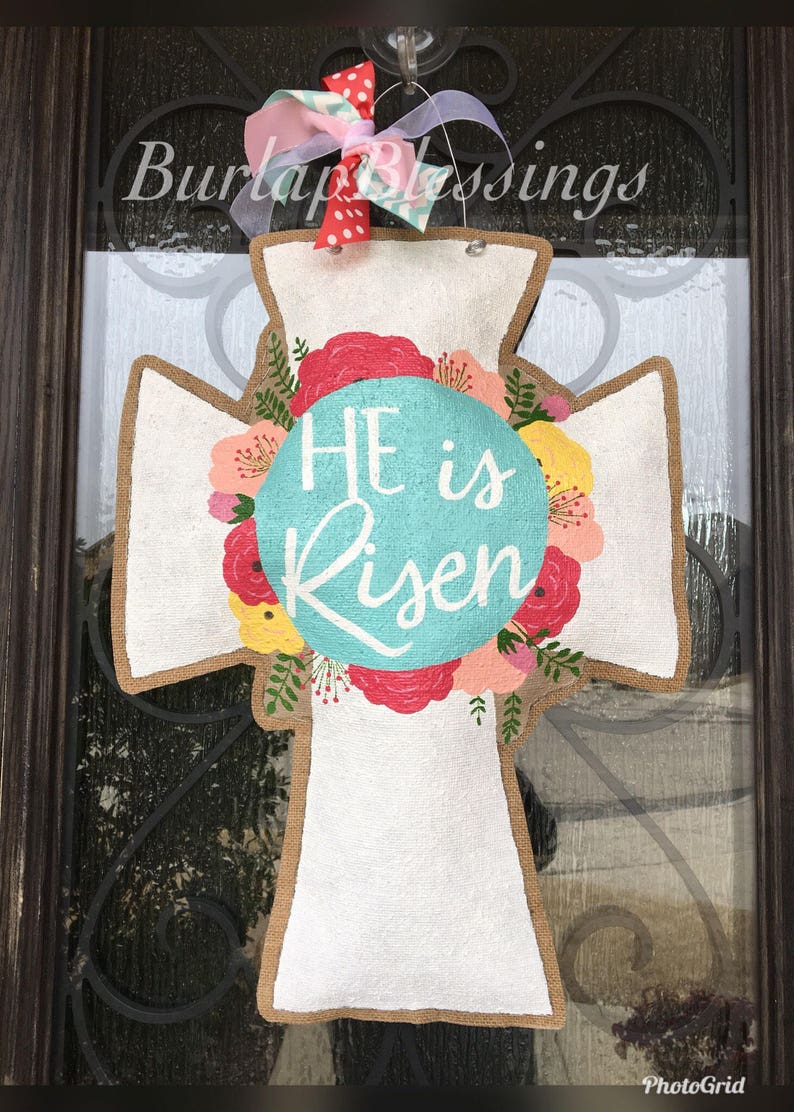 [194] The cross is white with a robin's egg blue at its center, surrounded by a Spring floral design and reads, "He is alive"..
---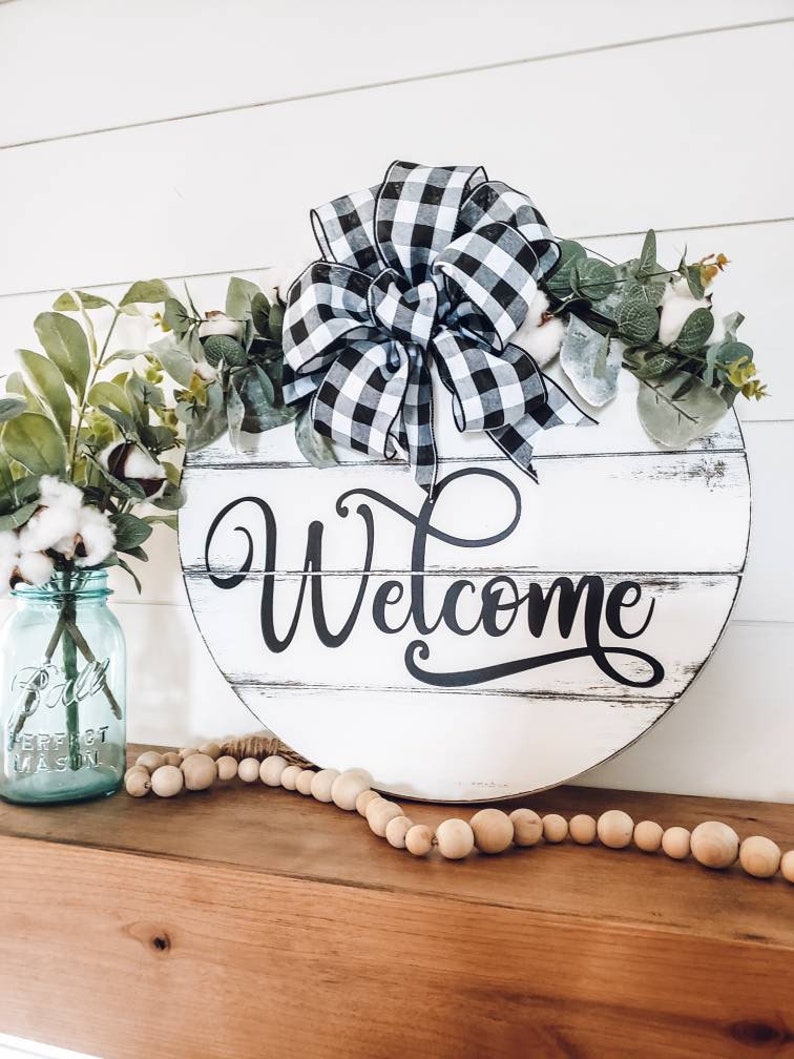 [195] Add a touch of Farmhouse-Style to your front door. This shiplap-style sign is completely handcrafted, hand distressed and handpainted..
---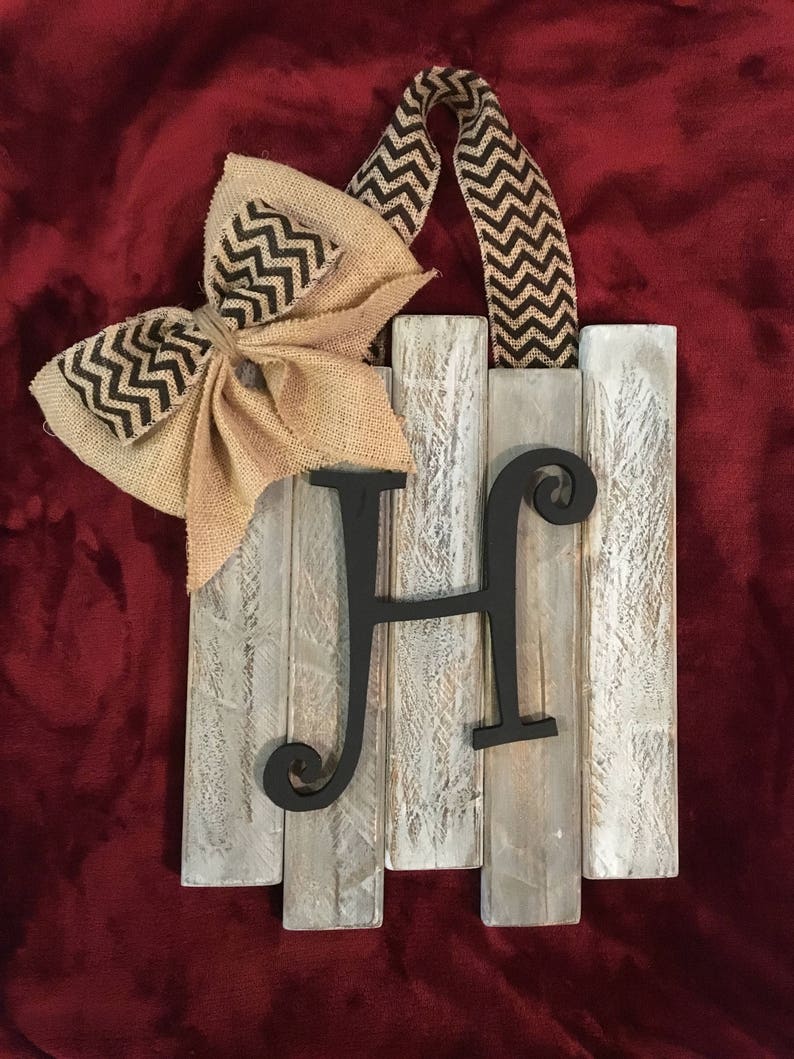 [196] Rustic Door decoration made of solid pine wood, distress and white washed with wooden initial, burlap bow and ribbon for hanging..
---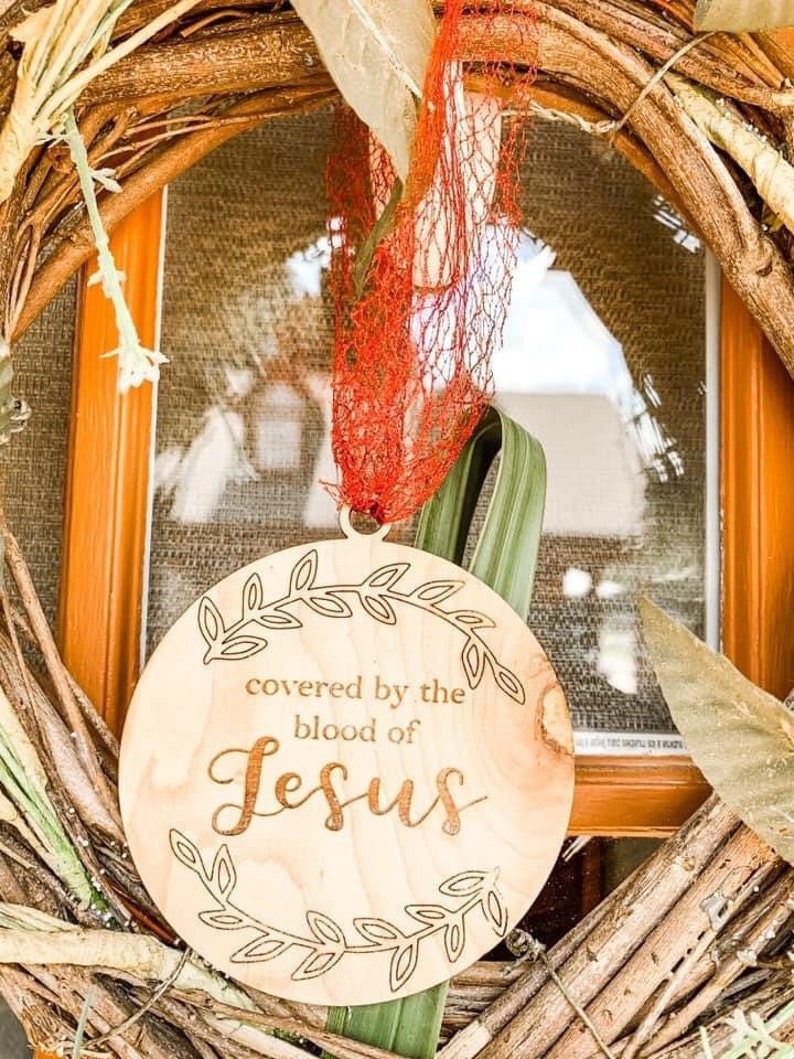 [197] The perfect blessing for Easter and everyday of the year..
---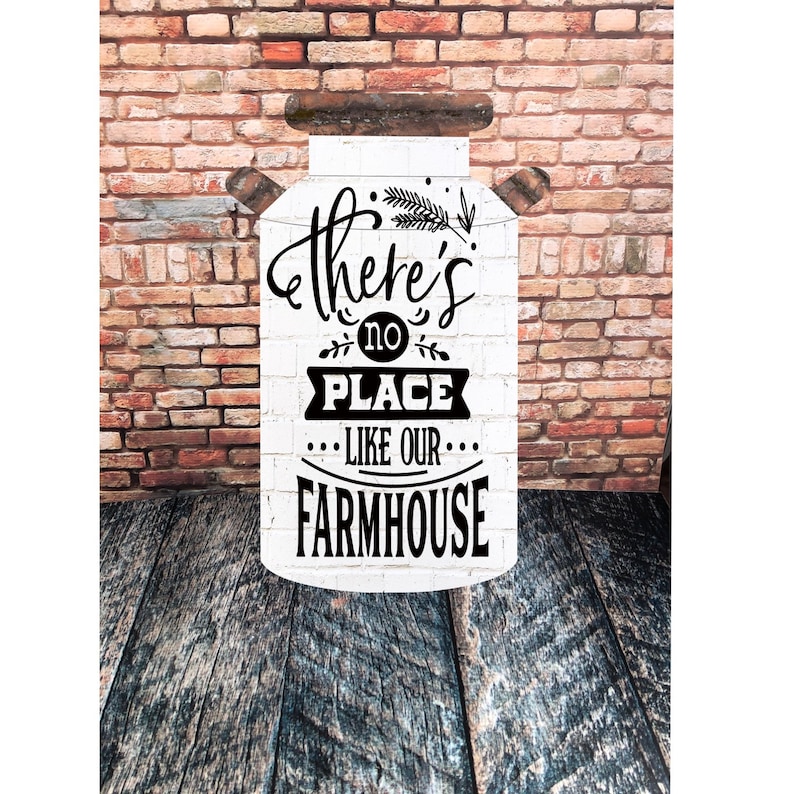 [198] This is a door or wall hanger in the shape of a milk can and reads "There's no place like our Farmhouse". A great addition to really any room..
---