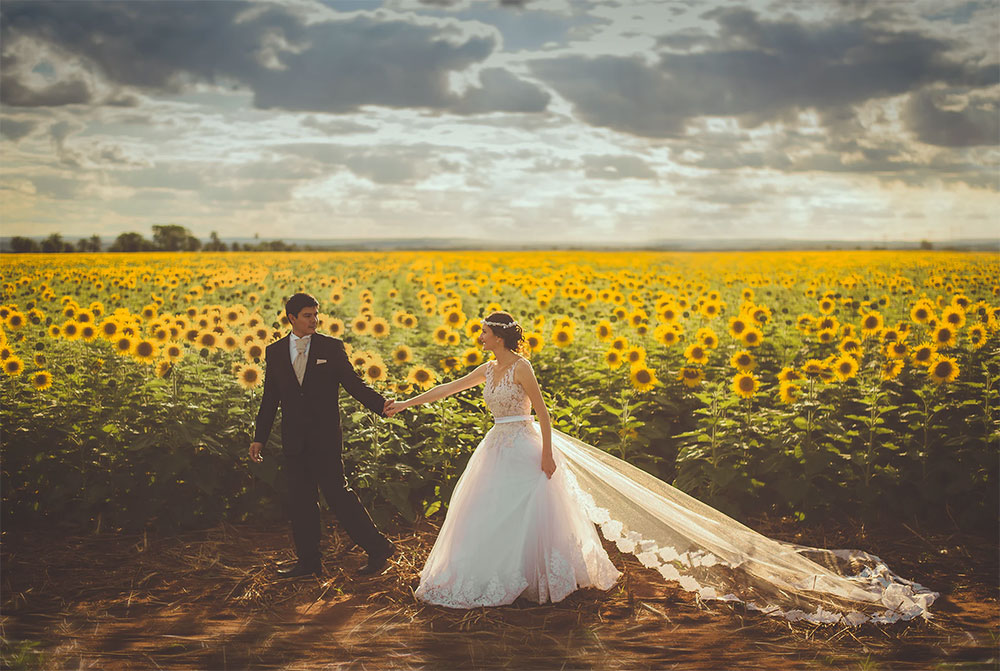 If you're looking for the best sunflower wedding ideas that will make your special day a moment you'll never forget, then this will be most important thing you see all year!
I've combed the web and put together 225 of the most spectacular sunflower-themed wedding ideas for everything from bouquets to backdrops.
Your imagination is sure to sparkle once you browse through the following pages of brilliant and beautiful imagery and ideas…
Check them out now:
…
A
Sunflower Wedding Bouquets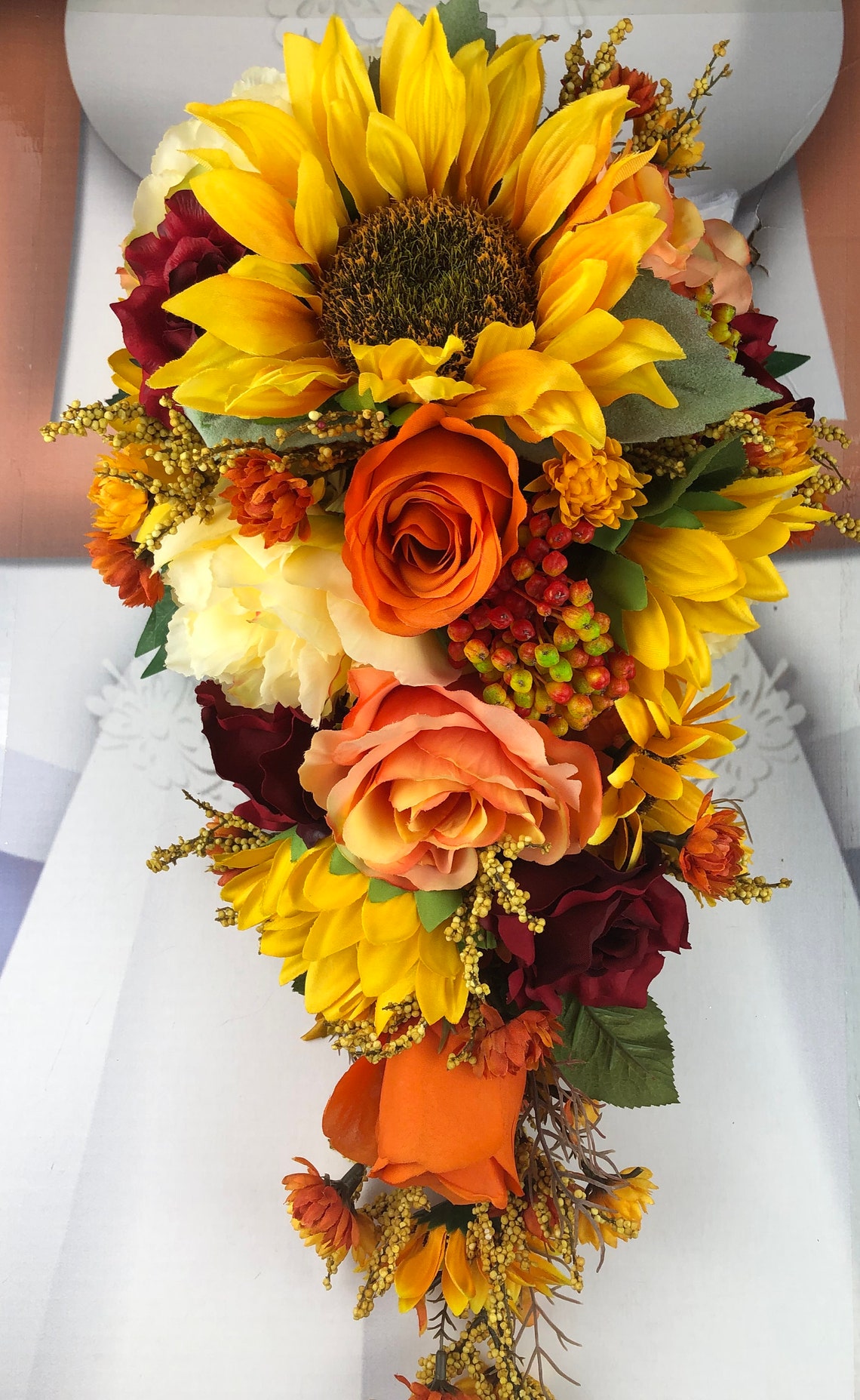 [1] Created with Artificial Sunflowers, Red or Wine/Burgundy Roses, Straw Flower, Peony, Fall leaves, and Fall Berries, this pretty Red or Burgundy/Wine Rose and Sunflower Wedding Set is finished with Red or Burgundy/Wine Satin Ribbon.
---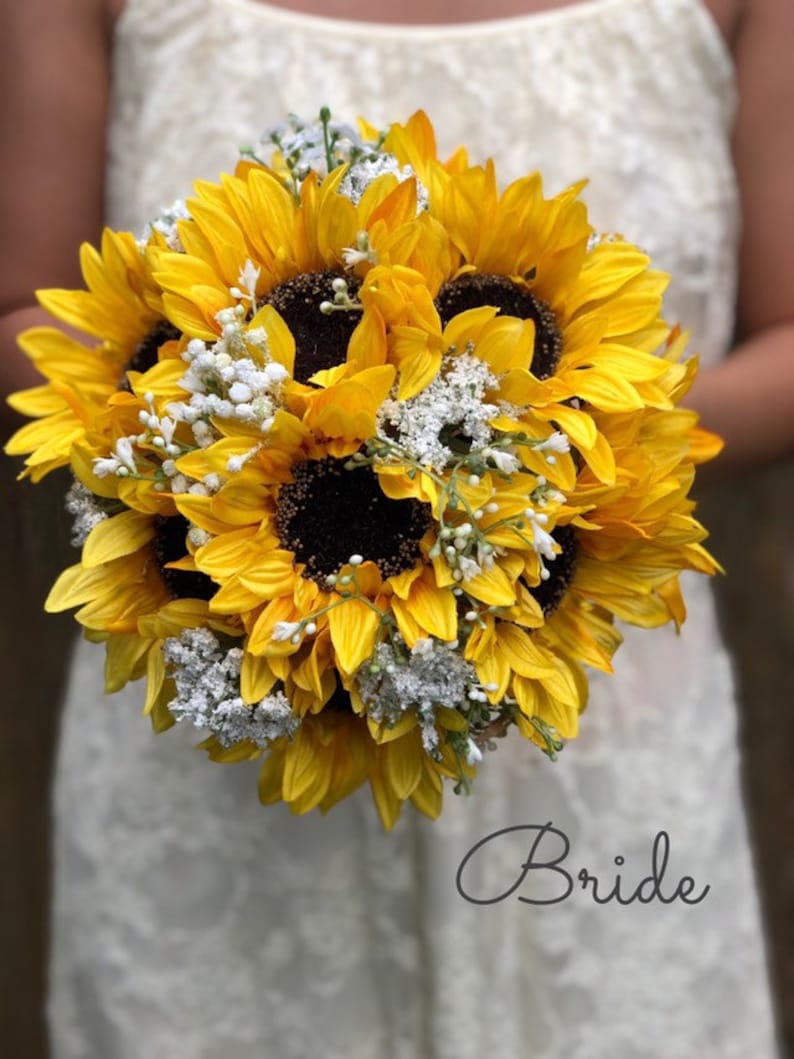 [2] Sunflowers and baby's breath bouquet. The handle of the bridesmaid/bride bouquets are wrapped with twine and added pearls.
---
[3] Hand made with silk sunflowers and variegated leaves, decorated with silk ribbons, which is very pretty and exquisite.
---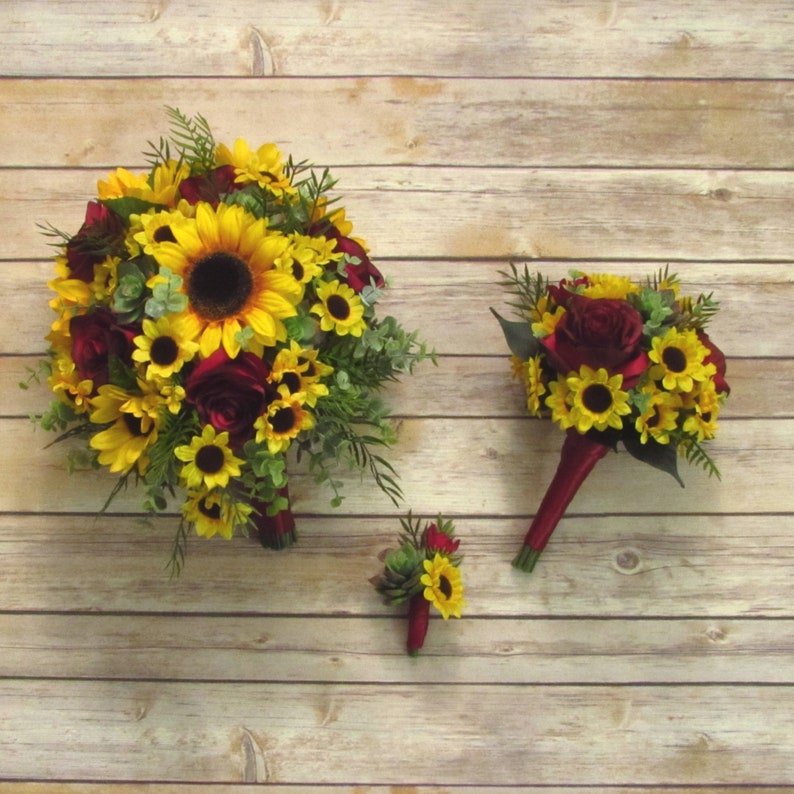 [4] The bridal bouquet is slightly cascading, giving it an oval shape. There are different kinds of sunflowers, both big and small. Also included are dark red roses. The stems are wrapped in dark red.
---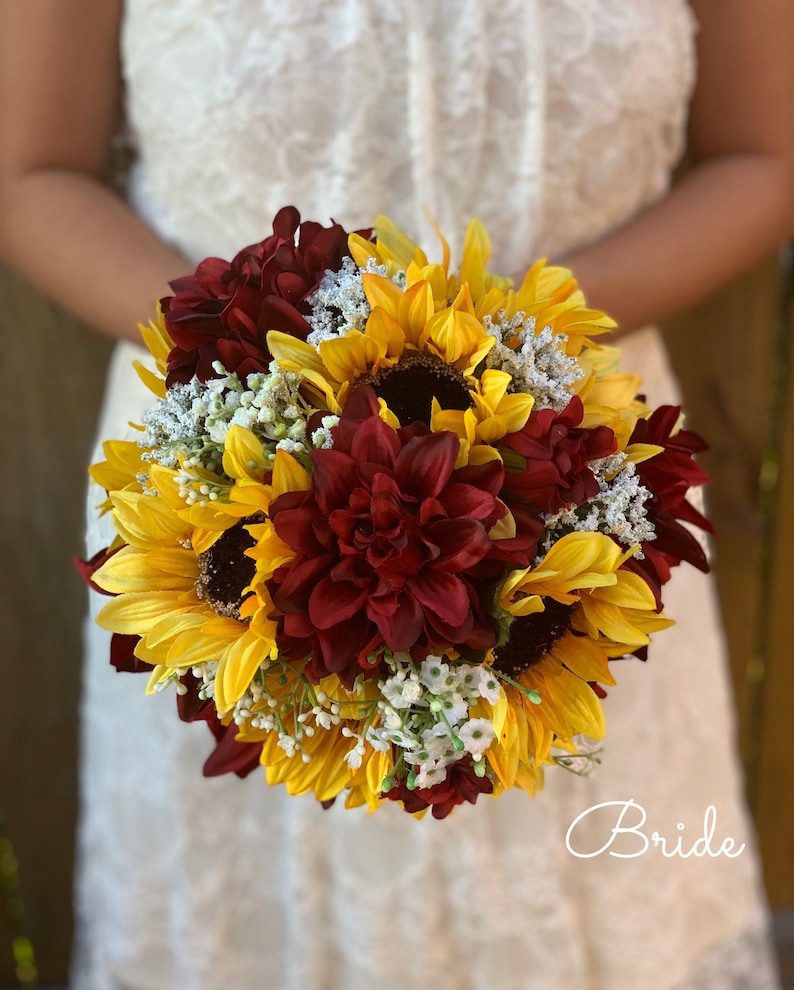 [5] This bouquet is made with a mix of burgundy dahlias, baby's breath and sunflowers, perfect for a Fall wedding or any season!
---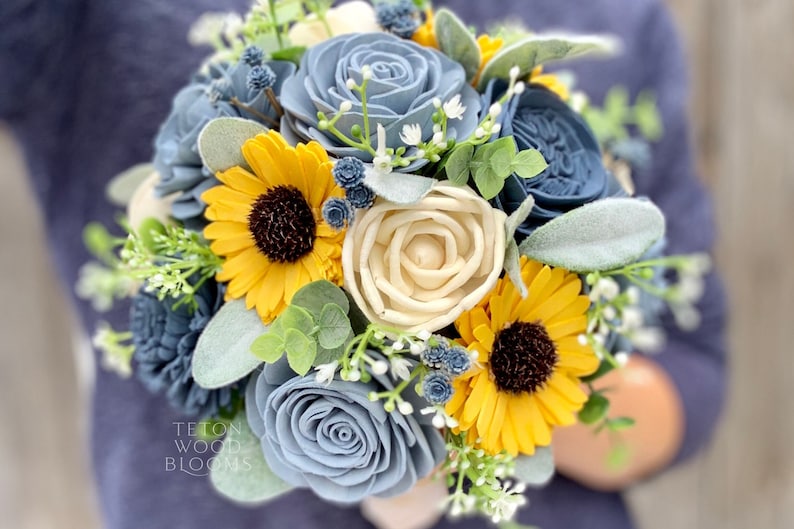 [6] This bouquet features wood flowers in sunflower yellow, dusty blue, slate blue, and their natural color of ivory.
---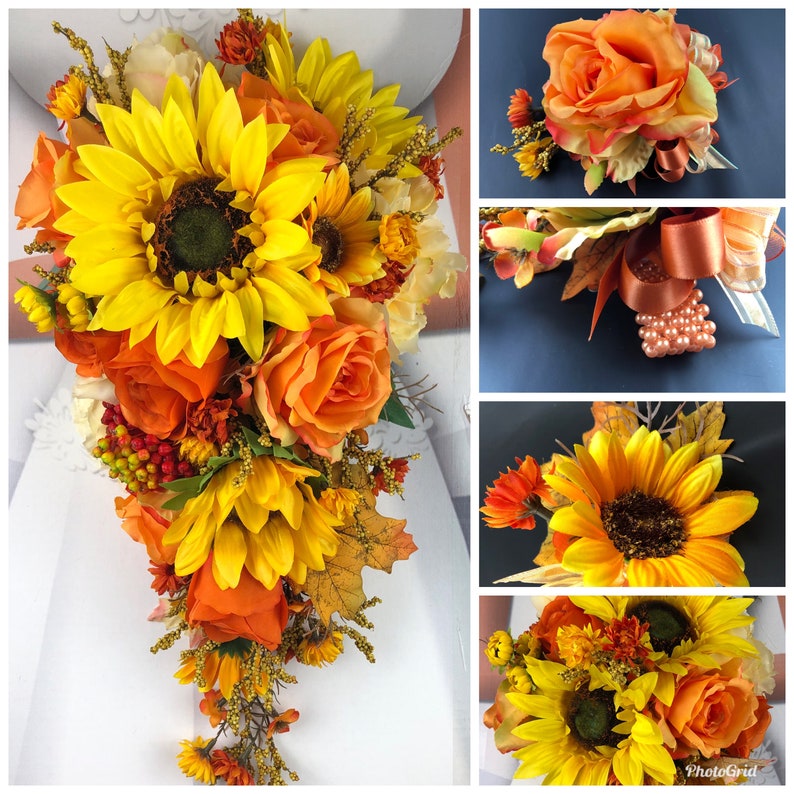 [7] Created with Artificial Sunflowers, Orange Roses, Straw Flower, Buttercup Peony, Fall leaves, and Fall Berries, this pretty Orange Rose and Sunflower Wedding Set is finished with Burnt Orange Satin Ribbon.
---
[8] Silk Wedding Flowers with Sunflowers and White Roses.
---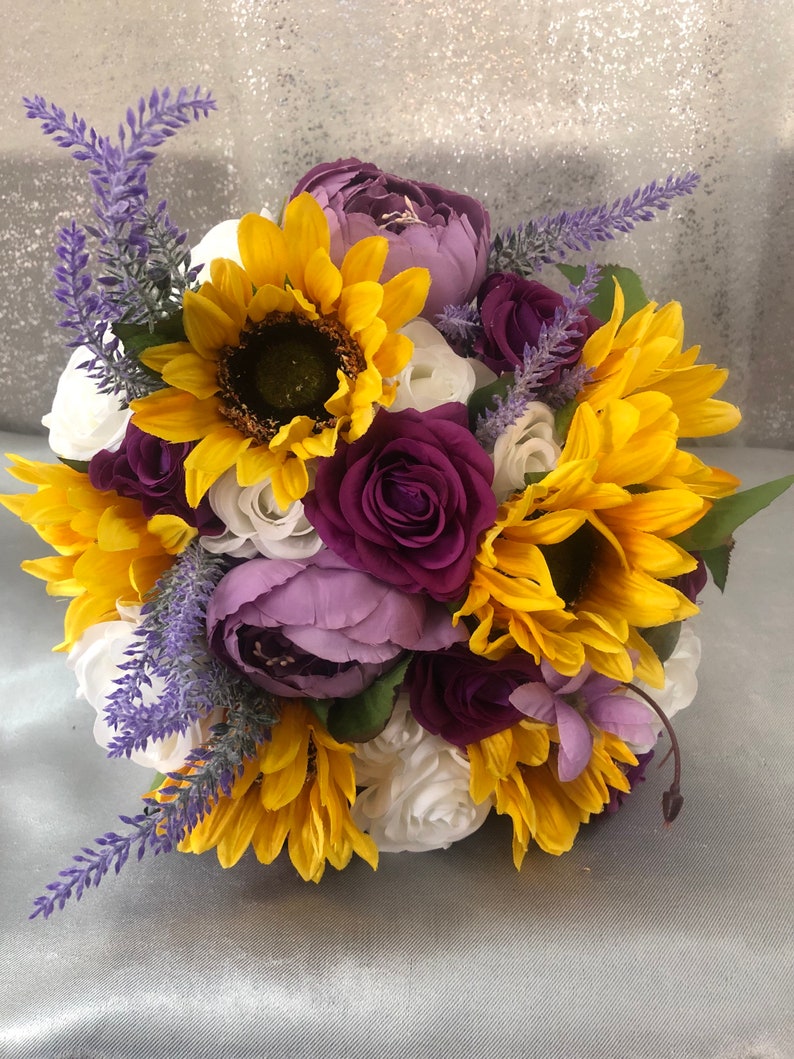 [9] This beautiful handmade bouquet is made with high quality purple and white roses, sunflowers, peonies and greenery to give a sweet, elegant look to your wedding.
---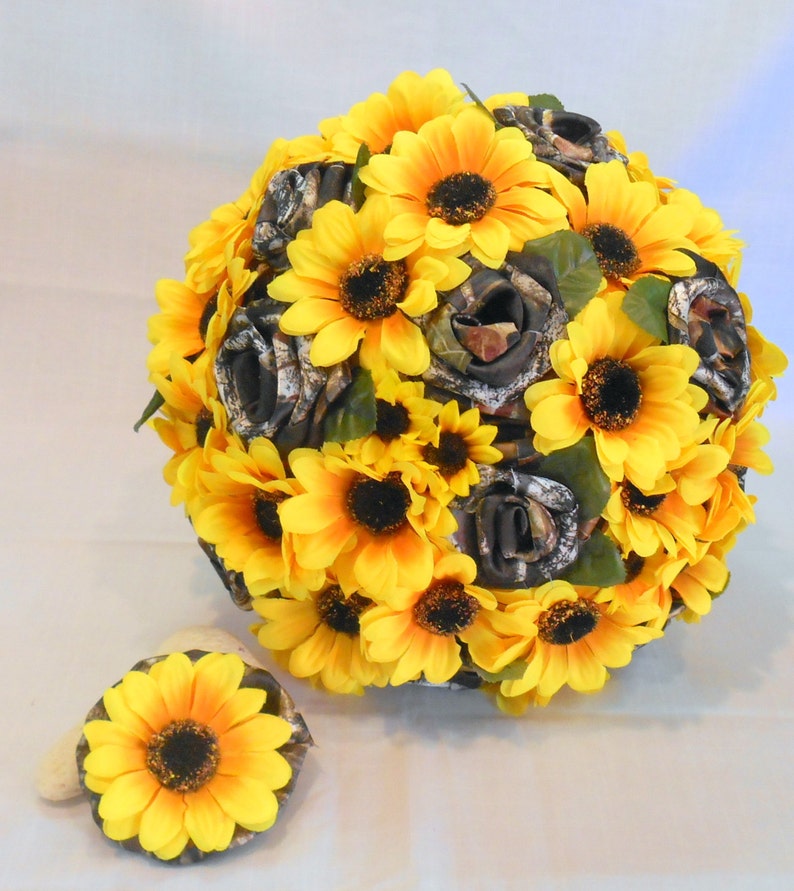 [10] A Sunflower Mossy Oak Camo Bouquet.
---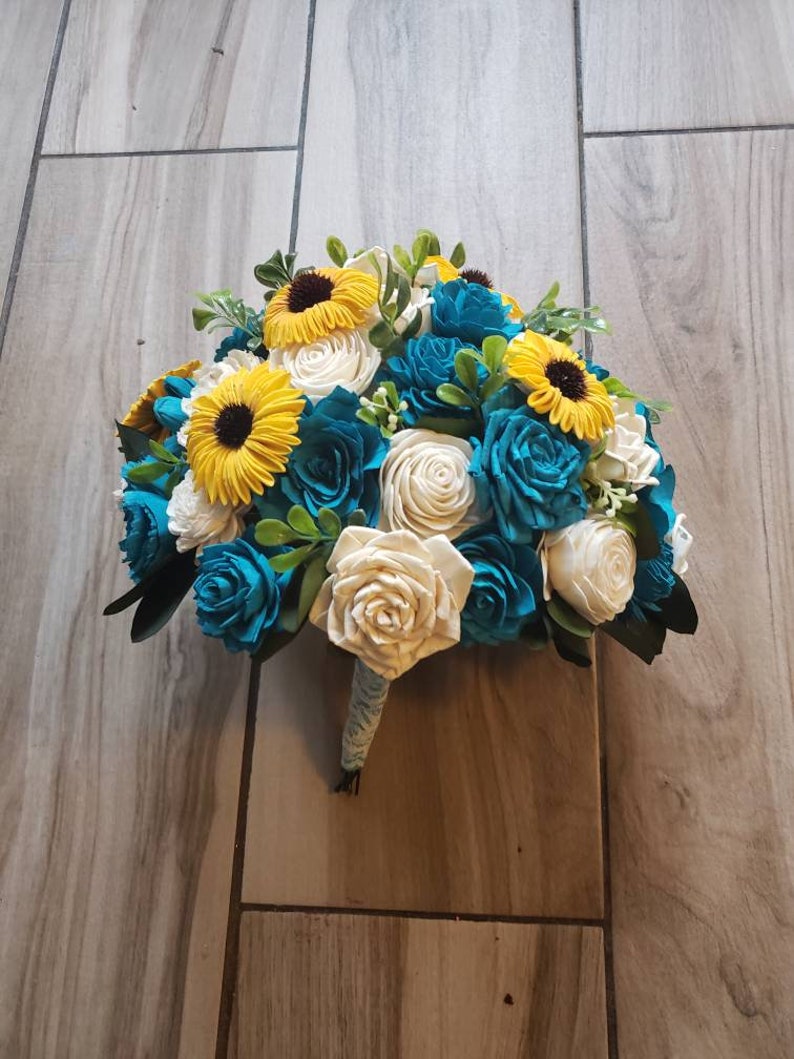 [11] Sola wood flower wedding bouquet with turquoise flowers as well as yellow sunflowers. Greenery is a mixture of artificial and preserved.
---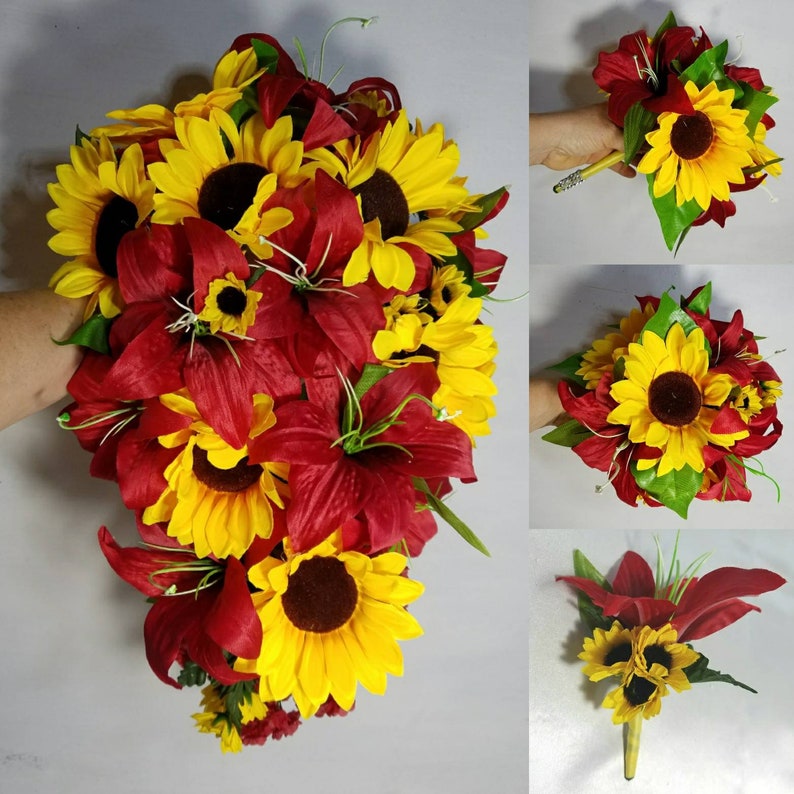 [12] Red Yellow Tiger Lily Sunflower Bridal Wedding Bouquet & Boutonniere
---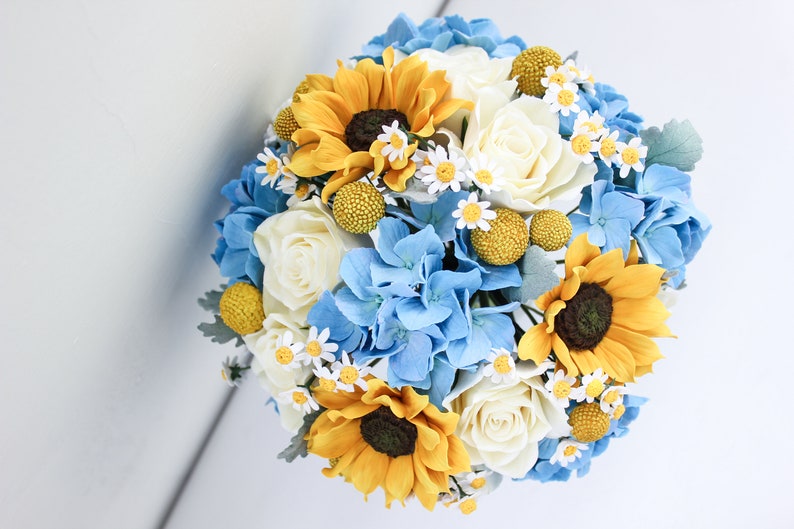 [13] Rustic yellow-blue bouquet of sunflower and hydrangea. This alternative bridal bouquet is made of paper-based polymer clay. Such bouquet will never fade, so It is perfect option for your destination wedding or event.
…
B
Sunflower Wedding Cake Toppers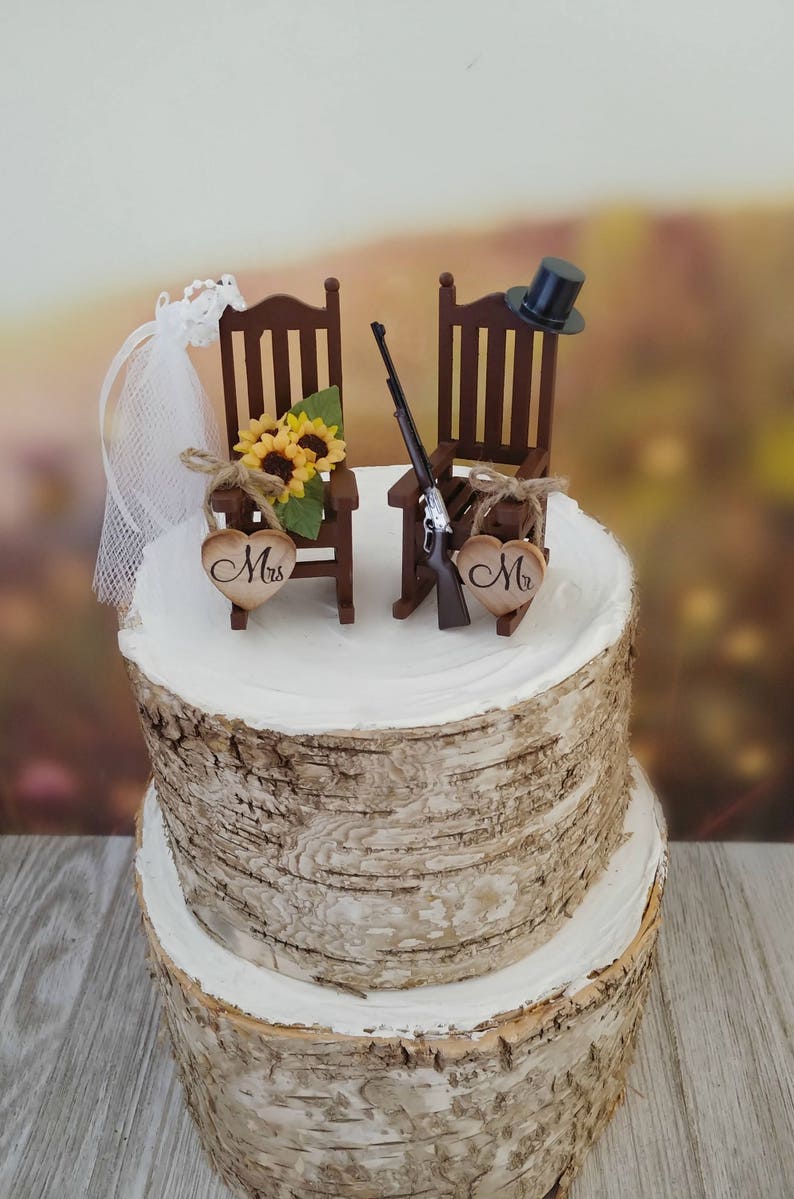 [14] Two fully decorated miniature rocking chairs to represent the bride and groom. The bride's rocker comes with your choice of an ivory or white veil, or a white cowgirl hat with attached veil. On her chair rests a big bouquet of sunflowers.
---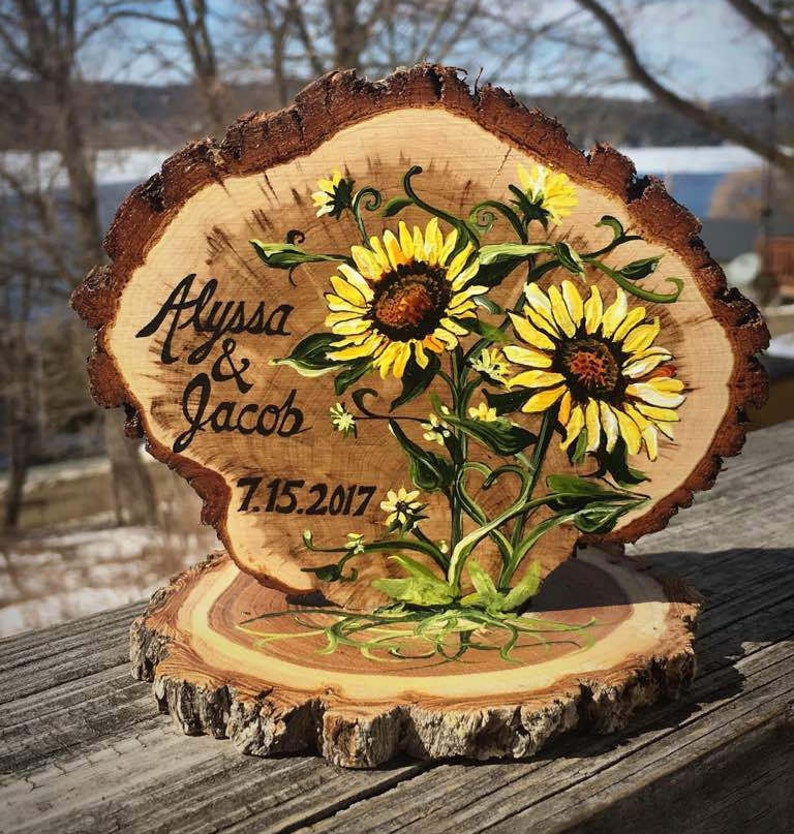 [15] Sunflowers!! Hand painted in acrylic on a beautiful slice of juniper or elm wood, and securely attached to a wood base, this design features sunflowers whose stems and leaves meet to form a heart. Fully customizable with your wedding colors and flower varieties!
---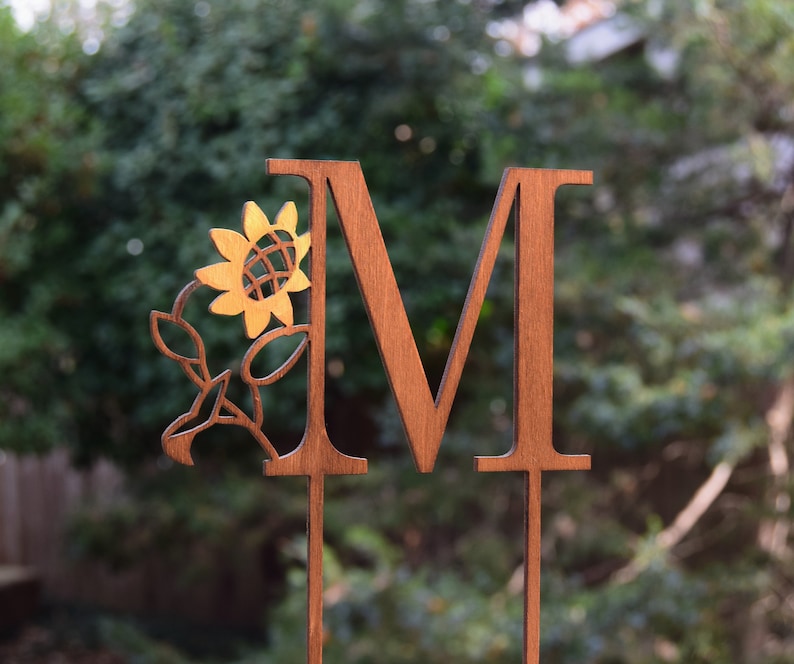 [16] Engraved monogram sunflower wood cake topper.
---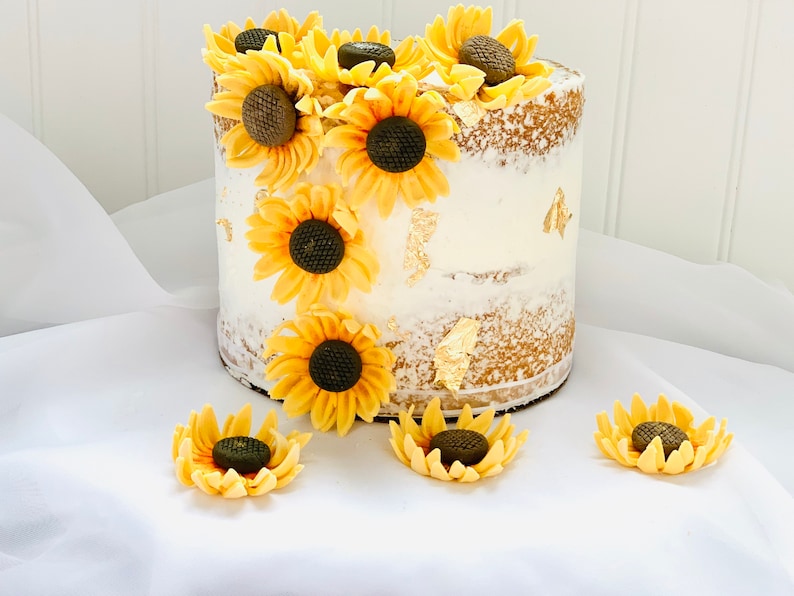 [17] Edible sunflower fondant flowers.
---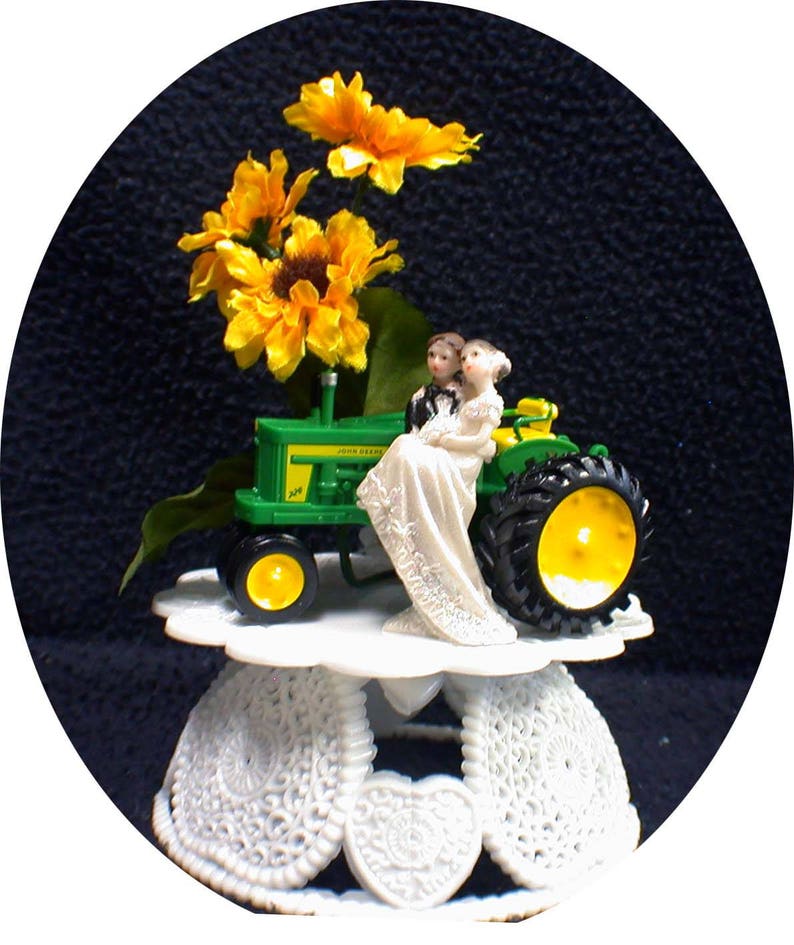 [18] Adorable bride and groom figures in front of their John Deere with a Sweet sunflower backdrop.
---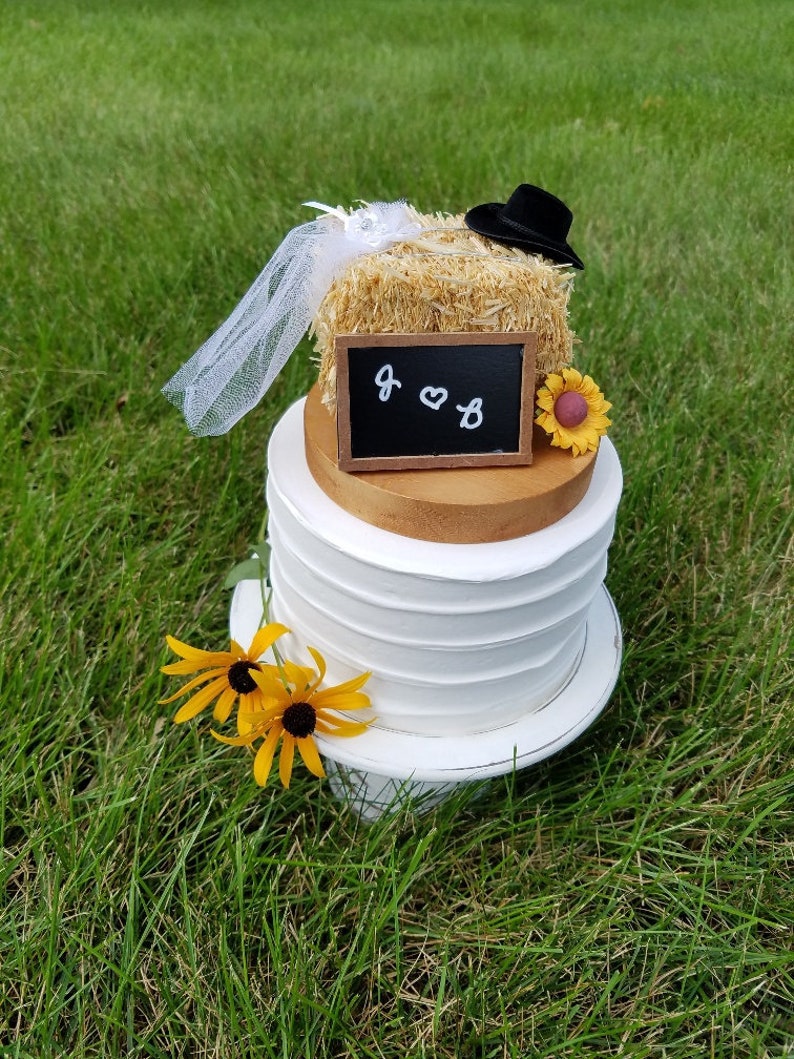 [19] Rustic Hay Bale Sunflower Themed Wedding Cake Topper with Monogram Initials On A Blackboard
---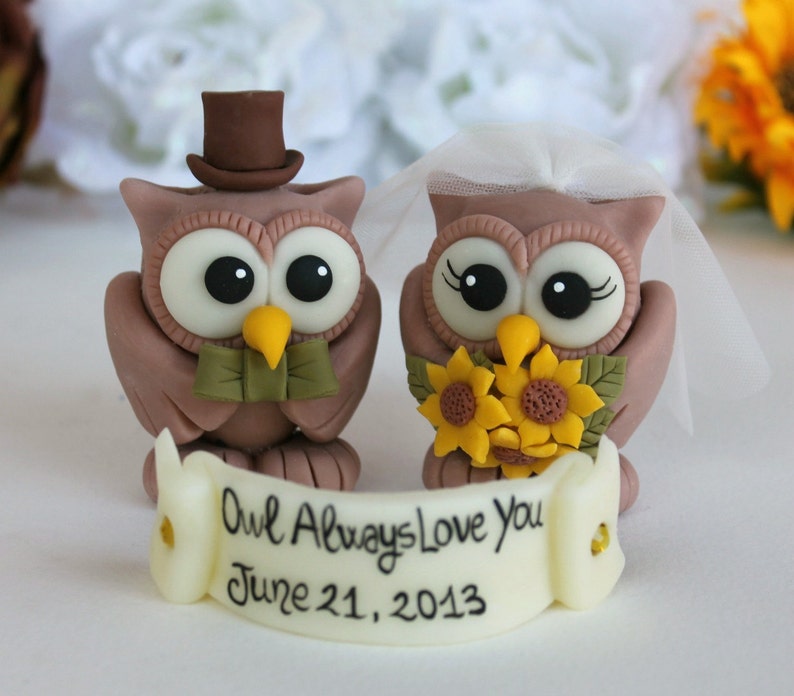 [20] Sunflower-Holding Cute Owl Couple Cake Topper
---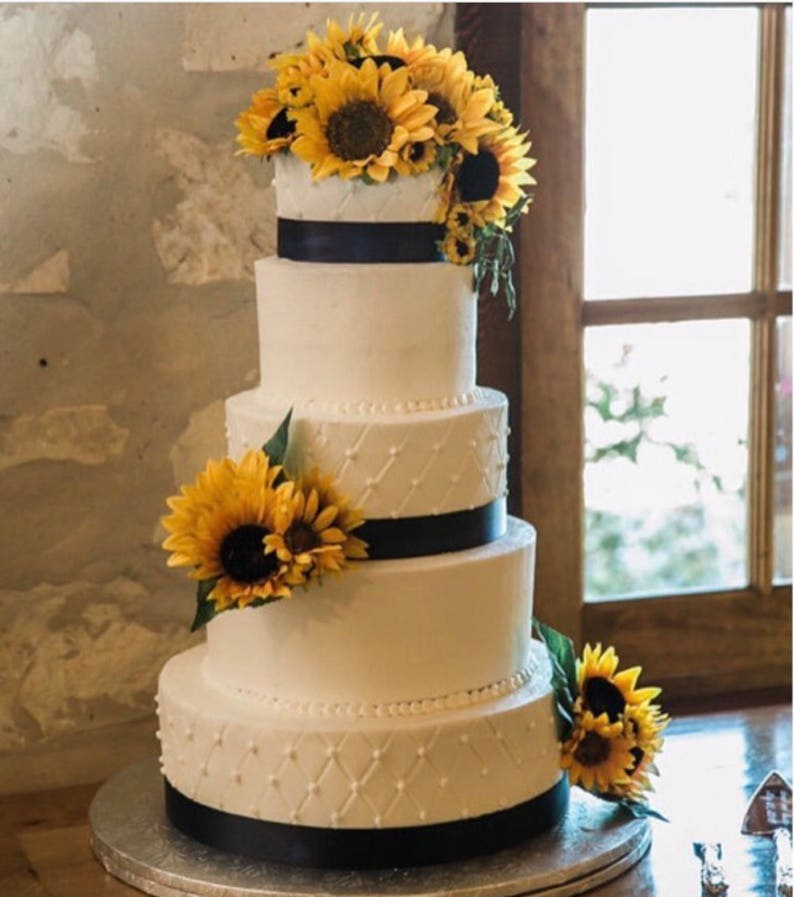 [21] Silk Sunflower Bouquet Cake Topper. Whimsical yellow sunflowers are gracefully accented with lifelike greenery. The topper has a flat bottom so it will easily sit on top of the cake. The clusters have an elongated stem that simply inserts into any area on the cake that you would like to accent.
---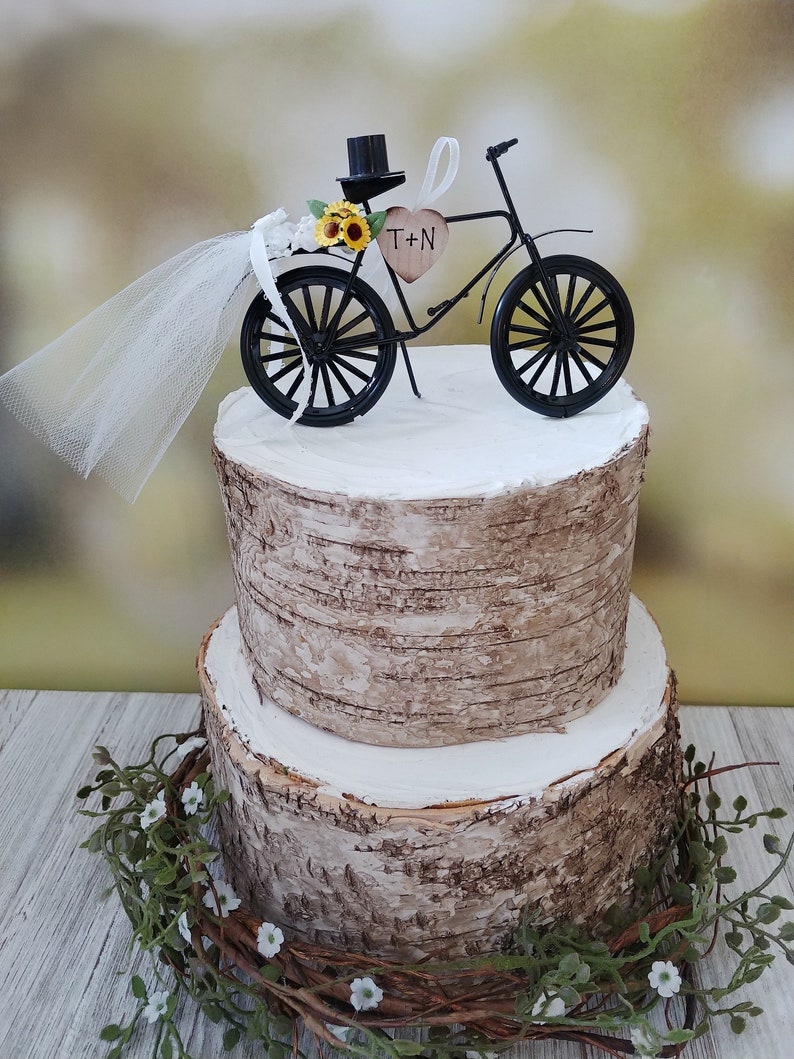 [22] The couple that bikes together, stays together! This topper is so cute for the couple loves to jump on a bike and enjoy life together. The bride's veil rests on the back while the groom's top hat rests on the seat. A little charm is fixed to the bike with the bride and groom's initials. Also has a cute little sunflower bouquet tucked between the groom's hat and bride's veil.
---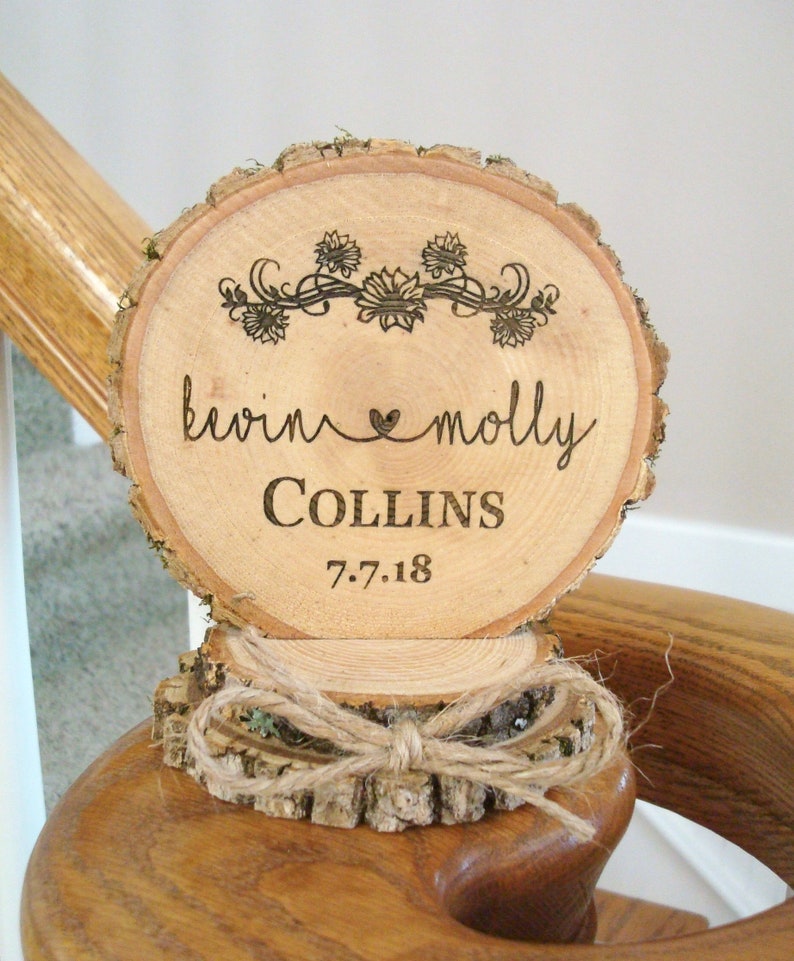 [23] Rustic wood wedding cake topper. Laser engraved with your name and date and a sunflower wreath. Made from three pieces of wood. Coated with acrylic.
---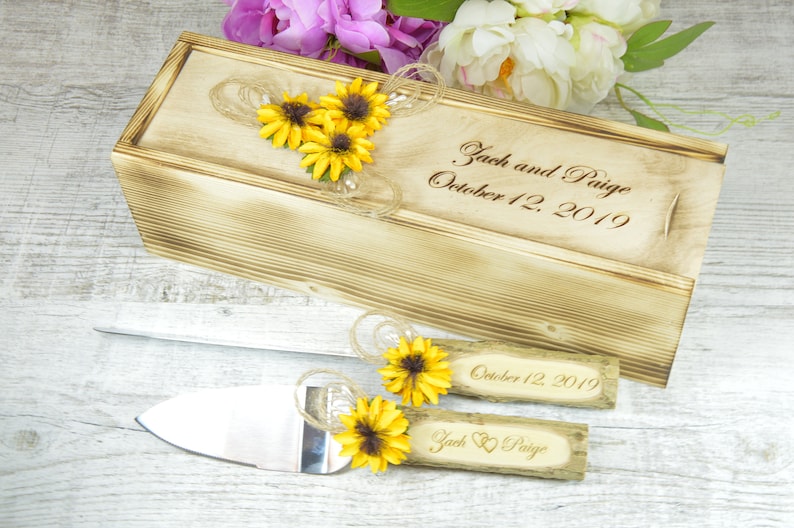 [24] These rustic set cake knife with wood old handles and natural wood box. These knives are old handles cookies. Set looks great at every wedding and every home. After the wedding keepsake for years to come. These cake set are made of stainless steel knives.
---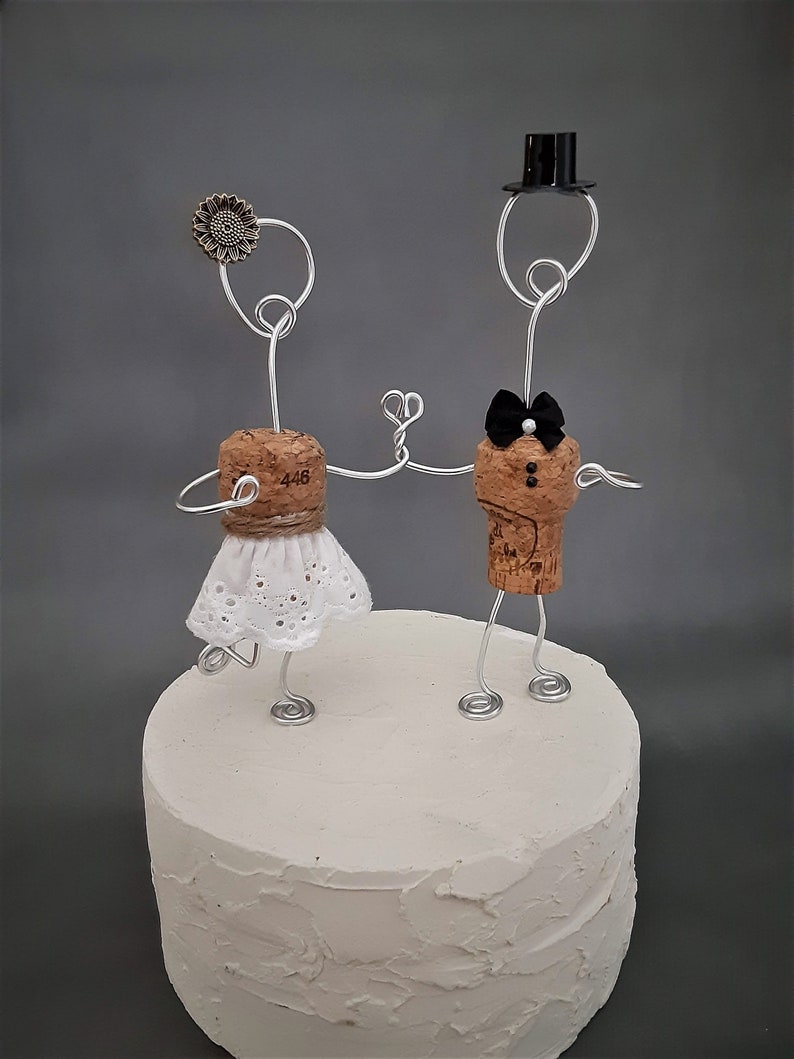 [25] 2 champagne sunflower-themed wedding cork figures. The groom is topped off with a mini hat & black tie, and the bride features a golden sunflower with beautiful country lace skirt. They are fastened with their metal limbs in twined into the shape of a heart; adorned with all the extras, and then carefully packaged in a keepsake box for safe transport.
---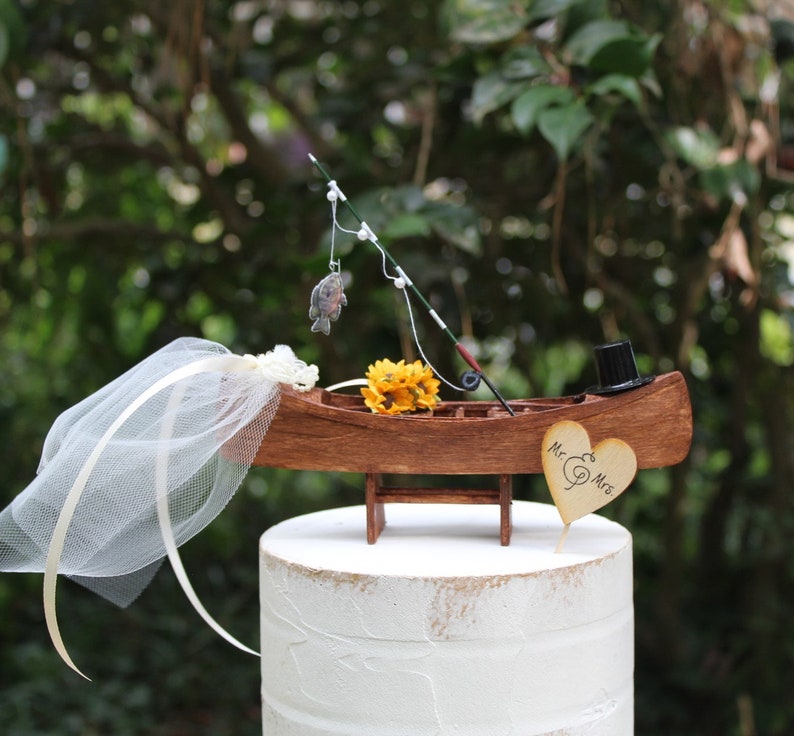 [26] Beautiful stained boat that stands up on the cake. Groom has a black top hat in the photos. He also has a fishing pole with fish that can be placed in different positions. Ivory veil with lace and pearl band with ivory satin bow for the Bride. She has a simple sunflower bouquet.
…
C
Sunflower Wedding Invitation Art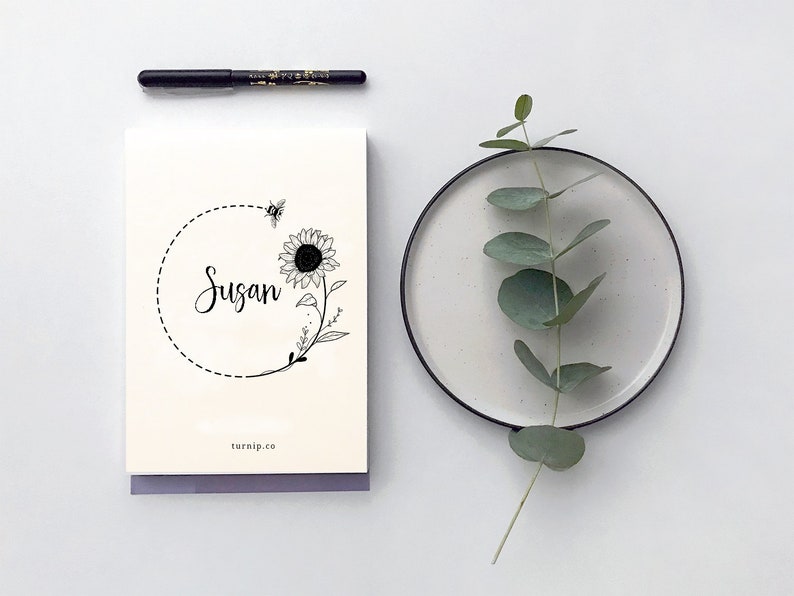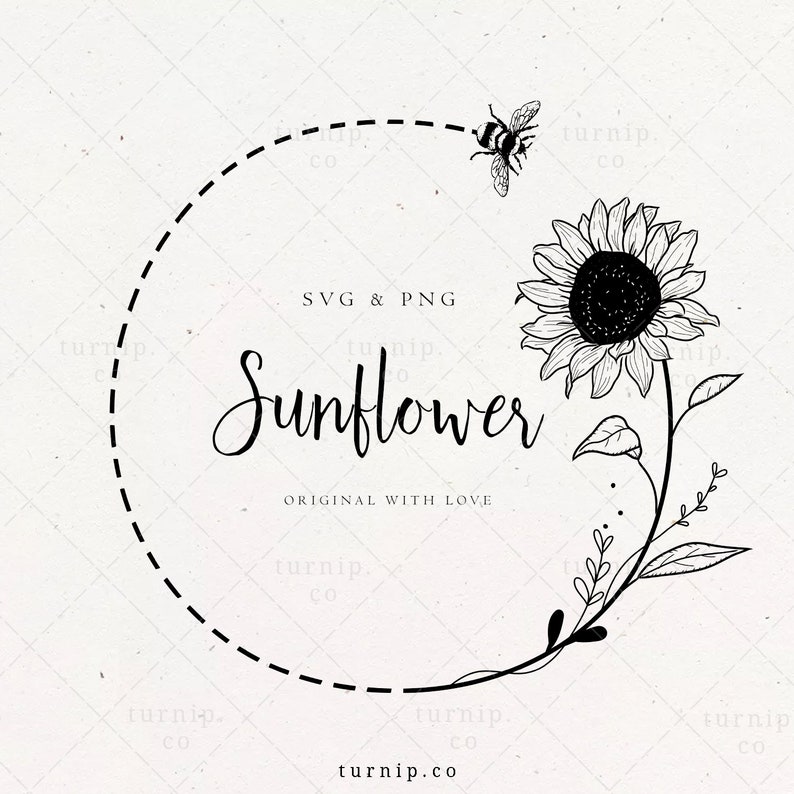 [27] Sunflower and bee wreath, simple monogram frame design.
---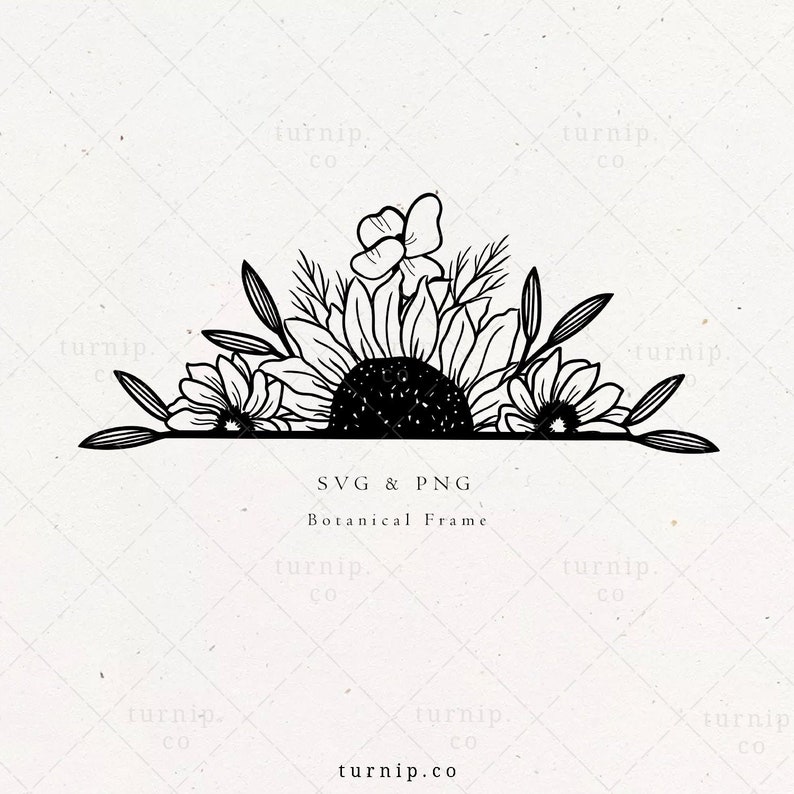 [28] Half sunflower floral frame border design.
---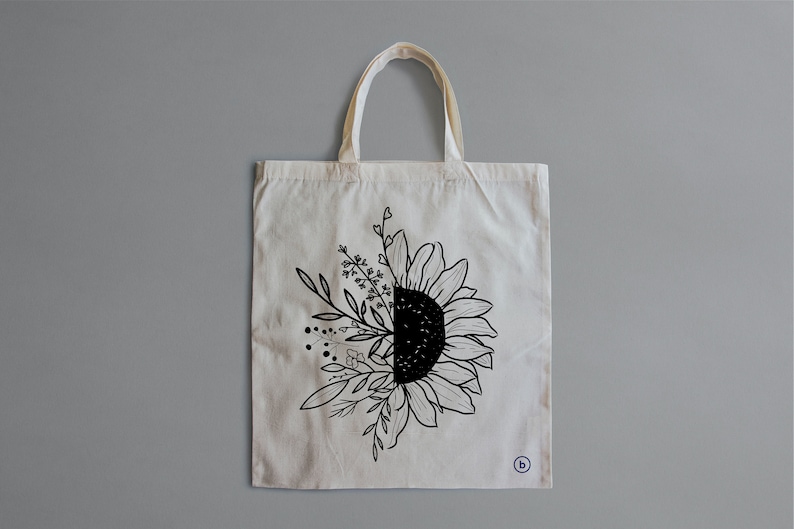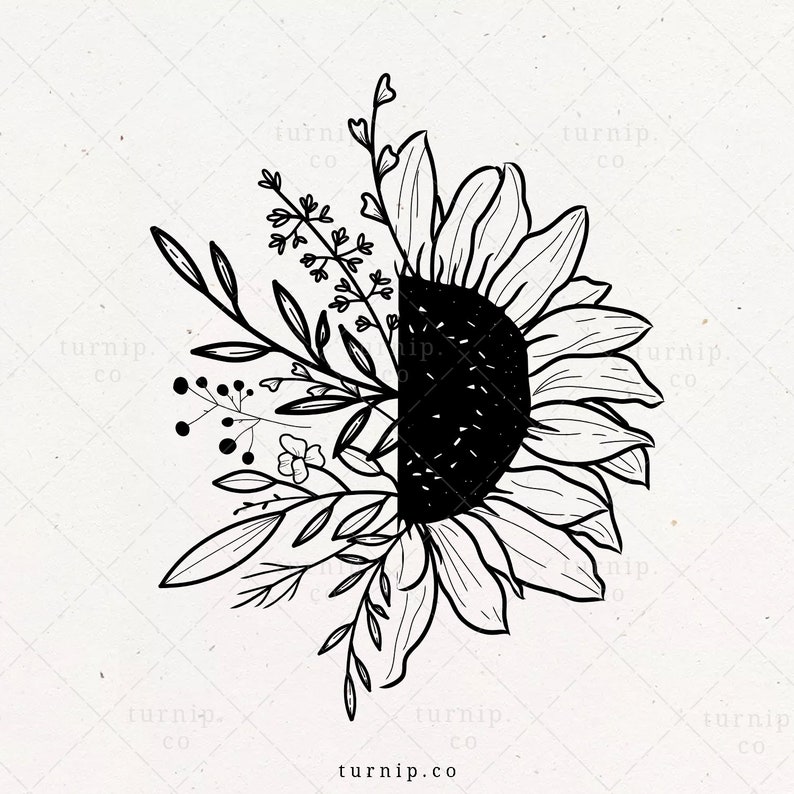 [29] Half sunflower, half botanical floral leaves graphic design.
---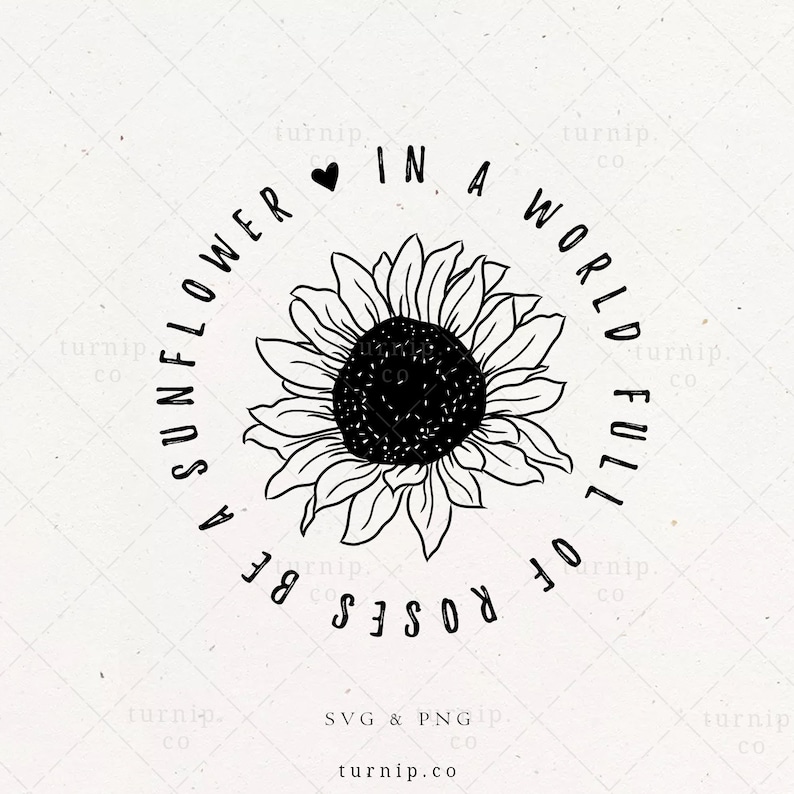 [30] In A World Full Of Roses, Be A Sunflower clipart sublimation quote graphic design.
---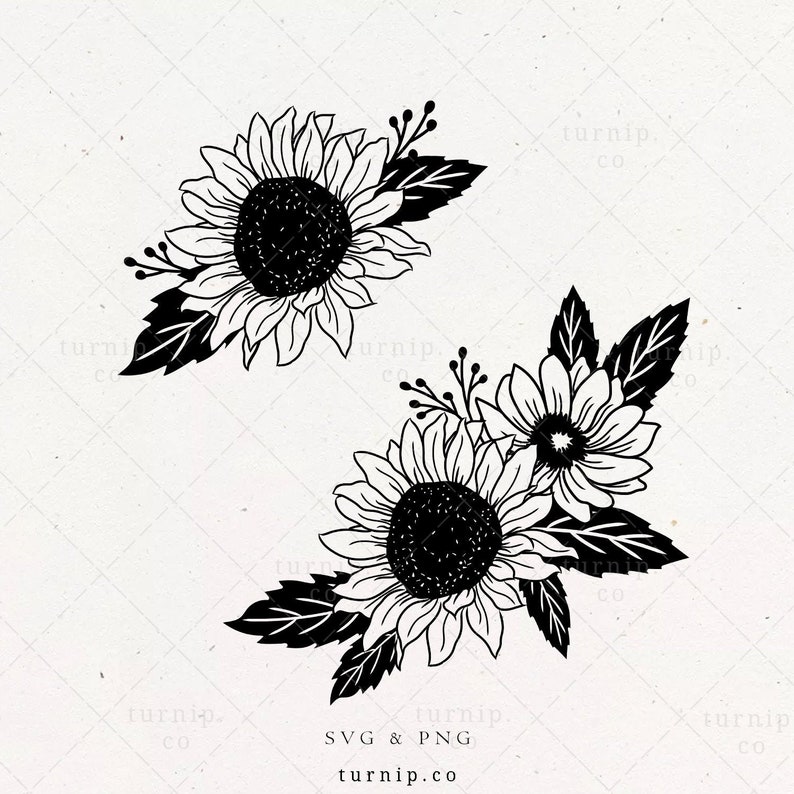 [31] Beautiful sunflower bouquet bundle.
---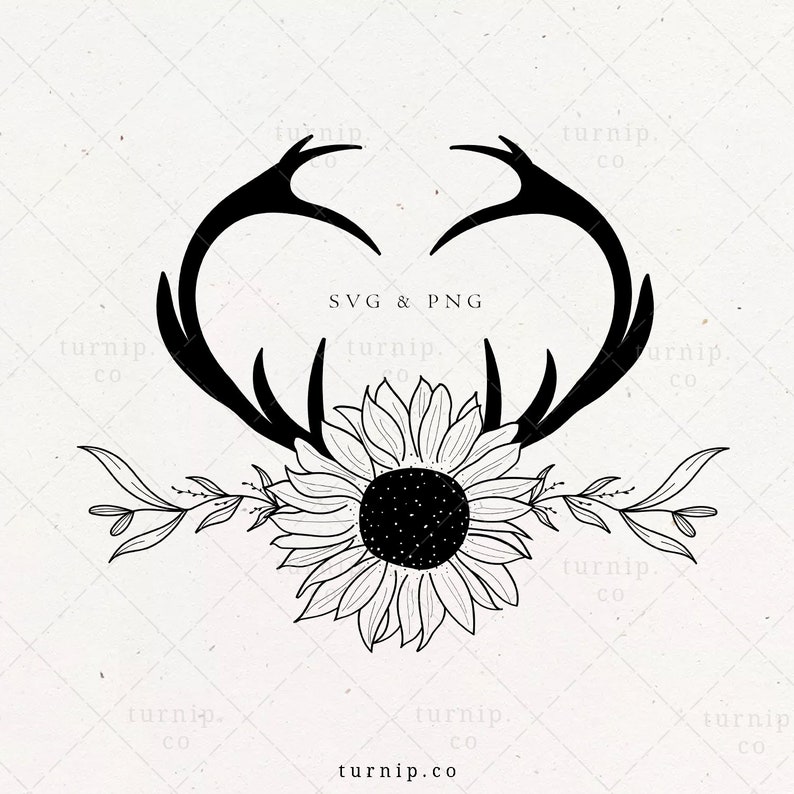 [32] Sunflower and antler boho-themed floral frame design with heart-shaped negative space.
---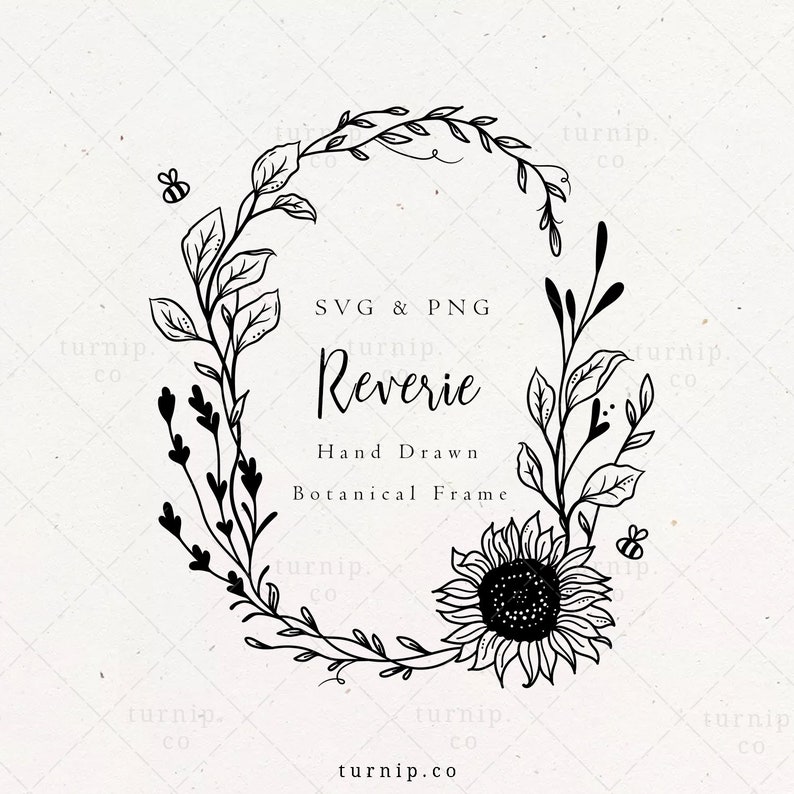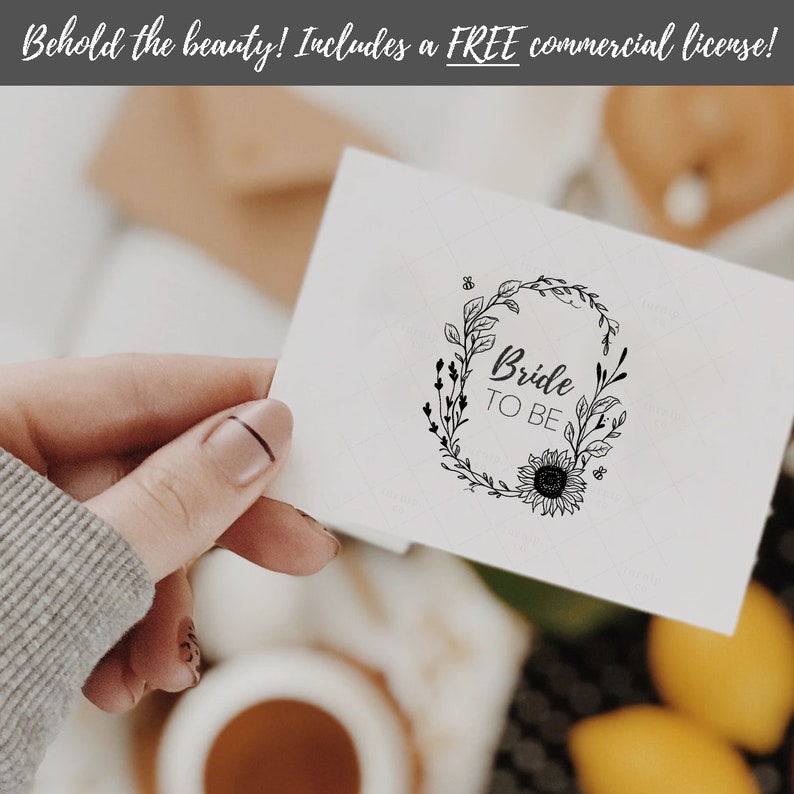 [33] Sunflower and bee oval floral wreath frame design.
---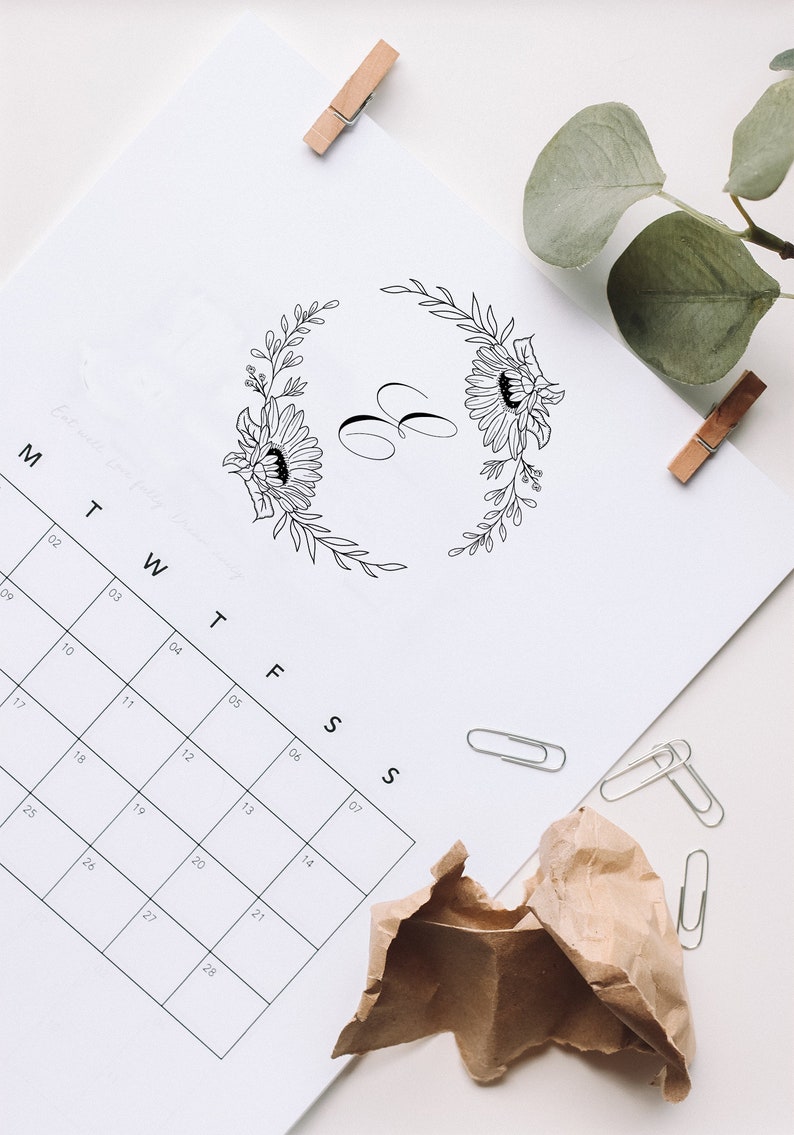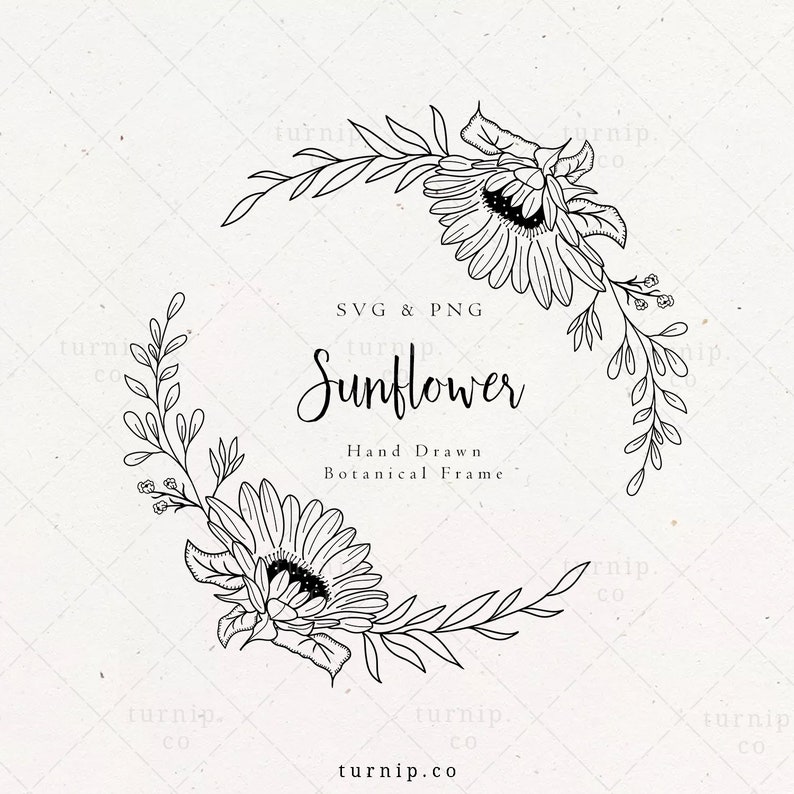 [34] Beautiful split sunflower wreath design, half floral bridal wedding clipart.
---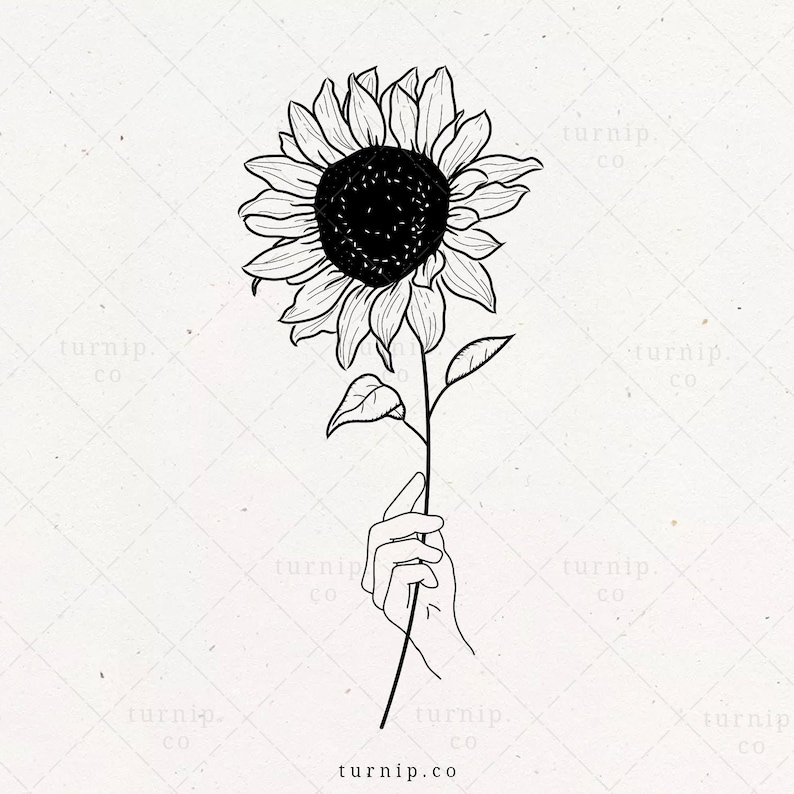 [35] Hand holding a sunflower hand-drawn illustration sublimation graphic design.
---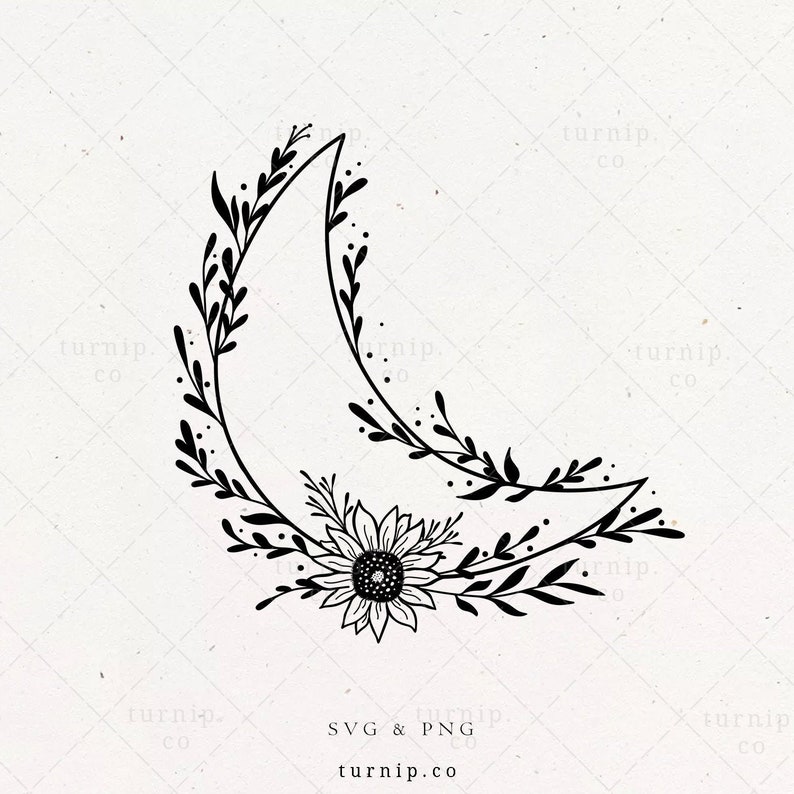 [36] Sunflower and moon celestial floral design piece.
---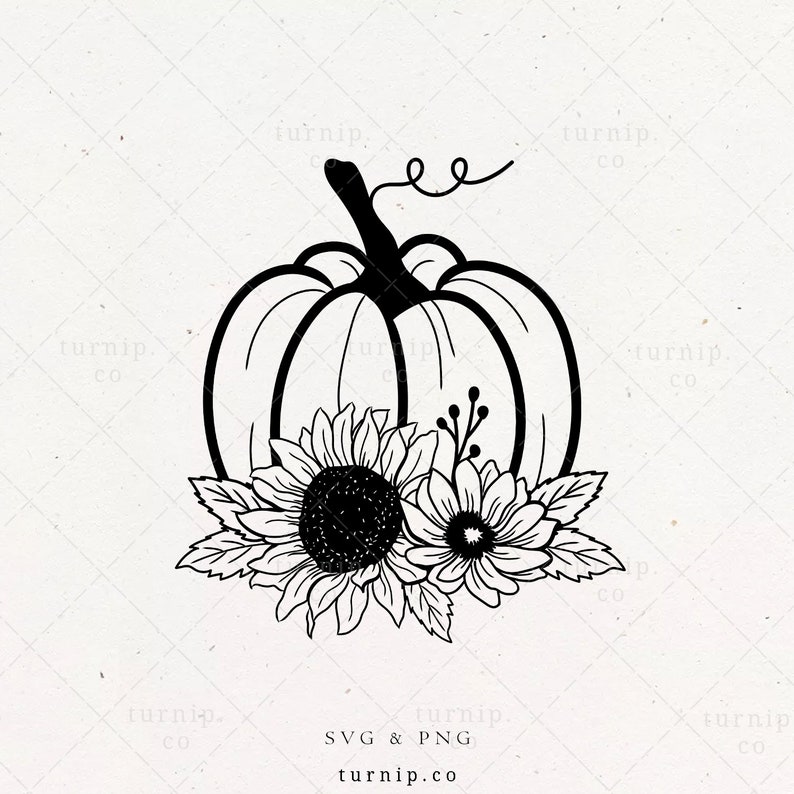 [37] Sunflower and pumpkins, fall and autumn floral art piece.
---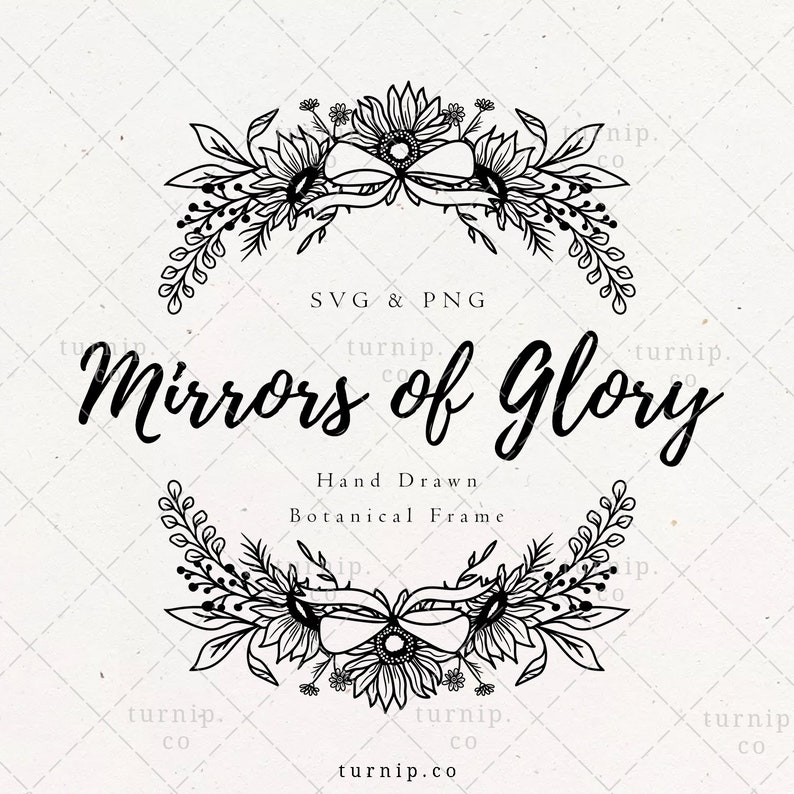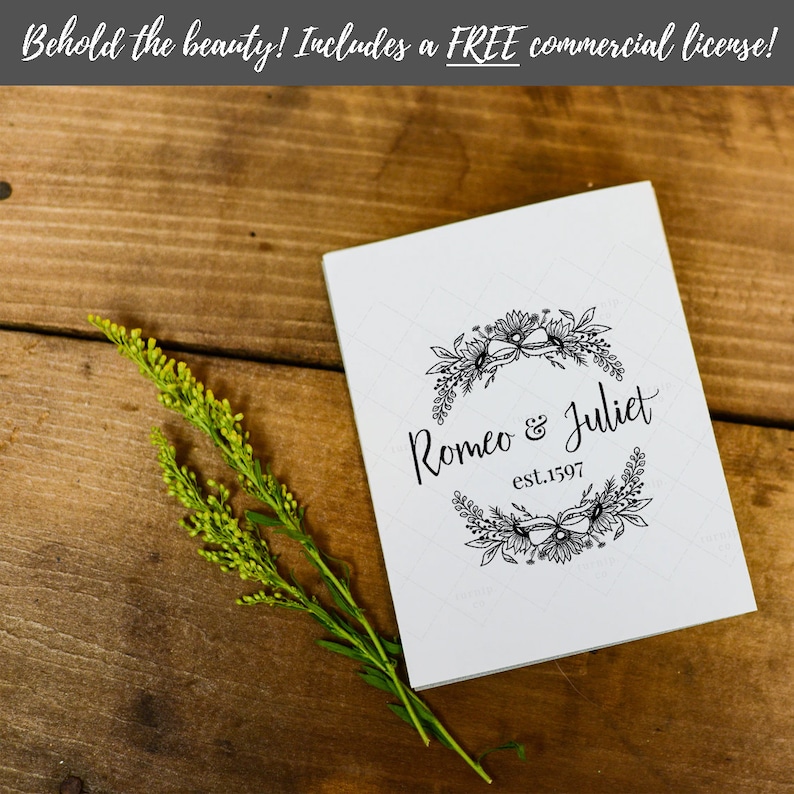 [38] Sunflower Split Wreath / Half Wreath Divider Design.