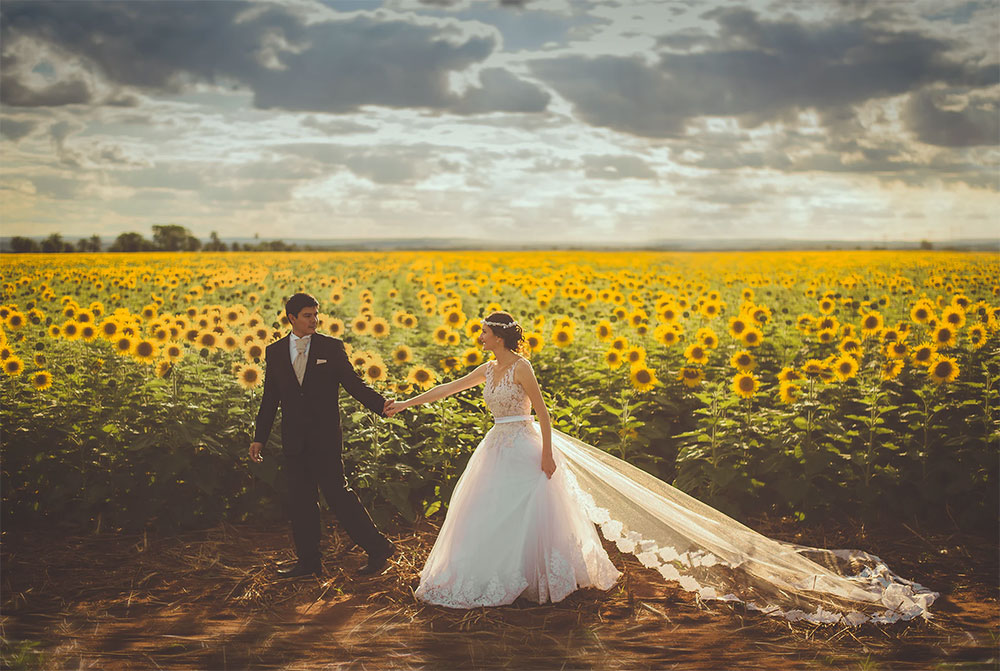 [Click Here To Go Back To Page 1]
…
D
Sunflower Wedding Dresses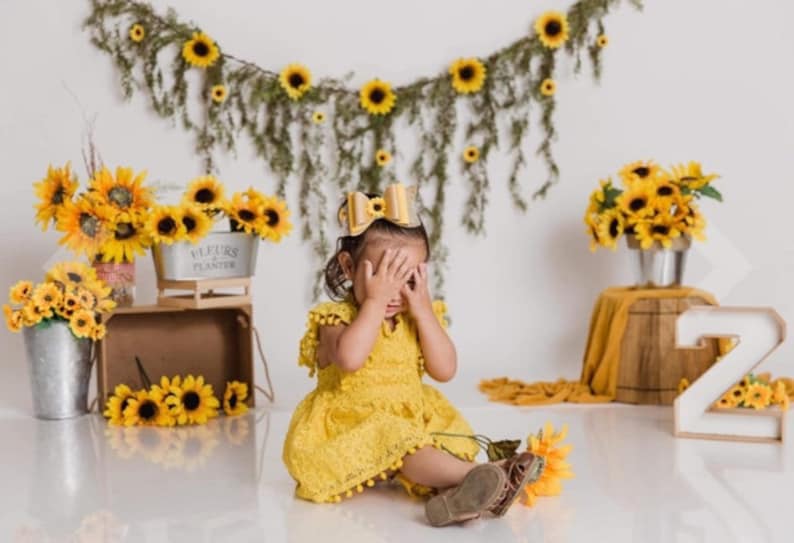 [39] Mustard Yellow Sunflower-Themed Rustic Flower Girl Wedding Dress
---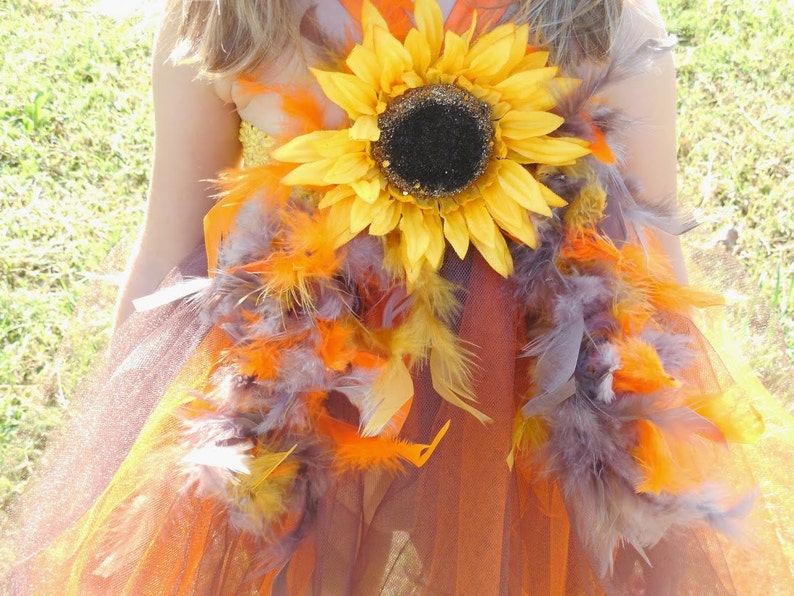 [40] The large sunflower surrounded by gold, brown and orange feathers adds a lot of sass to the layers of brown and orange tulle! This dress would be perfect for rustic sunflower weddings.
---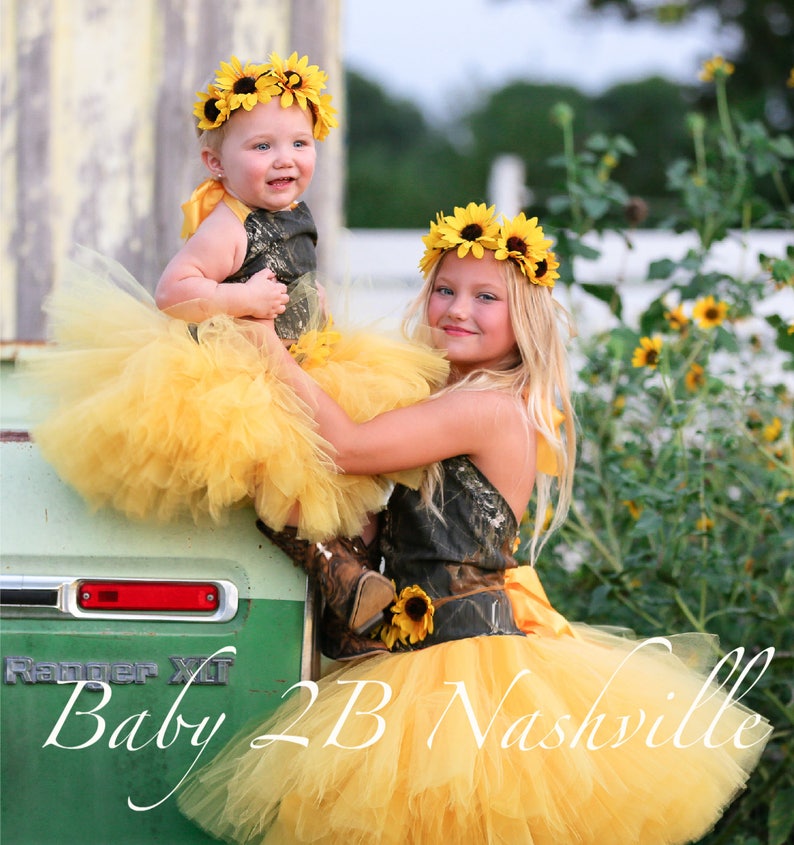 [41] The top is mossy oak camo with yellow satin lace up back. Skirt is solid yellow. Sunflower belt included.
---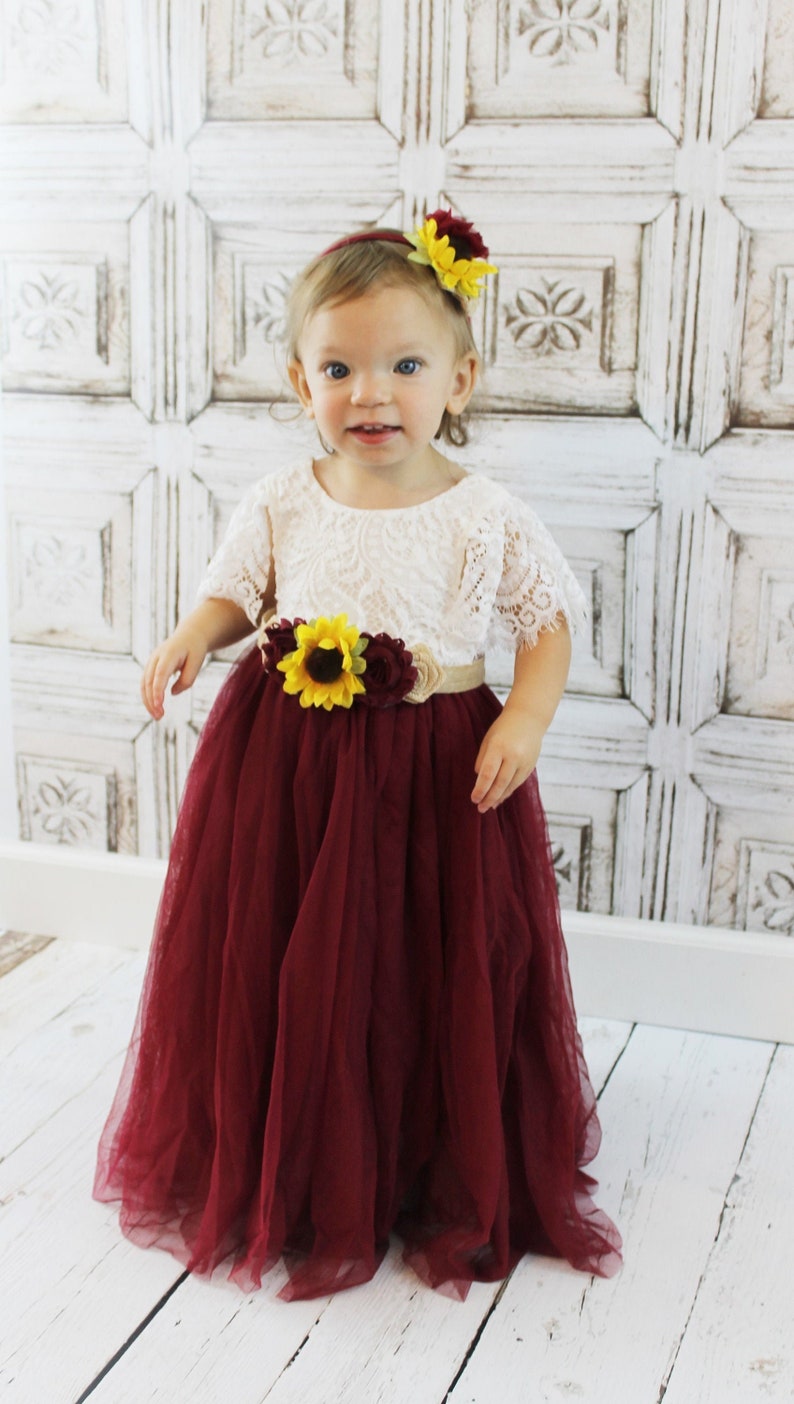 [42] This full length flower girl dress, is made with a delicate white lace bodice in short Sleeves. The V shaped back with unfinished lace adds the perfect amount of boho chic look to this amazing sunflower dress..
---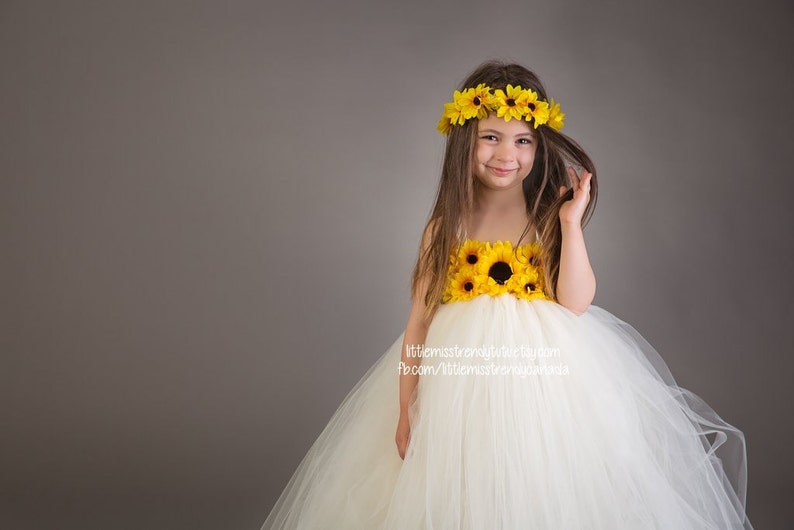 [43] This Ivory Sunflower Flower Girl Tutu Dress is made with 4 layers of ivory tulle which is hundreds of yards of bridal quality nylon tulle. Beautiful and cheery sunflower enhance the front of this dress. Satin ribbon straps are fully adjustable and tie into a beautiful bow in the back under the flowers.
---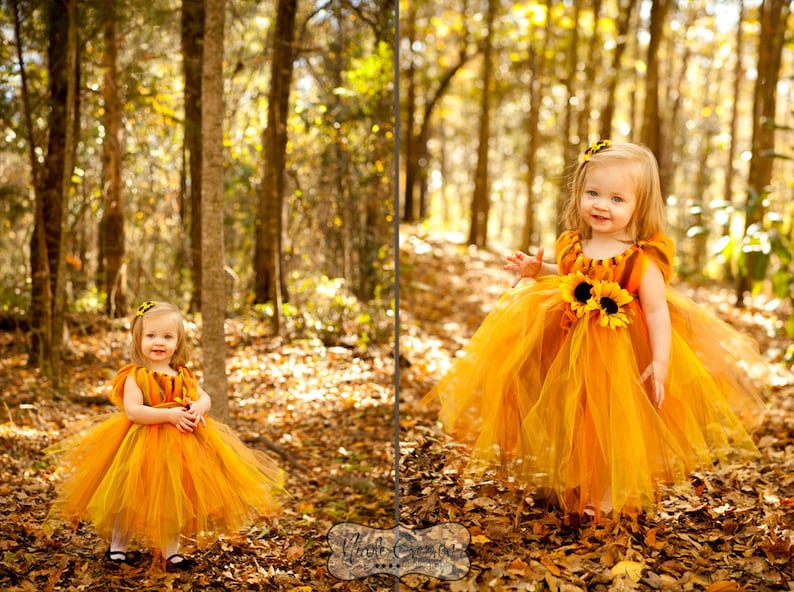 [44] The Most Popular Flower Girl Dress Of The Season
---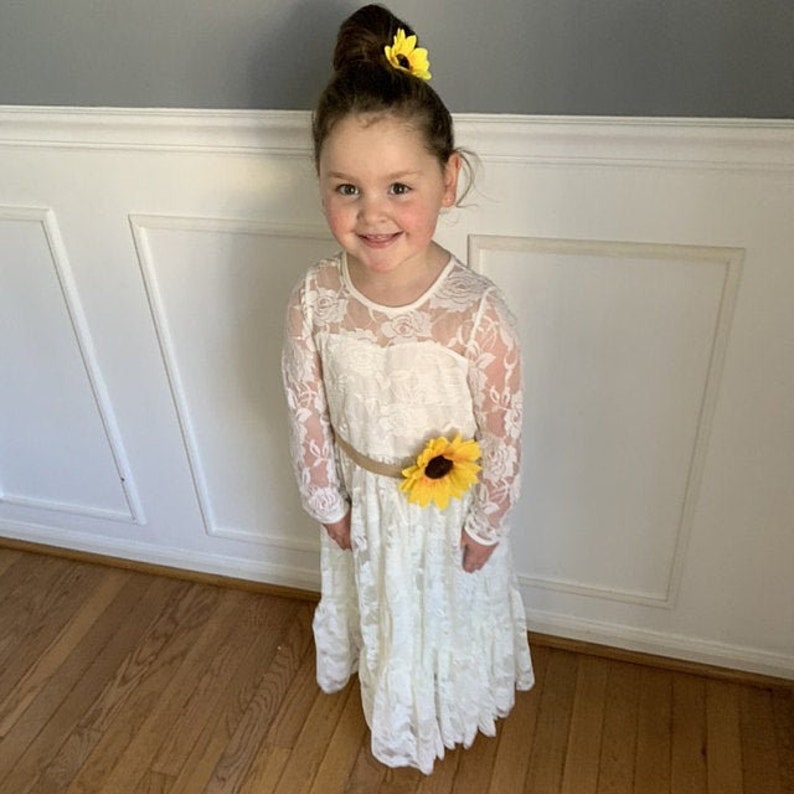 [45] This Ivory Lace Dress is perfect for any Wedding or Special Occasion. With a beautiful round neckline and delicate lace long sleeves. It is lined with soft cotton fabric for comfort.
---
[46] Yellow Tulle Sunflower Dress For The Perfect Flower Girl
---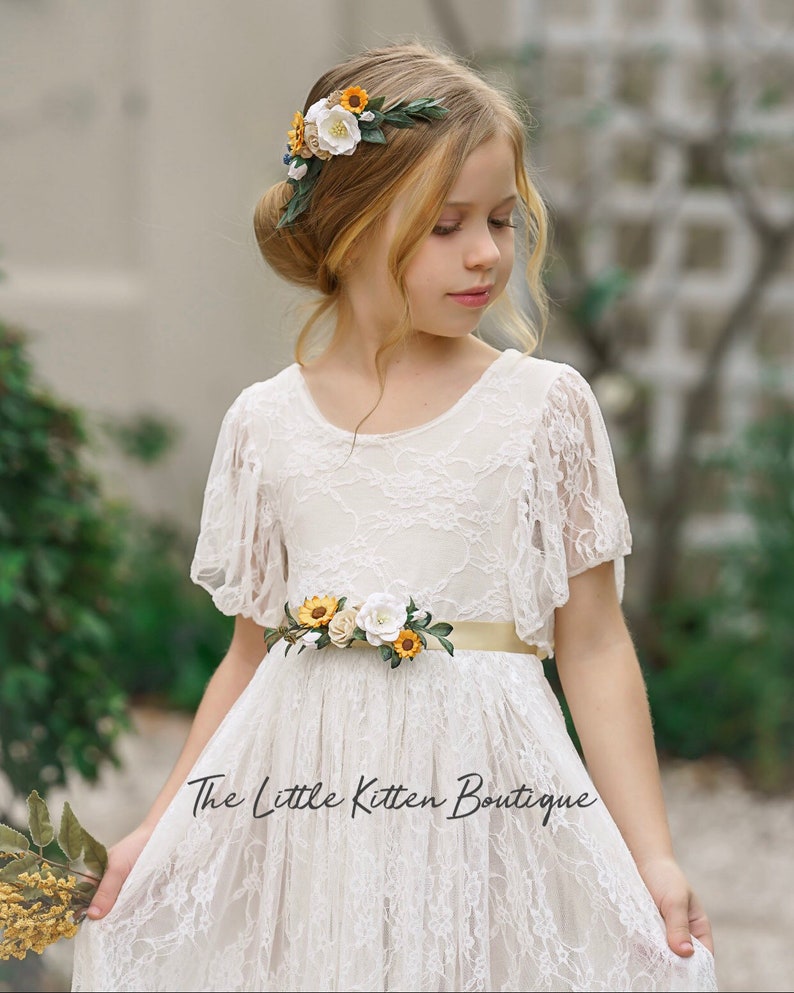 [47] Bohemian inspired with a vintage feel of days gone by, this full length, lace flutter sleeve, flower girl dress / special occasion dress , is truly an heirloom piece.
---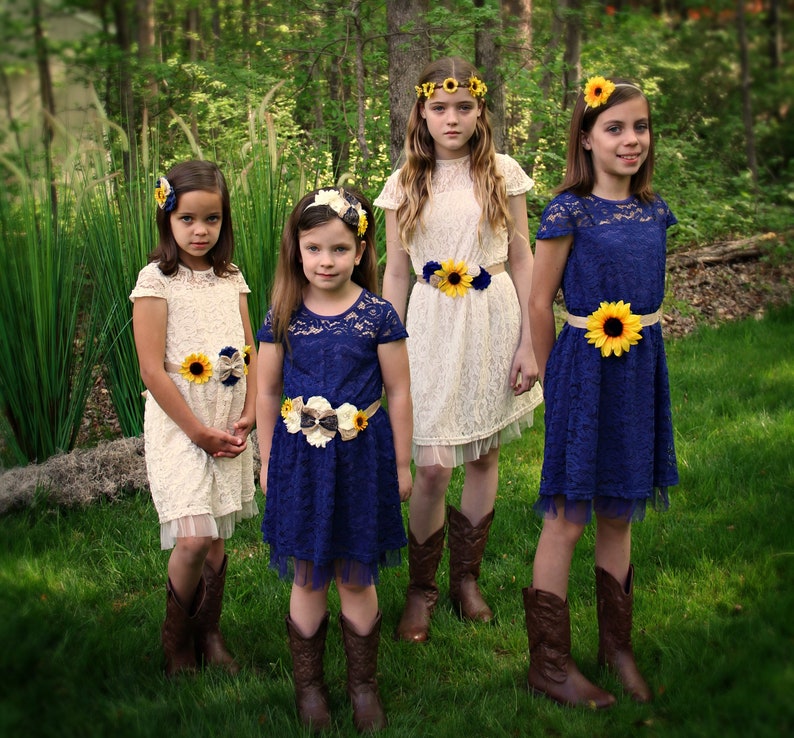 [48] This Navy Lace Dress is perfect for a Rustic Shabby Chic Wedding. This dress is fully lined and features beautiful navy lace overlay with navy underlay. A beautiful navy tulle shows on the bottom of the dress. The dress is accented with adorable cap sleeves So girly and beautiful.
---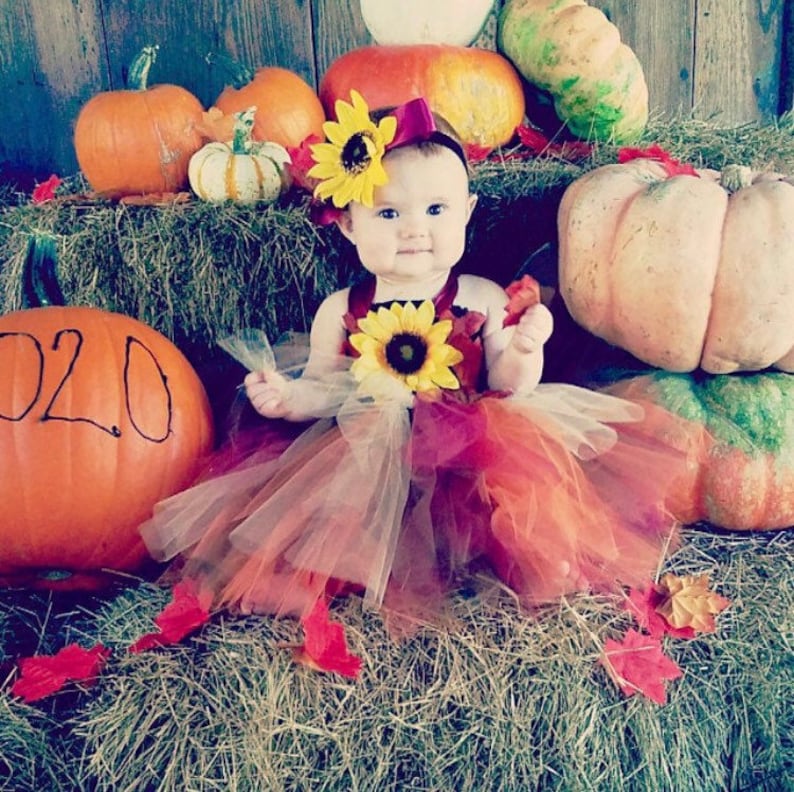 [49] The dress features 6-inch-long soft crochet with a gorgeous sunflower symbolizes good luck and lasting happiness. The wine-colored shoulder straps are adjustable and tie into a bow in the back.
---
[50] The Ultimate Sunflower Wedding Dress.
…
E
Sunflower Wedding Decorations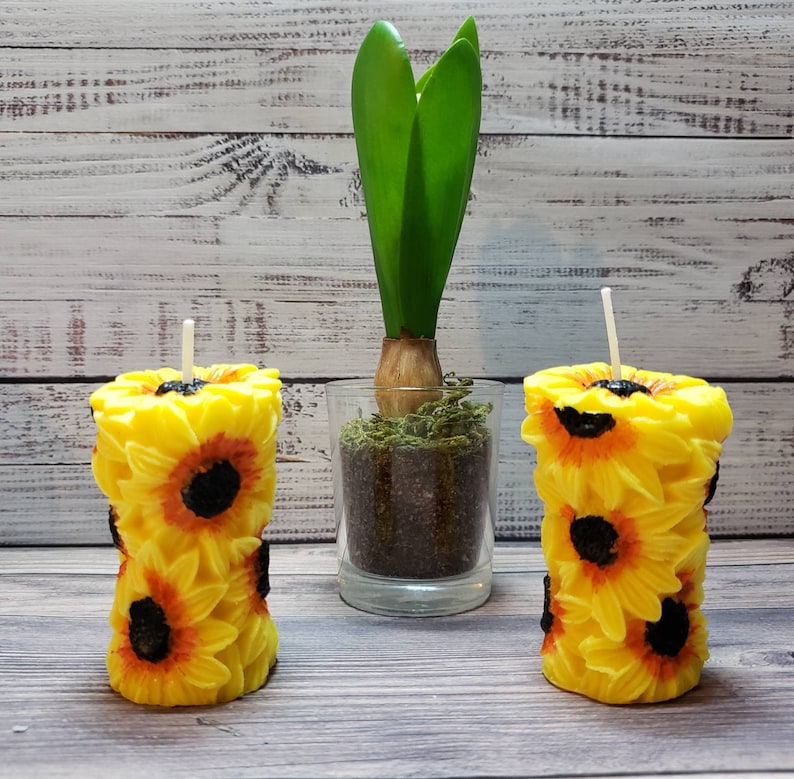 [51] Beautiful handcrafted sunflower candles for the perfect sunflower decor.
---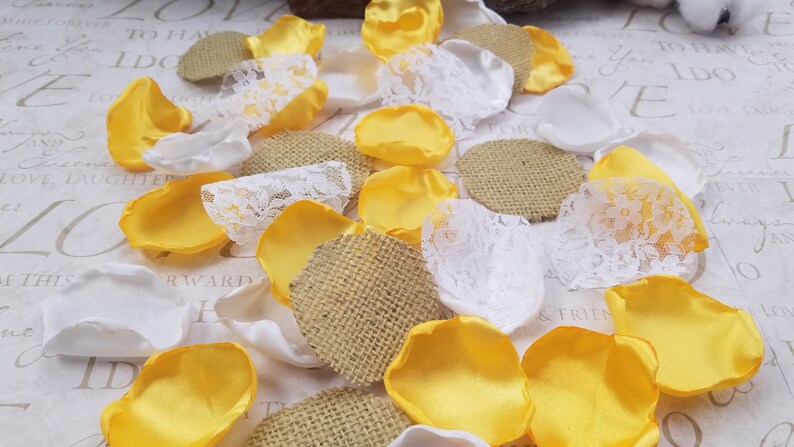 [52] Sunflower Yellow and Ivory Satin; Lace and Burlap Rose Petals. Each of the petals are hand cut and hand singed to create an unique set. One side of the satin petal will be shiny and other will be matte.
---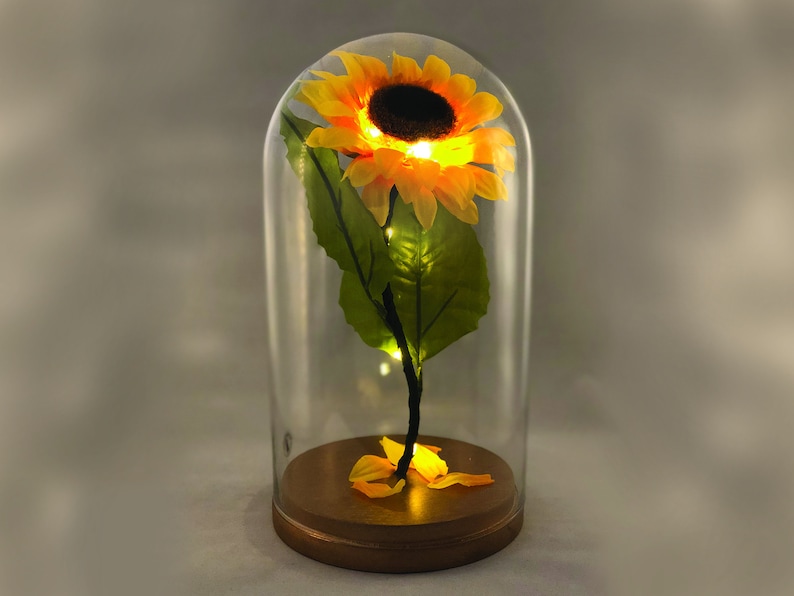 [53] This beautiful sunflower inspired by the movie, The Beauty and the Beast. It is all handmade with great craftsmanship and detail. The sunflower lights up with an off and on switch. Lights are battery powered but don't worry, the enchanted sunflower will come with batteries.
---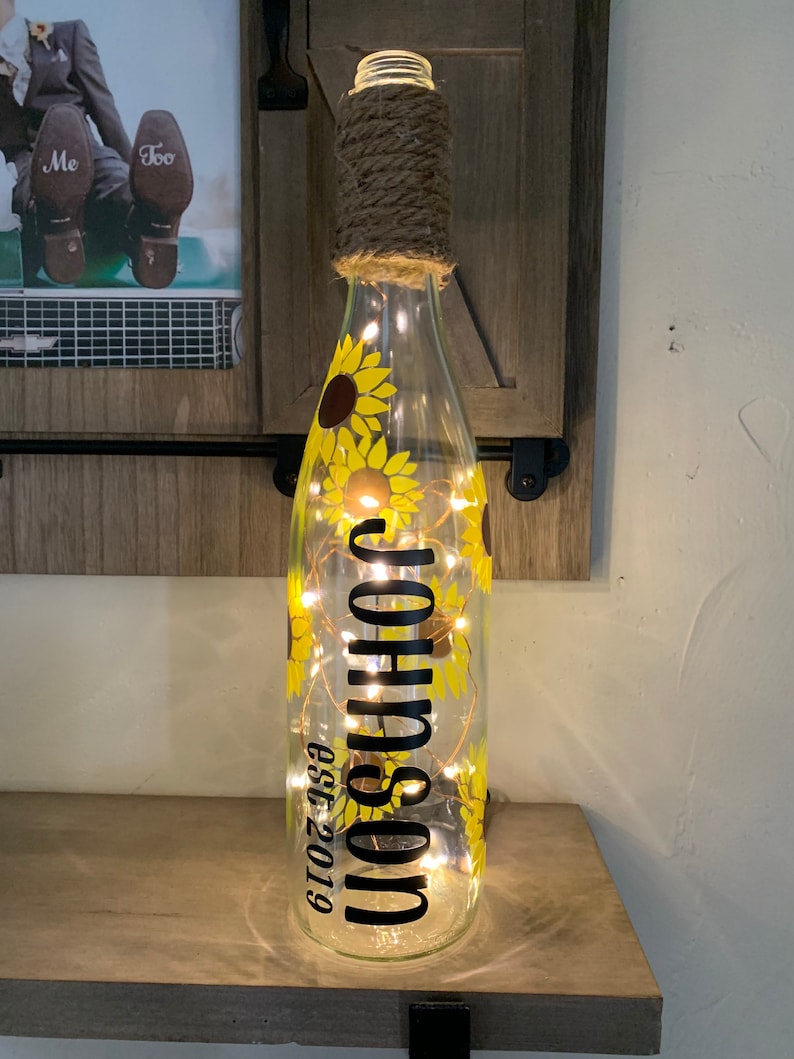 [54] Customized sunflower wine bottle. Made with premium vinyl, and come with fairy lights. Perfect for decor in the evening.
---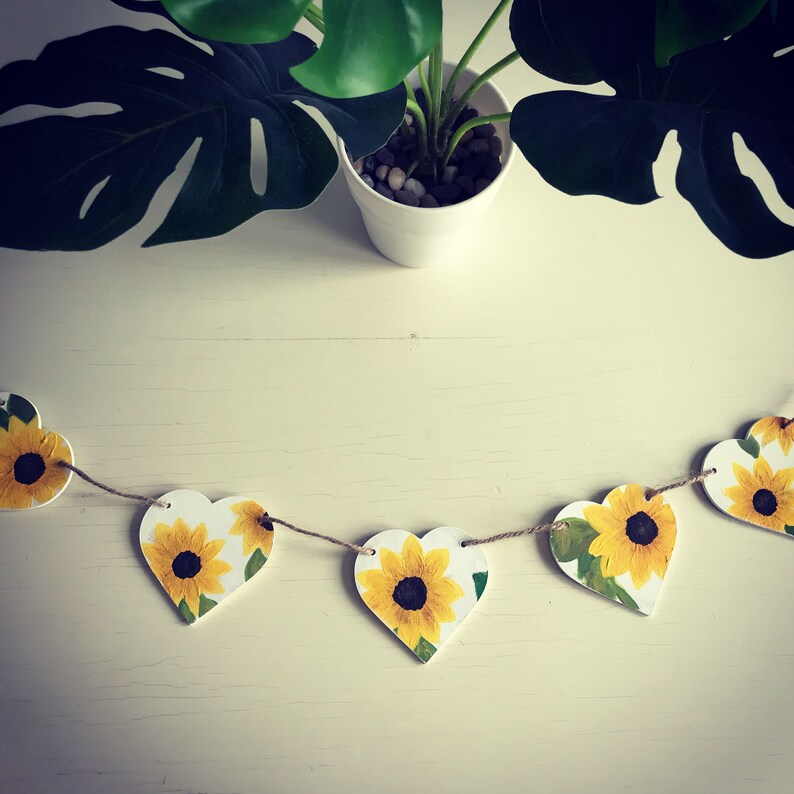 [55] Handmade Sunflower Bunting. Handpainted onto love heart wooden shapes measuring 80mm x 80mm.
---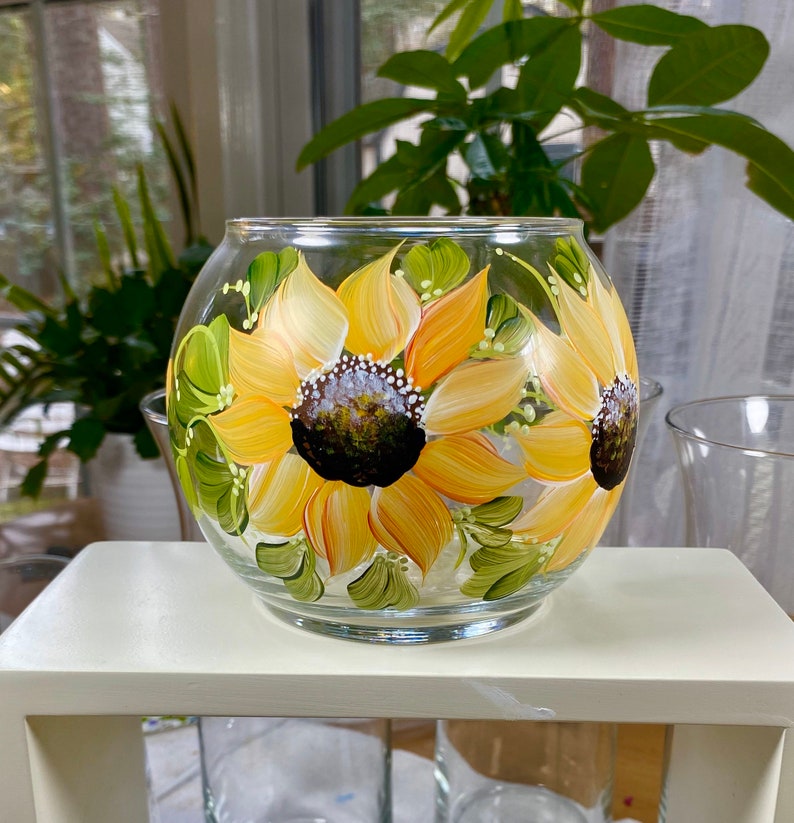 [56] A lush display of hand painted sunflowers adorn this stylish and delightful tea light.
---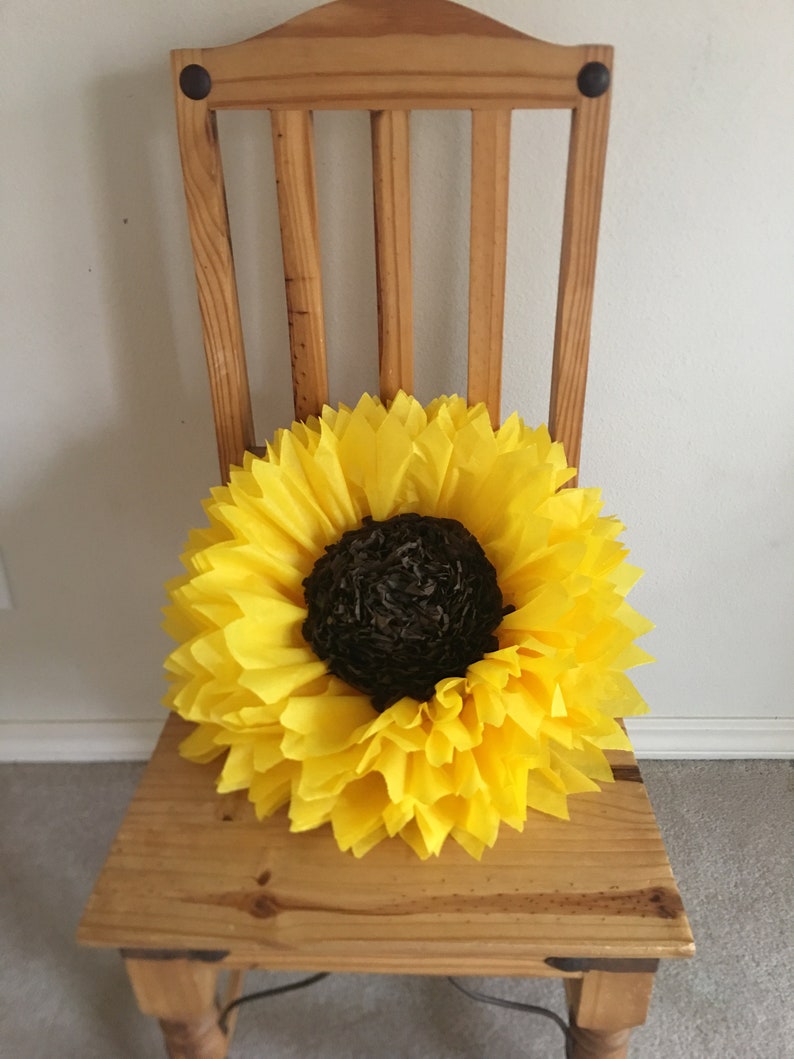 [57] The perfect finishing touch for your sunflower themed wedding, or use them in your home decor for a burst of sunshine no matter the weather.
---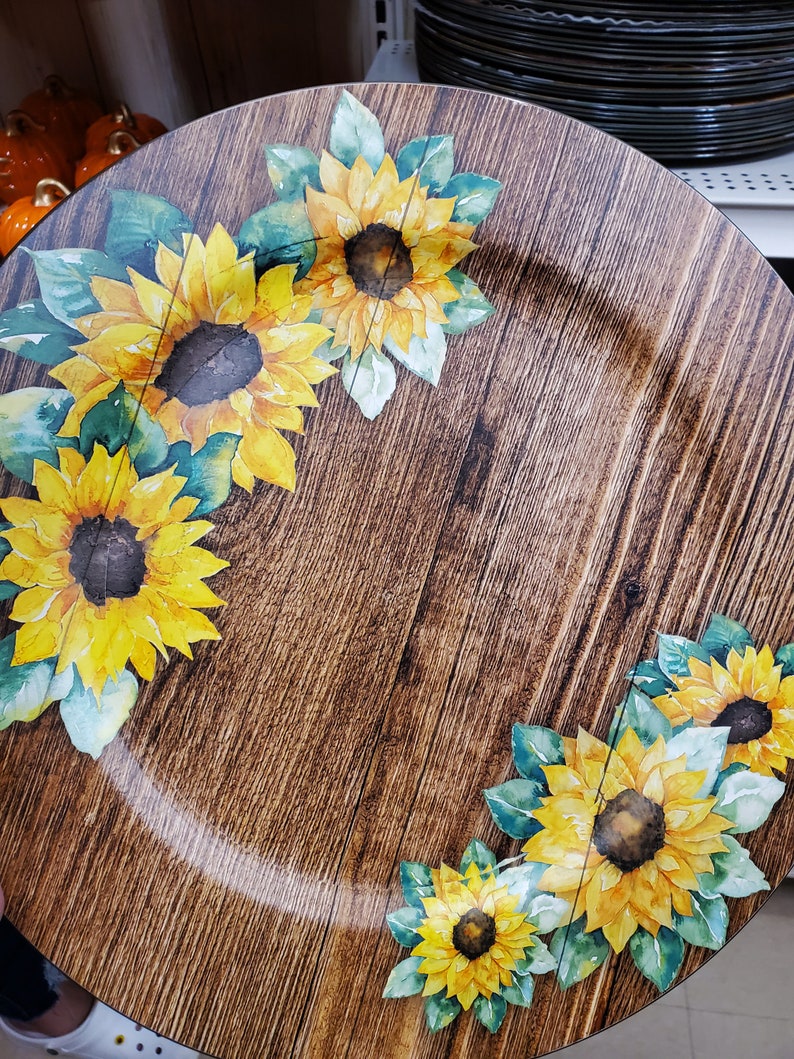 [58] Faux Wood Sunflower Charger Plate made of hard bond resin with structured wood finish and vinyl sunflower pattern.
---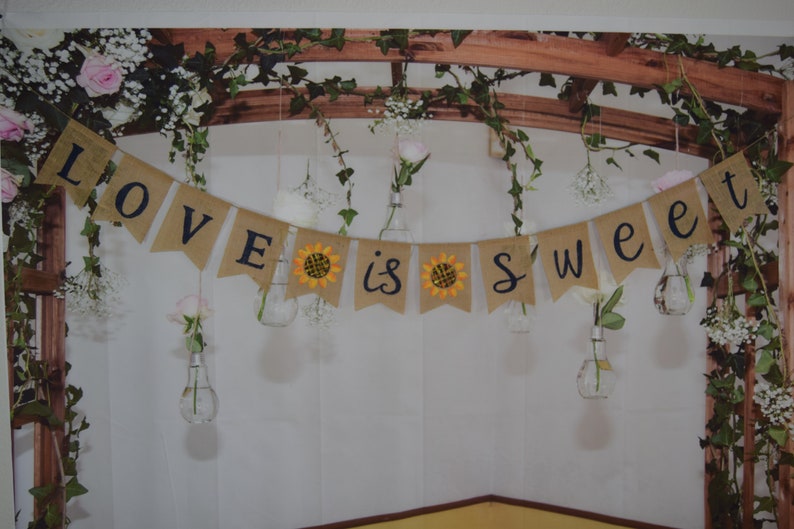 [59] Sunflower Burlap Banner For Decorating Your Wedding.
---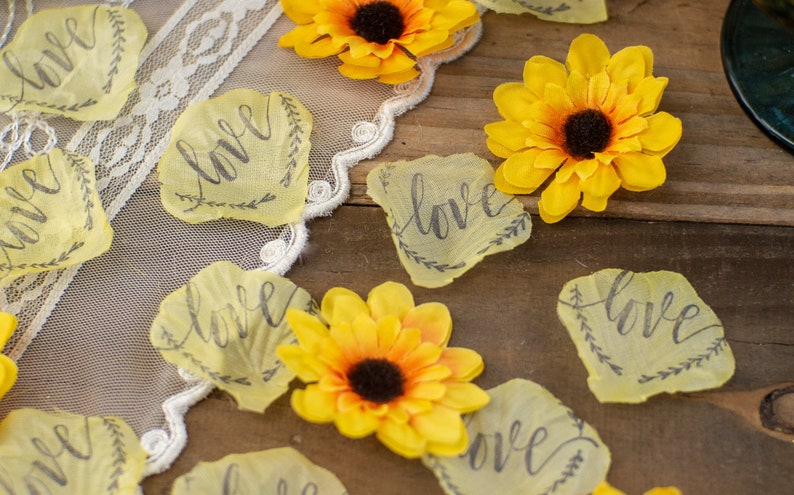 [60] Having a sunflower wedding? These rose petals are the perfect wedding confetti for your rustic wedding, or bridal shower. Our Sunflowers and confetti make a lovely wedding table decoration to sprinkle around the centerpiece or for your flower girl to toss down the aisle..
---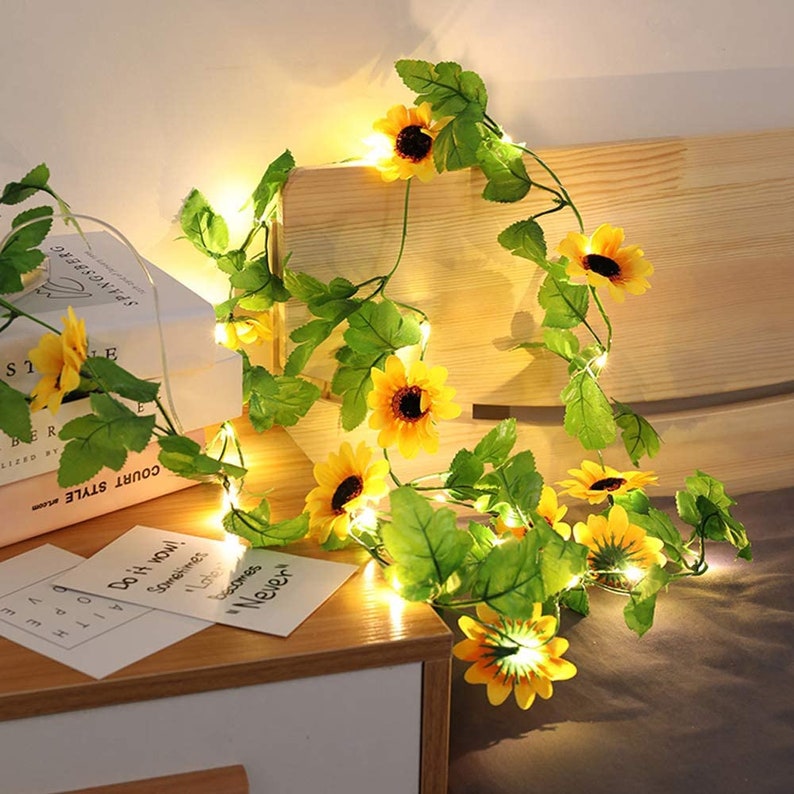 [61] Elegant design and Beautiful sun flowers, warm white lights.
---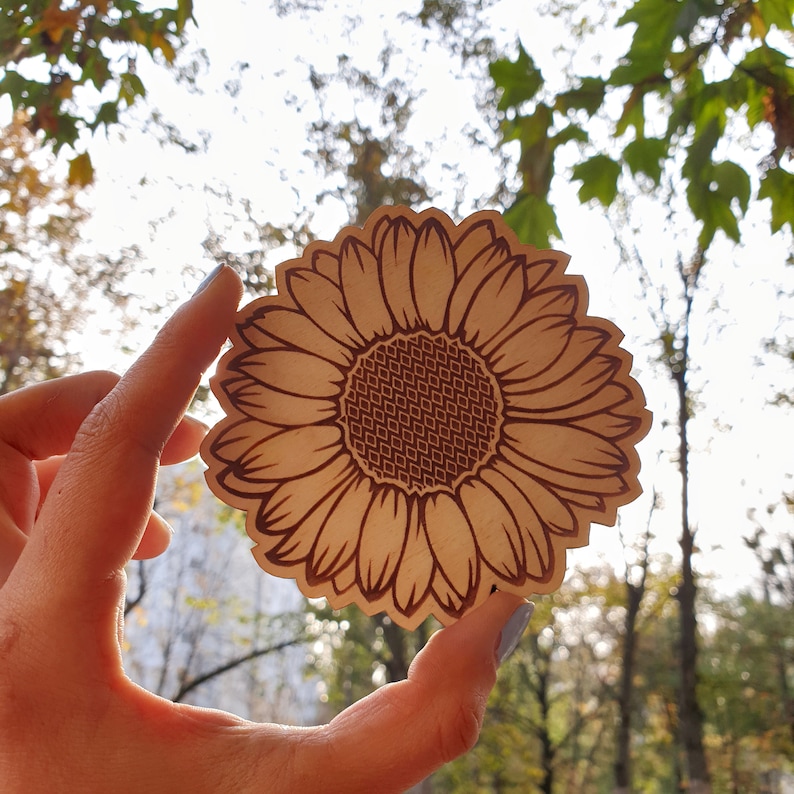 [62] Wooden Sunflower Coasters.
---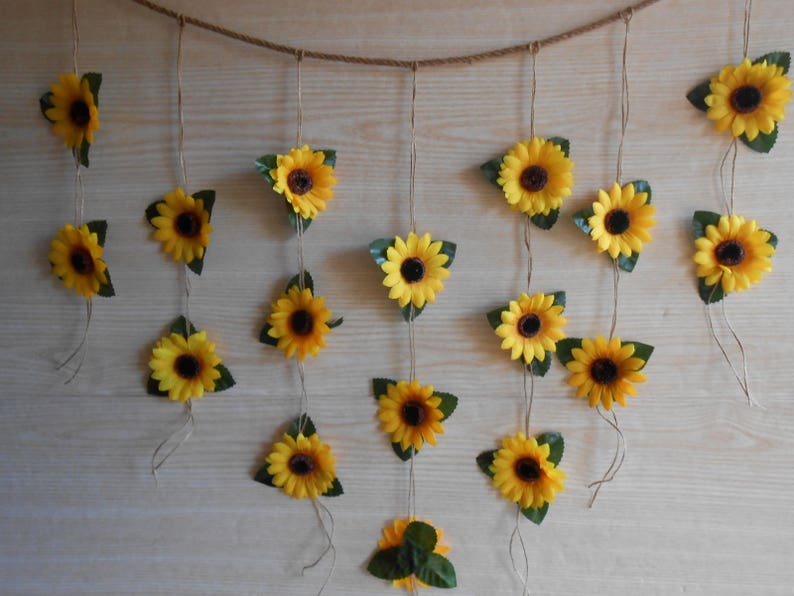 [63]  A must have among your rustic wedding decorations!
---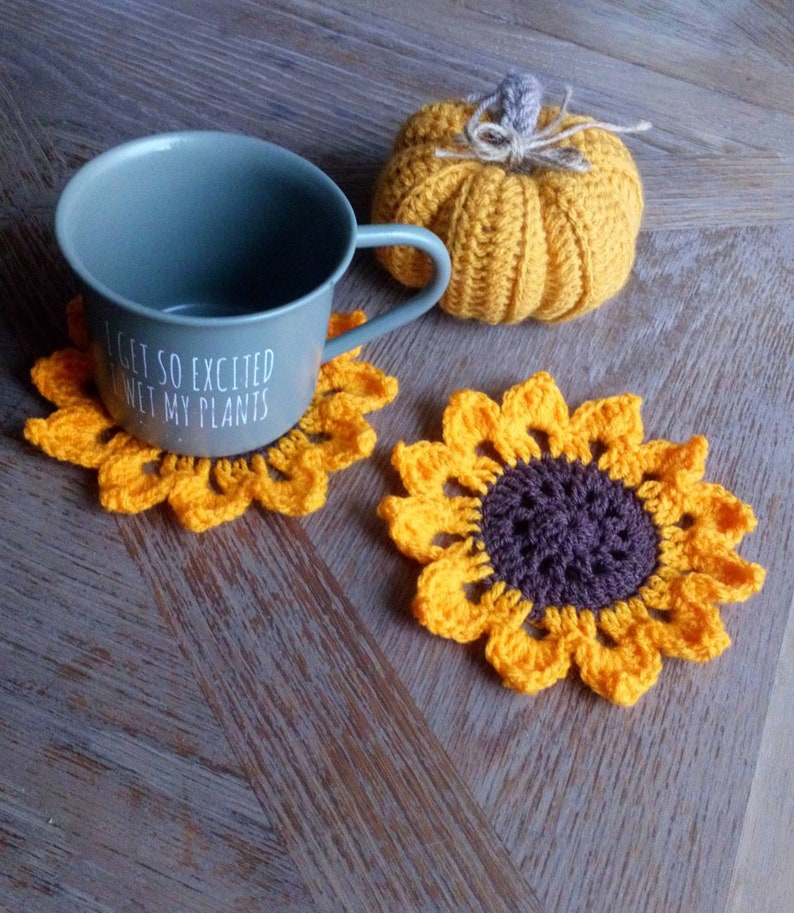 [64] Hand Crocheted Sunflower Decor Piece For Your Wedding Tables.
---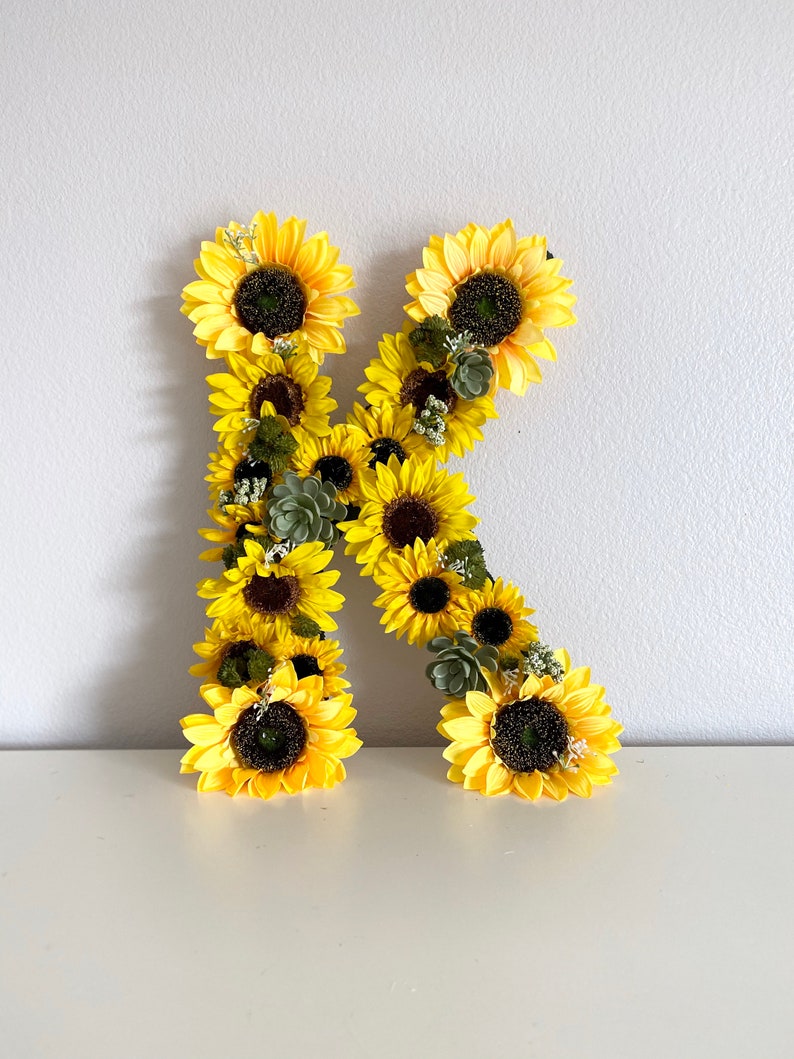 [65] Decorate Your Wedding With Sunflower Letters. Made with 1/4" thick wood and uses hand selected premium faux flowers and a multi-step adhesion process to ensure it is a durable keepsake that will last a lifetime.
---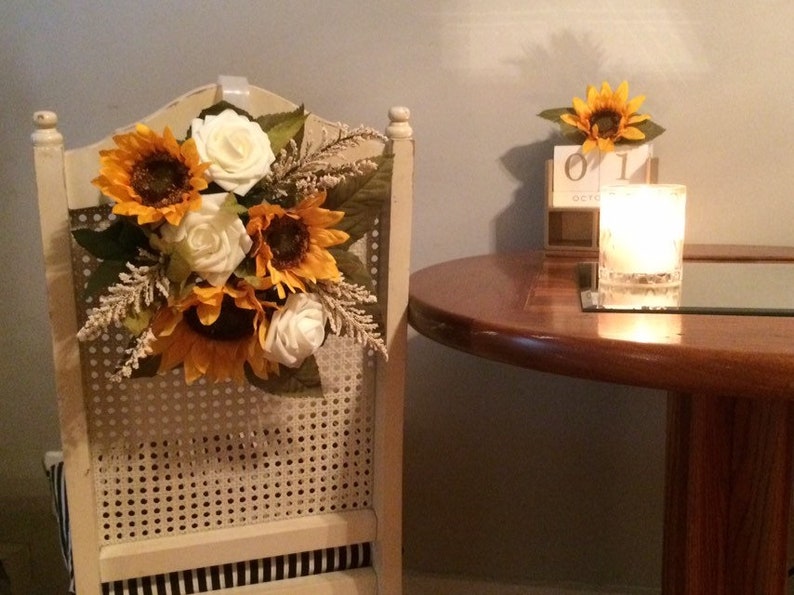 [66] Sunflower wedding decor perfect to elevate your ceremony! These beautiful wedding aisle arrangements are made with pro quality materials.
---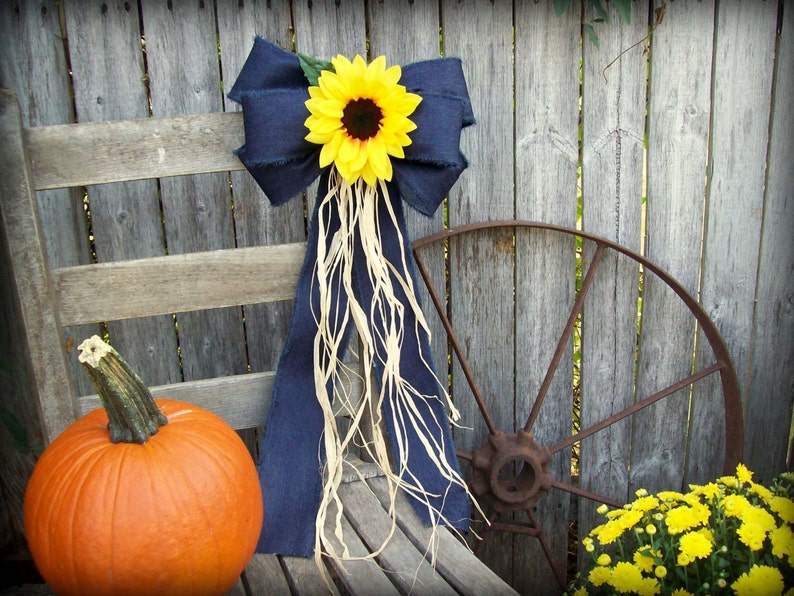 [67] Sunflower and bows. The highlight is a high quality 4.5 inch sunflower in the center and a swatch of raffia hanging with the tails. 36 inches of jute string is attached to the back to make it easy to hang on pews, chairs or fences.
---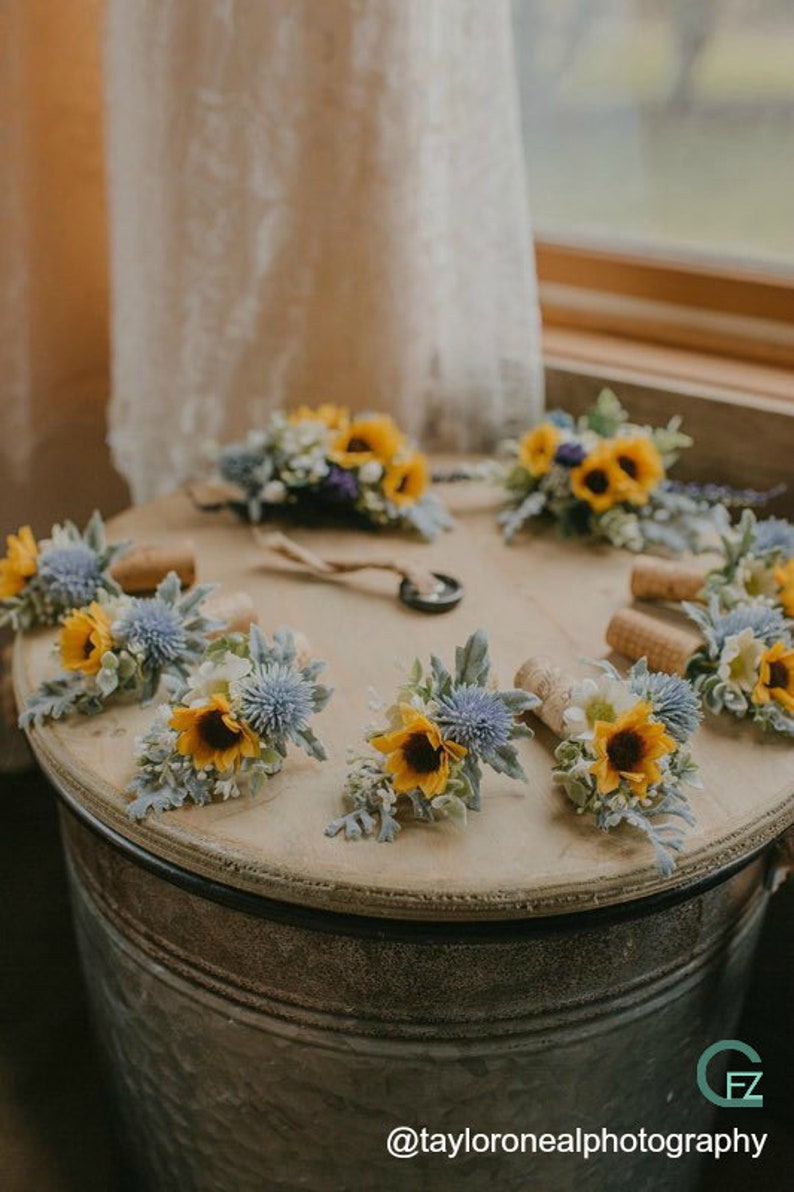 [68] Hand crafted in the Pacific North West, these Wine Cork Boutonniere's make a great memorable keep sake for each one of your groomsmen & women! Each Rustic Cork Boutonniere features Satin Flowers, and includes a Boutonniere pin for fastening.
---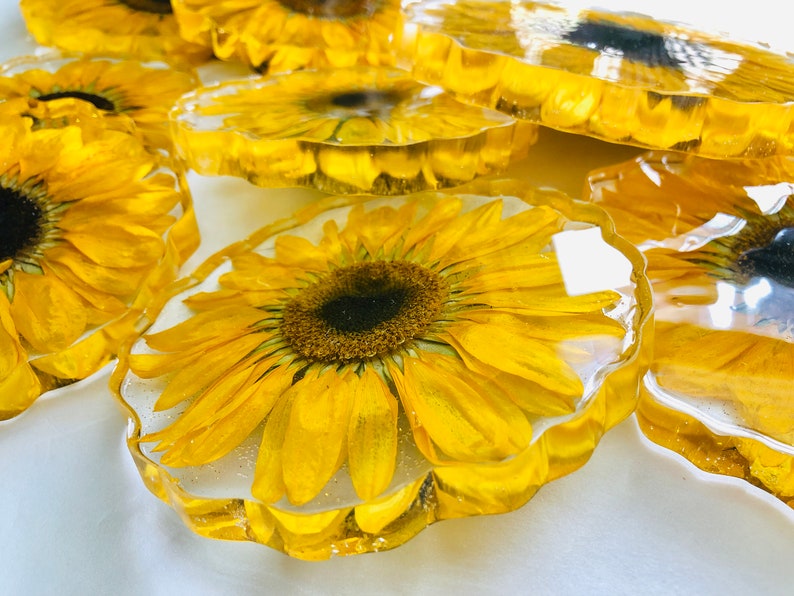 [69] 100% handmade with real dried California sunflowers. Encapsulates real dried sunflowers in their own designed mould, so each piece is one of a kind and you won't find another piece in the market..
---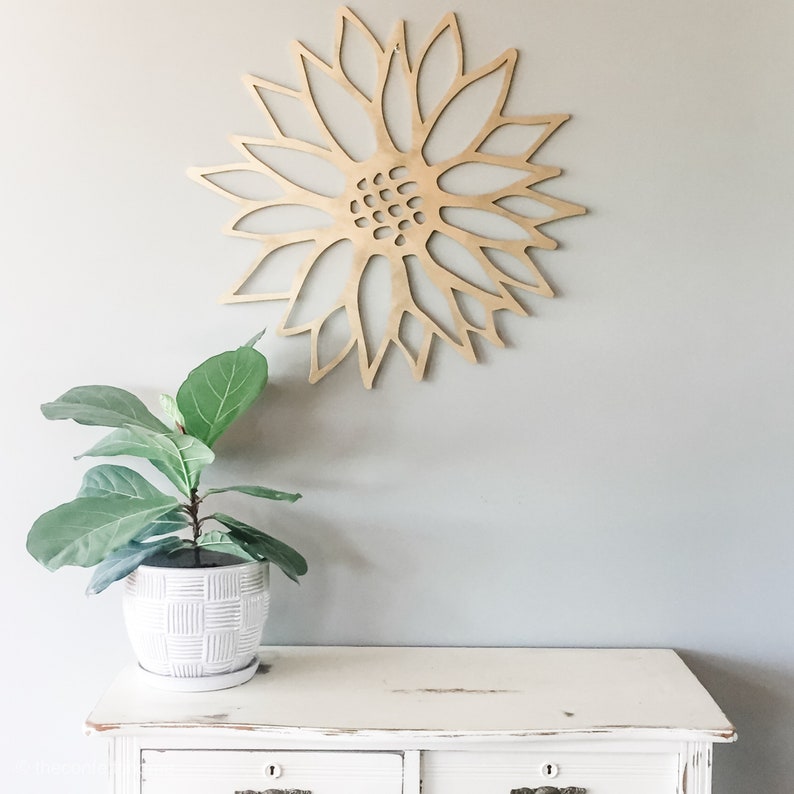 [70] Add an elegant detail to your wedding with a beautiful, large sunflower laser cut piece.
---
[71] This artificial sunflower wreath adopts special craft, sunflower blooms and leaves are long lasting soft and pliable, which have a realistic visual effects and feel. Elegant and vivid color make for a timeless wedding decor.
…
F
Sunflower Wedding Centerpieces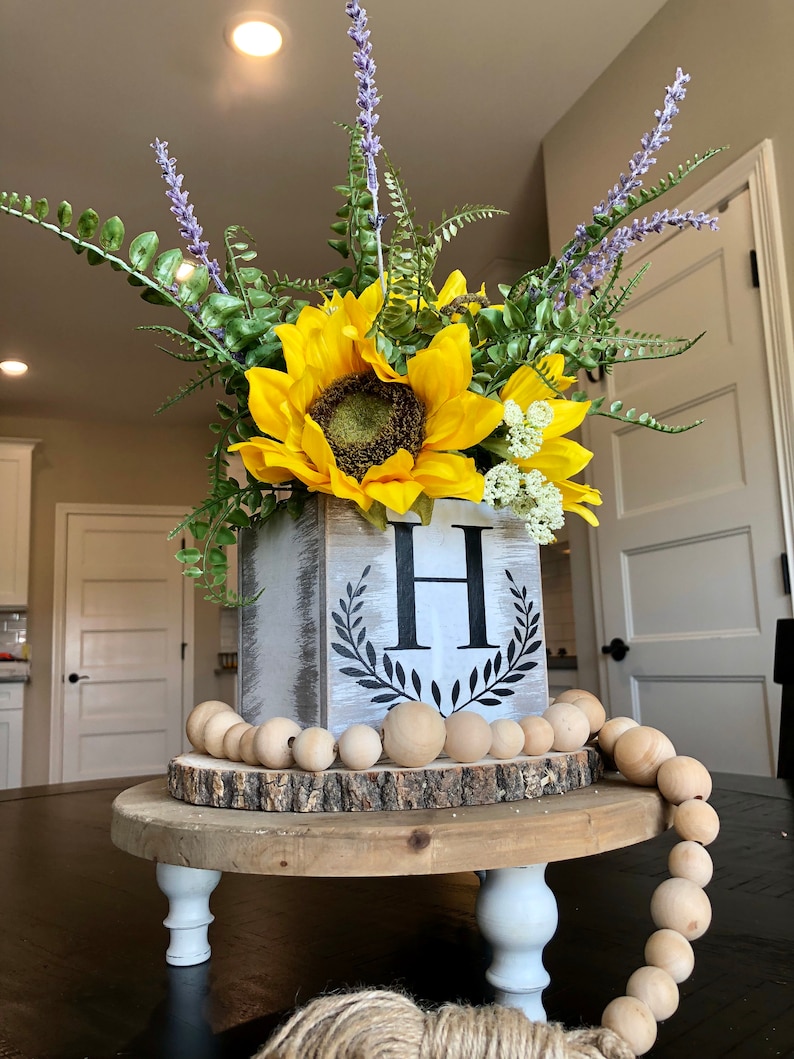 [72] Monogram sunflower centerpiece.
---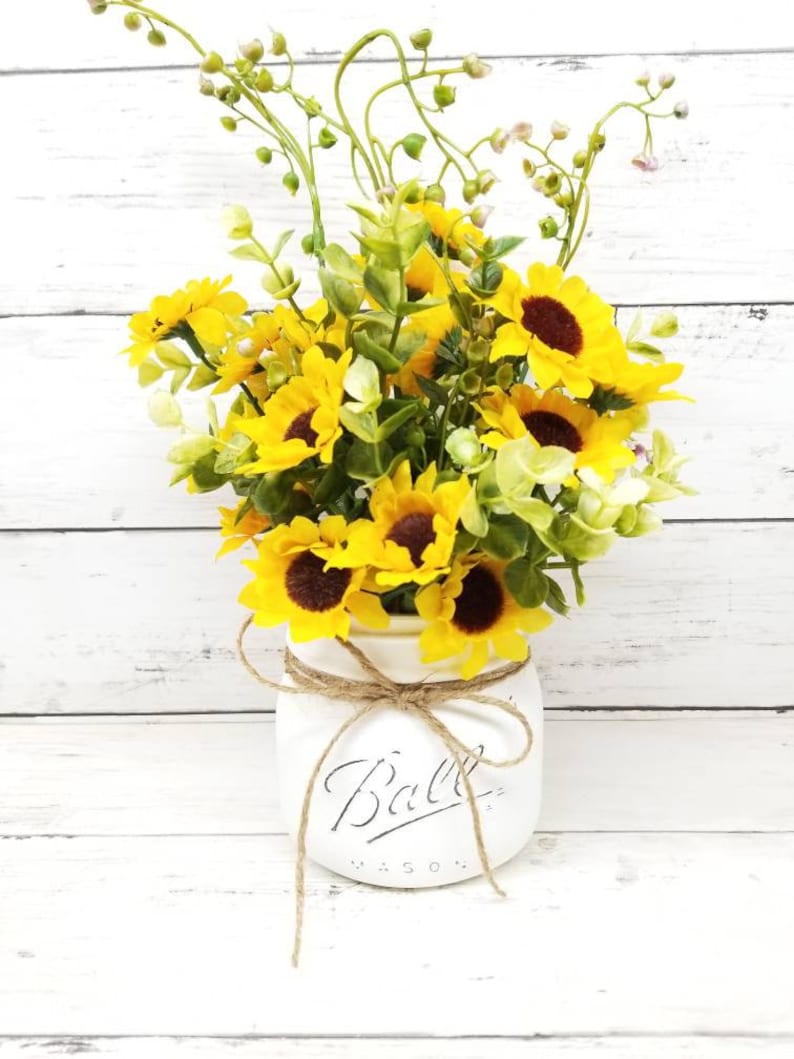 [73] Mason jar sunflower centerpiece.
---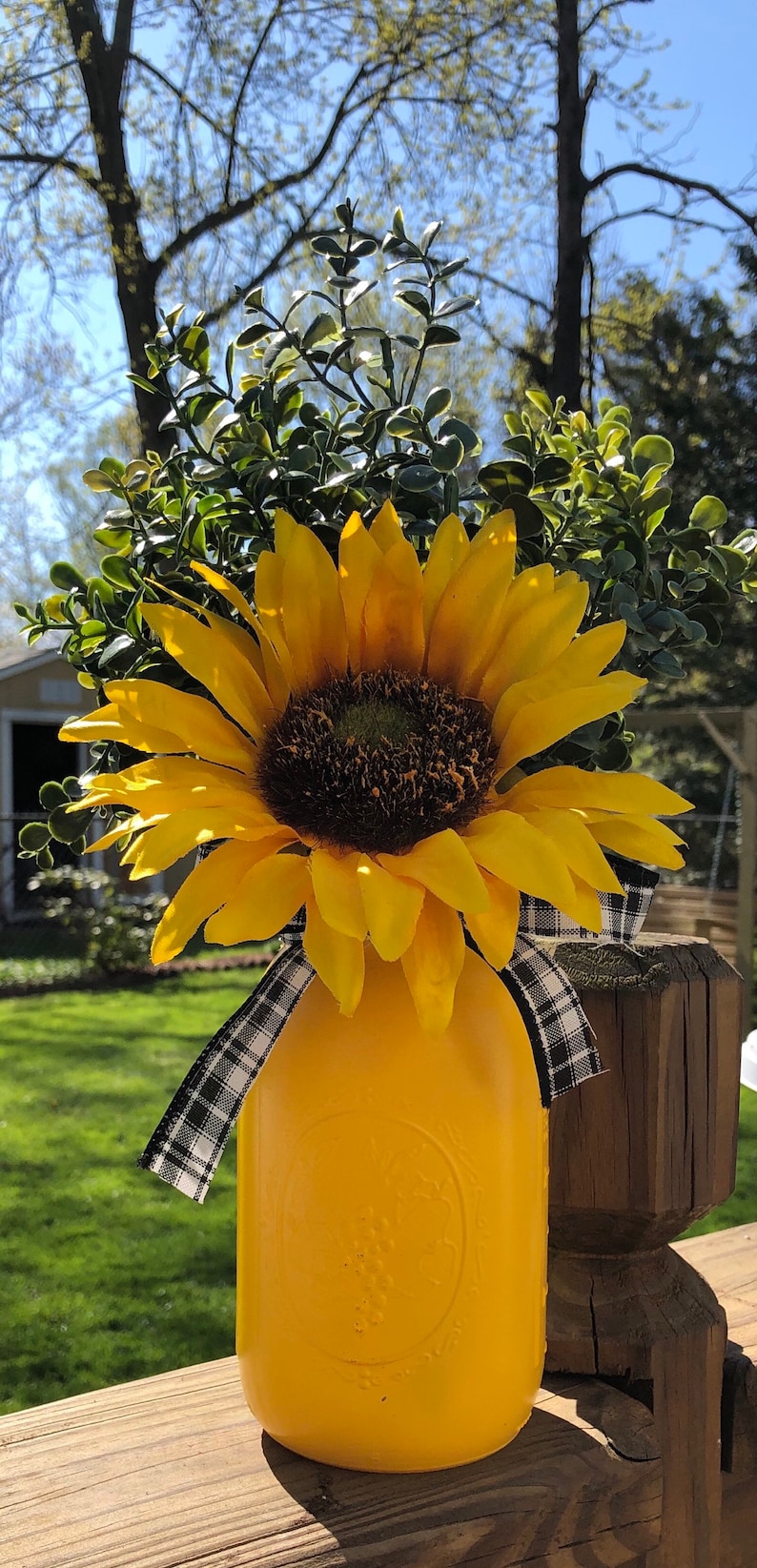 [74] Simple, yet elegant sunflower centerpiece. Each jar is then filled with green boxwood and a large sunflower. Then a black and white buffalo check ribbon is tied around the mouth for a rustic touch.
---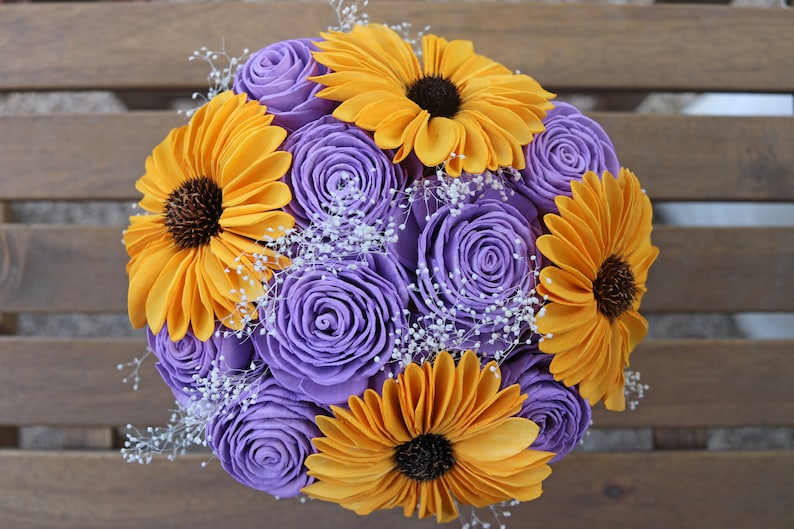 [75] Solawood Sunflower and Rose Bucket Arrangement.
---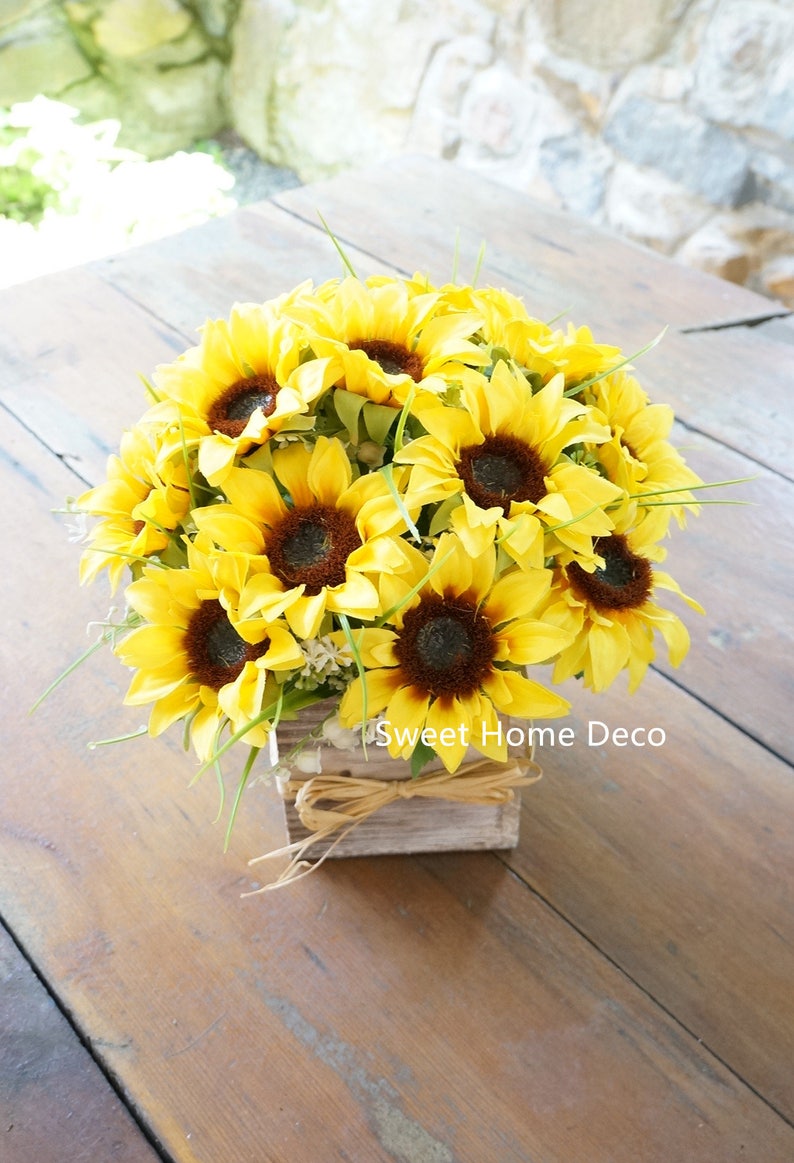 [76] Sunflower centerpiece arrangement is made with silk sunflowers, lily of the valley and grass.
---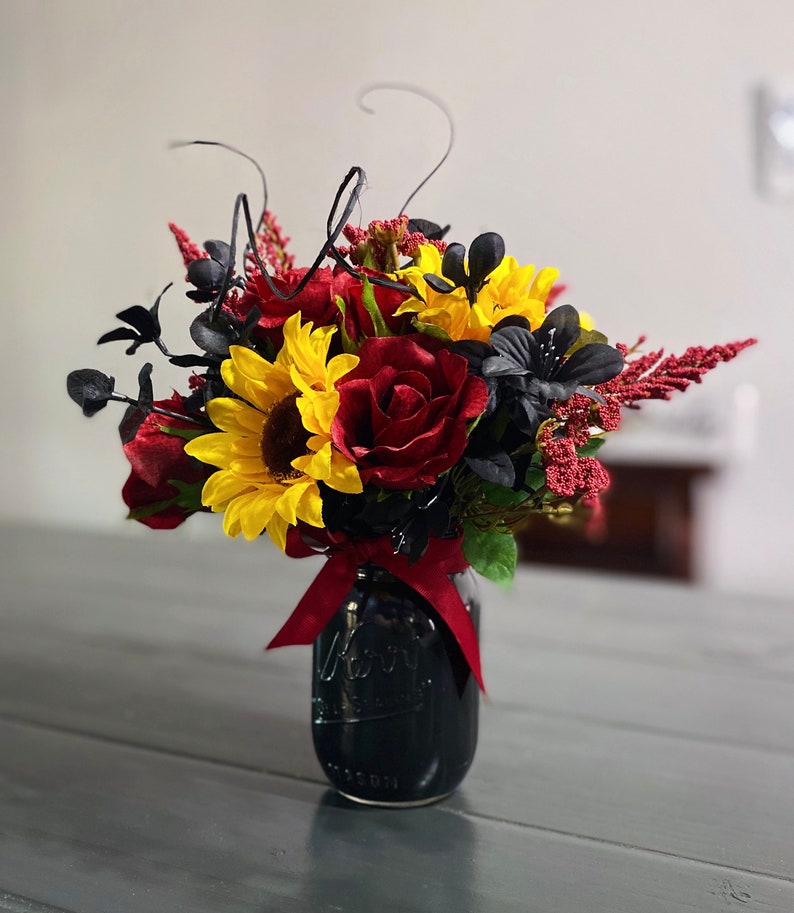 [77] Gothic sunflower centerpiece. Black mason jar with a maroon ribbon, with black, yellow sunflowers, and maroons flower arrangement.
---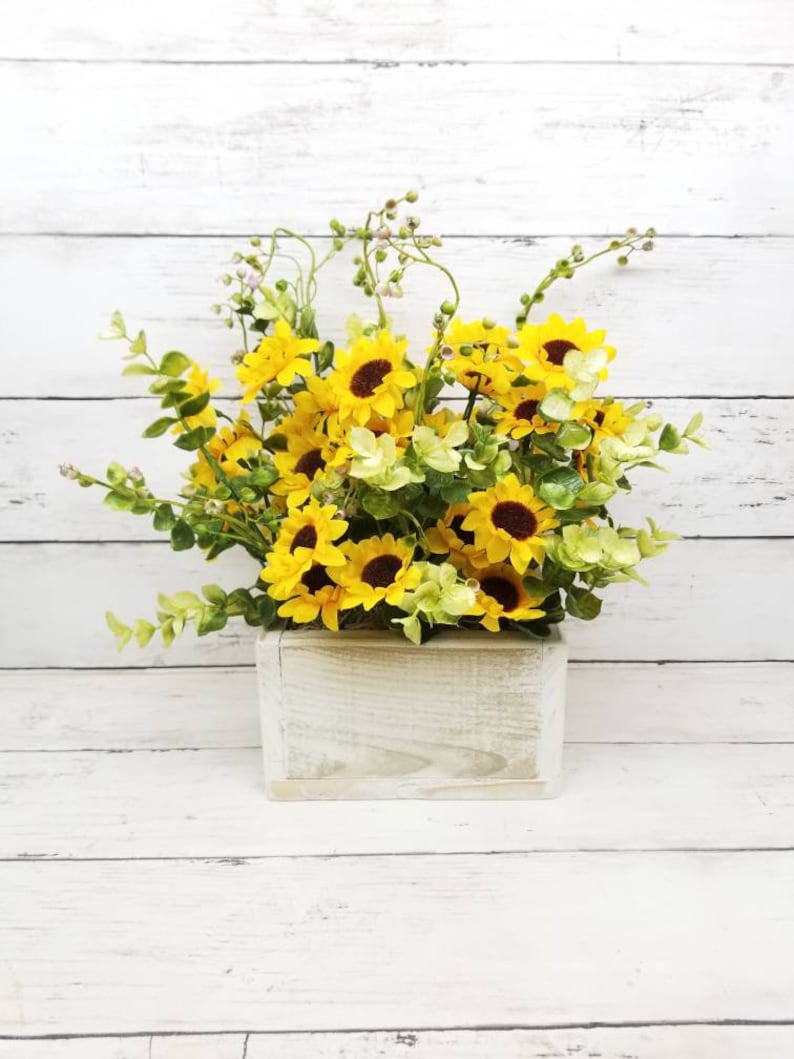 [78] Farmhouse-style sunflower decor centerpiece.
---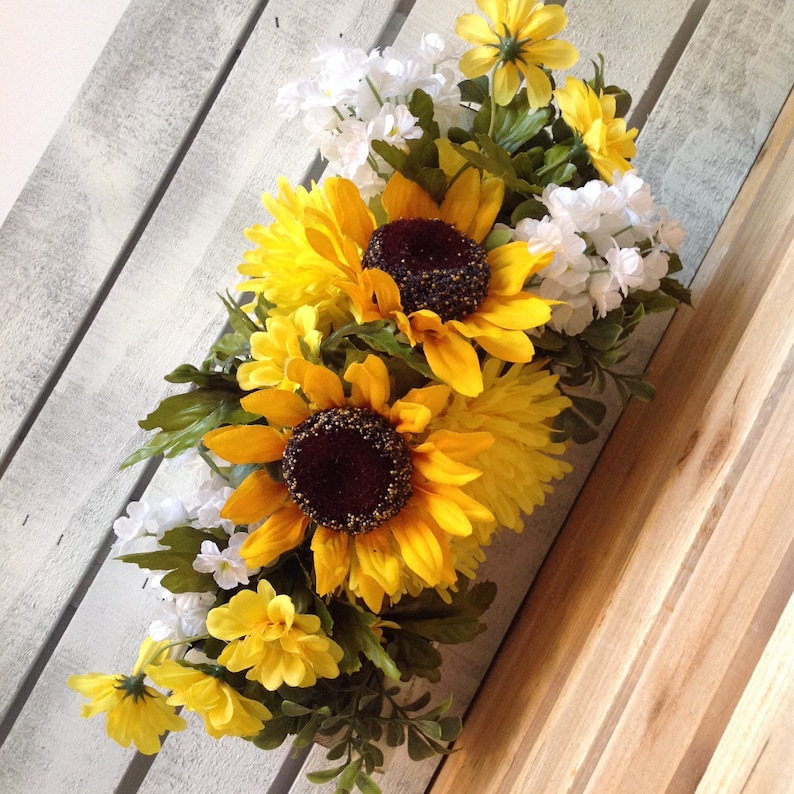 [79] For those who love sunflowers! This centerpiece is in a 12x4x3.5 inch white distressed box to complete your rustic look. The flowers are sunflowers and yellow daisies complimented by white stock and greener.
---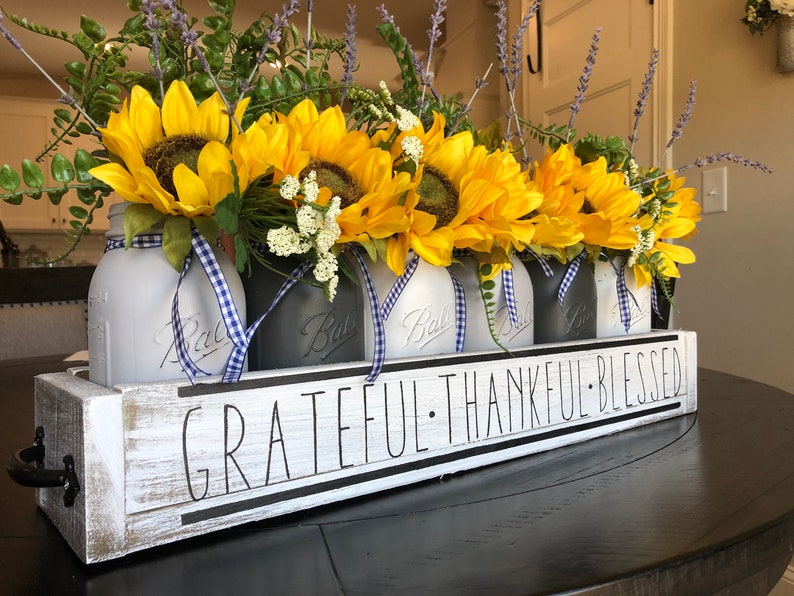 [80] Horizontal sunflower centerpiece featuring rustic box and mason jar combined.
---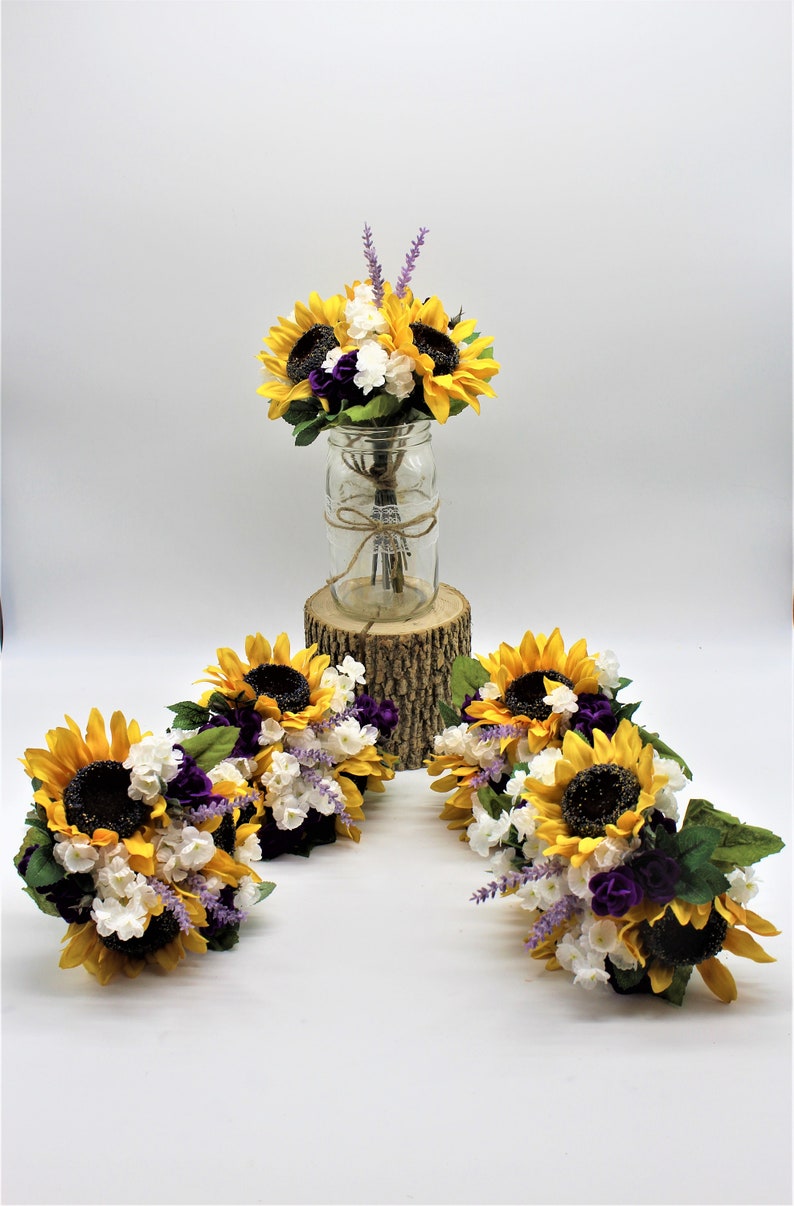 [81] These adorable Drop and Go Real Touch flower bouquets make for an easy way to setup your tables at the hall – just drop and go.
---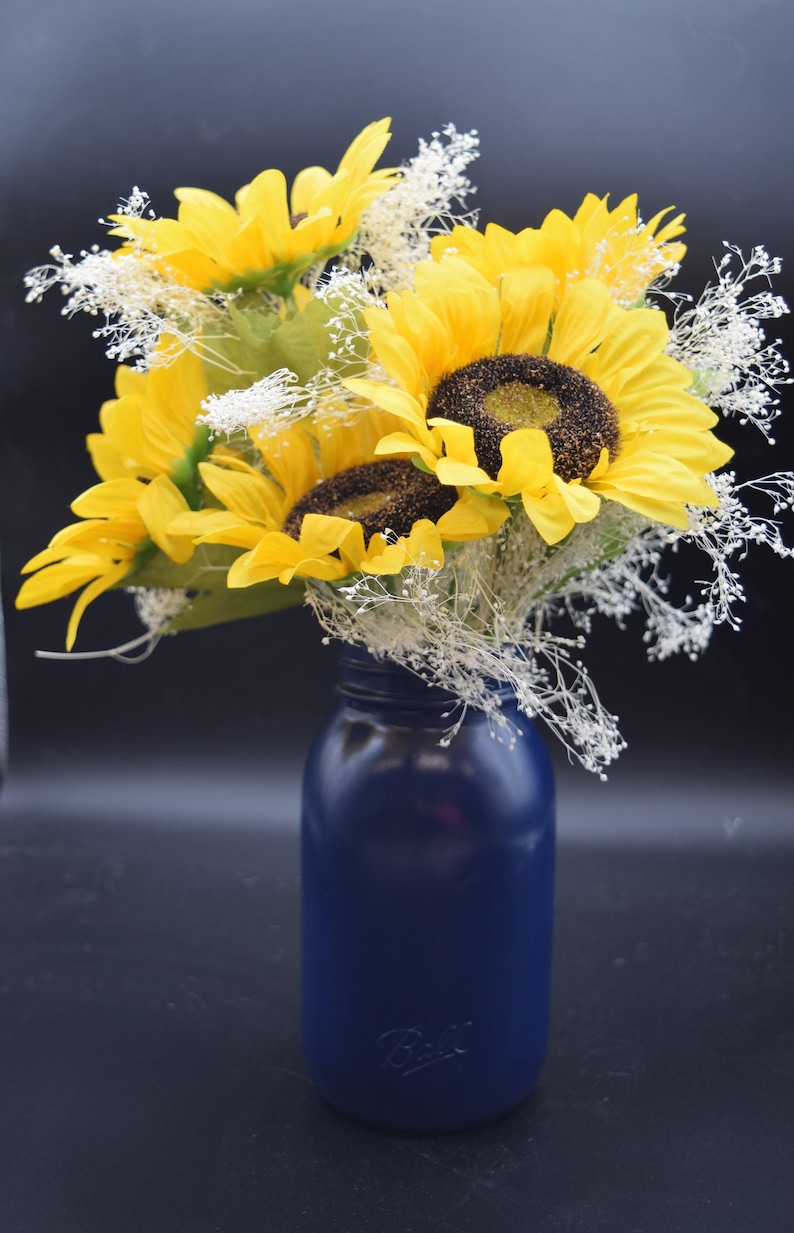 [82] These large yellow sunflowers with baby's breath make a unique and wonderful floral arrangement. This centerpiece is arranged in a hand painted navy blue Mason Jar.
---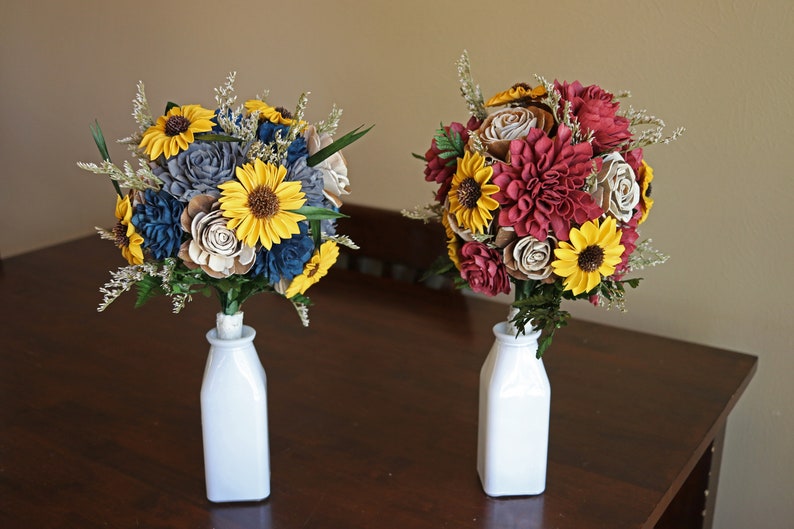 [83] A unique, everlasting wood sunflower bouquets that will complement all styles of wedding or home decor from rustic, boho, chic, elegant, minimalist, or elegant.
---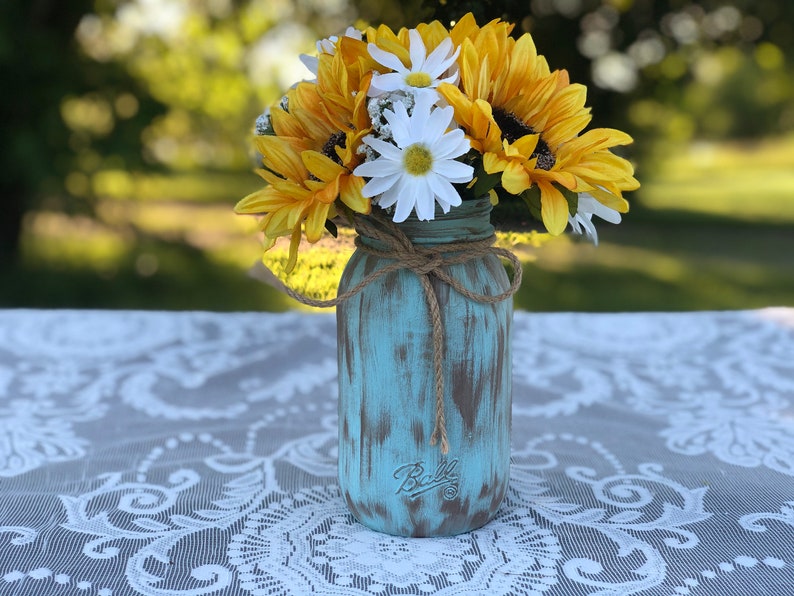 [84] Rustic sunflower centerpiece for tables.
---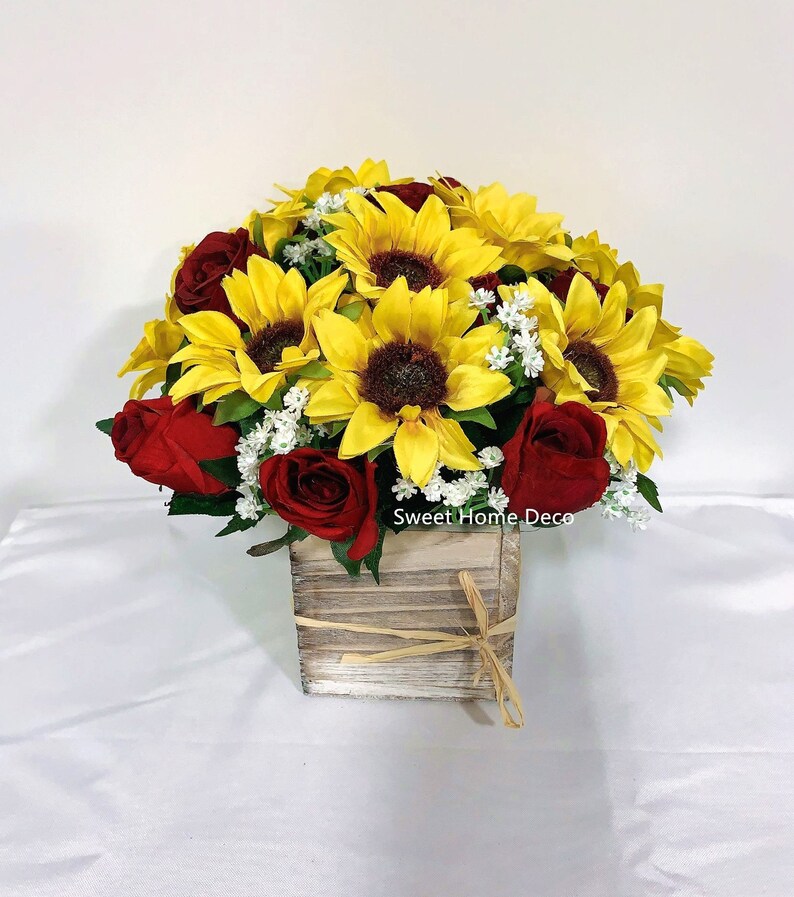 [85] Silk roses and sunflower with baby breaths centerpiece arrangement.
---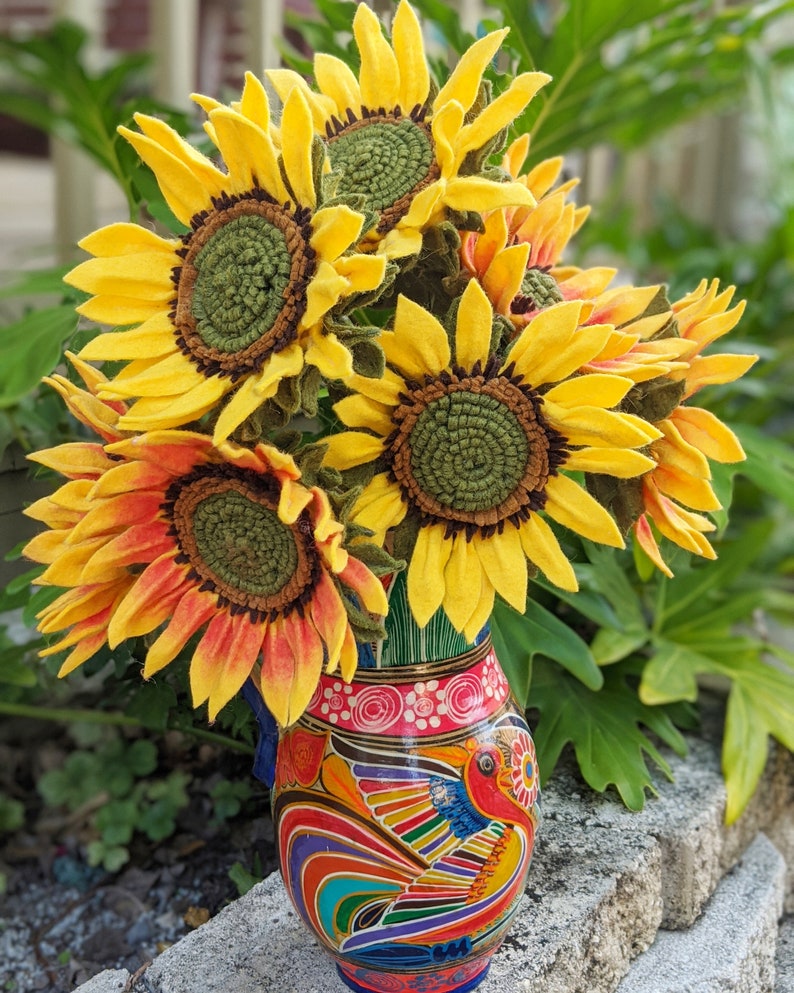 [86] Realistic felt sunflower centerpiece arrangement for a brightness that will never fade away.
---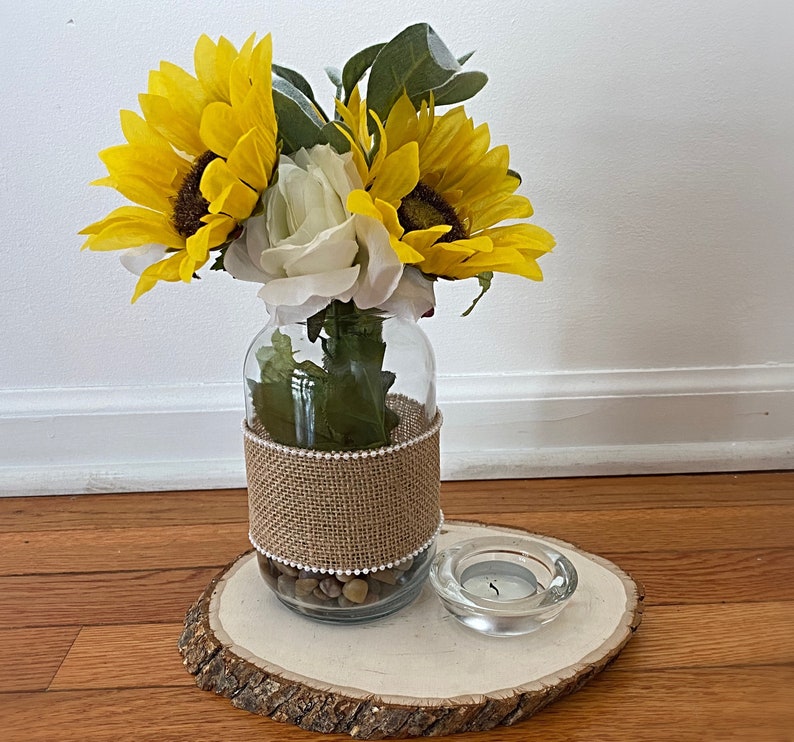 [87] Brighten every room with their big sunflowers, white roses and lambs ear. Placed on a cut of wood for added effect.
---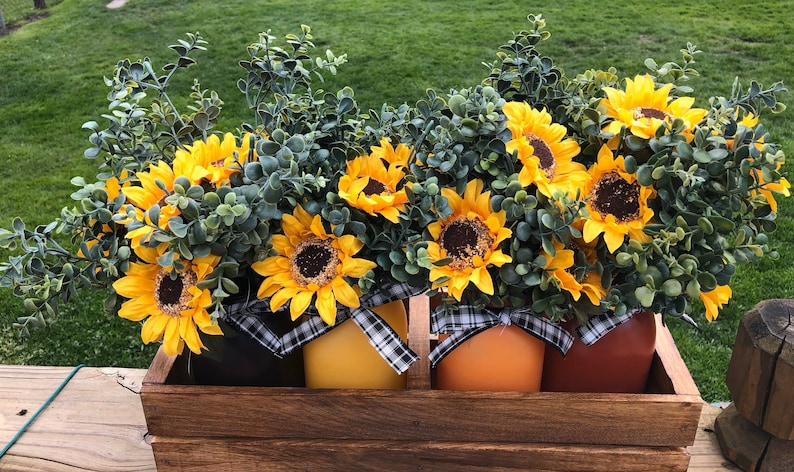 [88] Eucalyptus Bush with sunflowers scattered throughout topped off with a buffalo check ribbon. Crate is hand sanded and stained to add to the centerpiece beauty.
---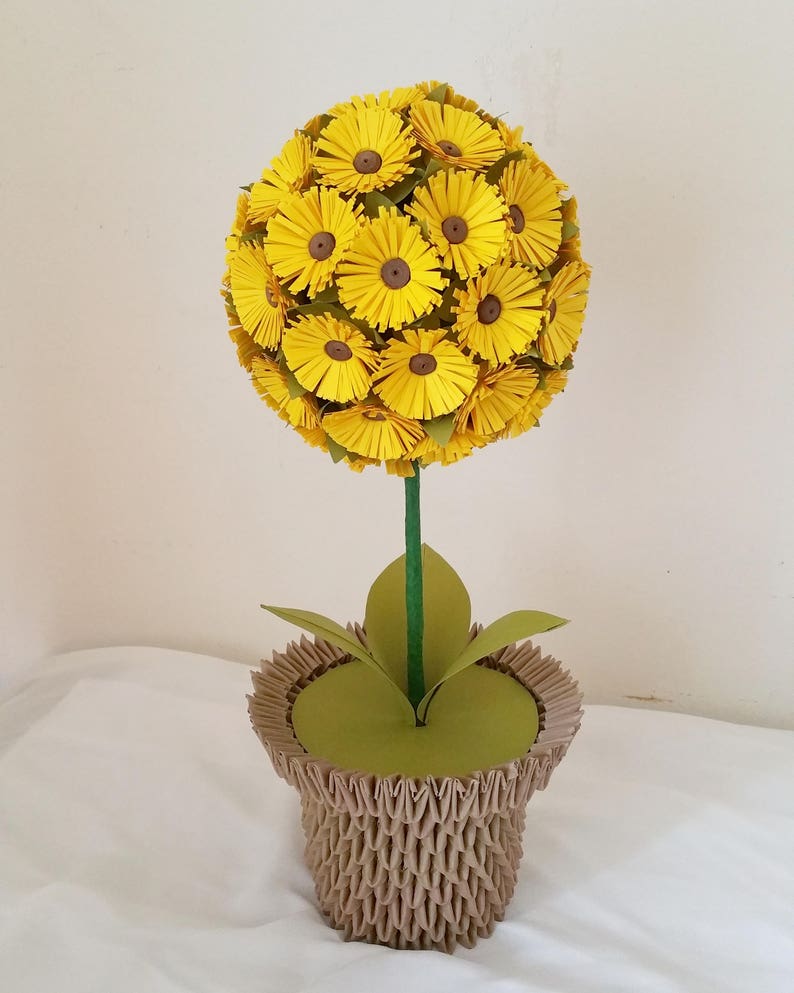 [89] Make your centerpiece stand out like never before with this paper crafted sunflower piece that is sure to draw attention.