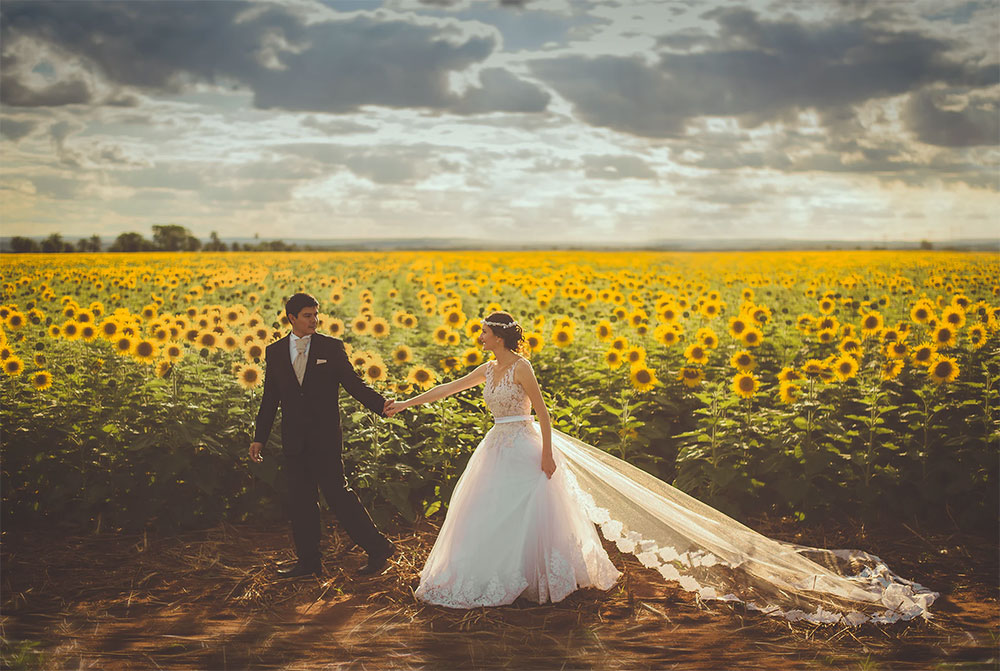 [Click Here To Go Back To Page 3]
…
J
Sunflower Wedding Backdrops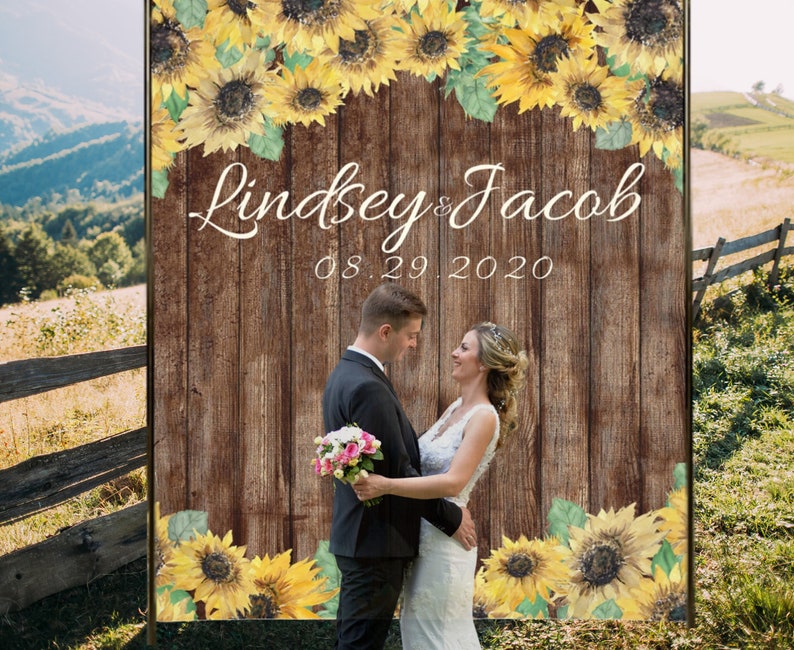 [133] Add the perfect touch to your wedding with this custom sunflower wedding backdrop.
---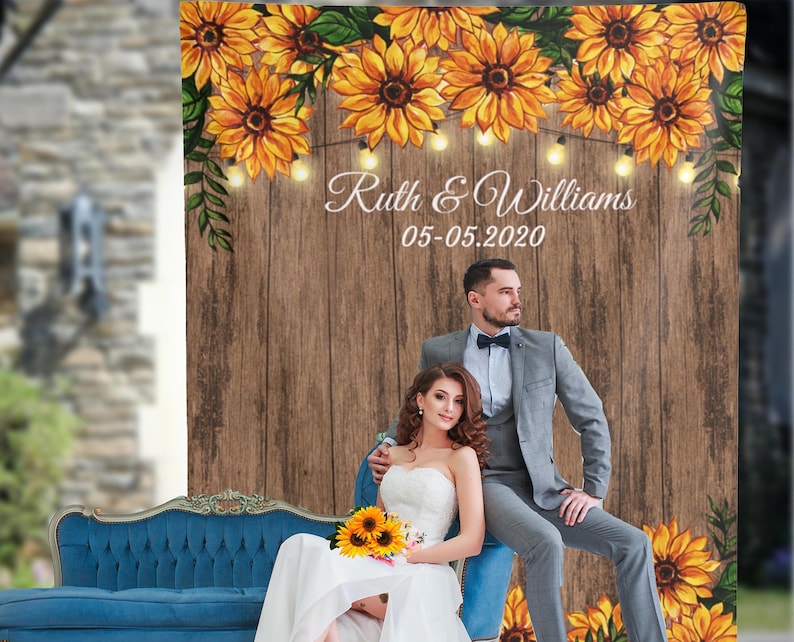 [134] Sunflower backdrop for both indoor and outdoors.
---
[135] Advanced digital printed with eye-catching details and lifelike colors, great for wedding photo shoot backdrop.
---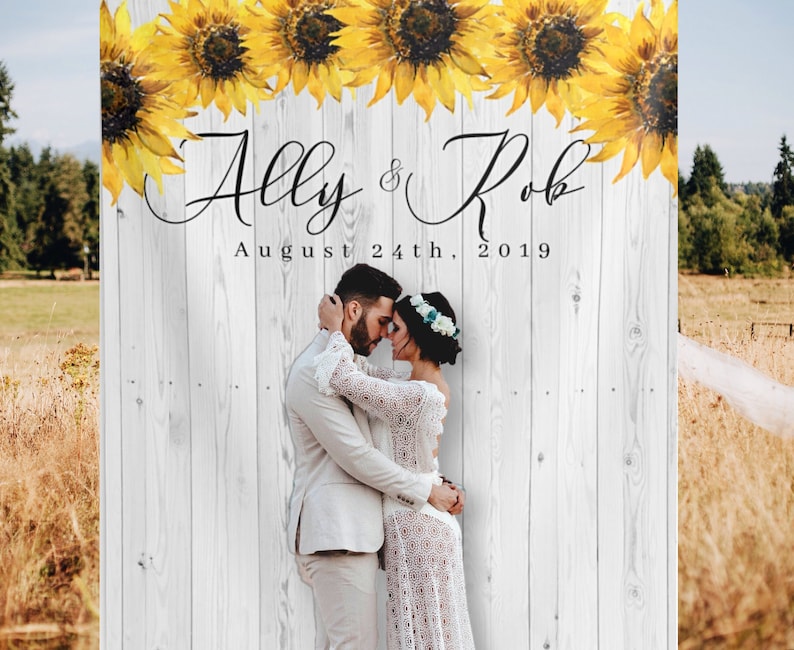 [136] White wood sunflower wedding backdrop.
---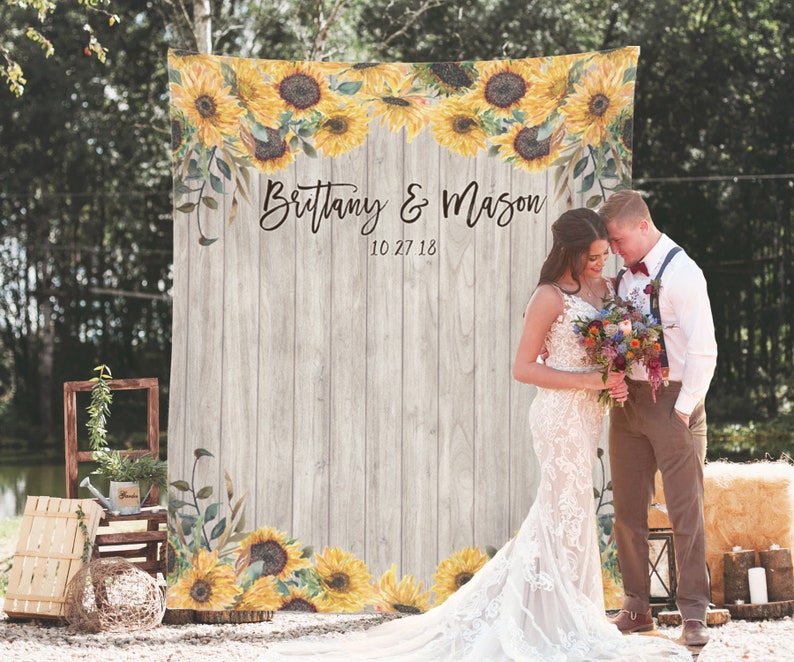 [137] Memories may fade but sunflower photographs last forever.
---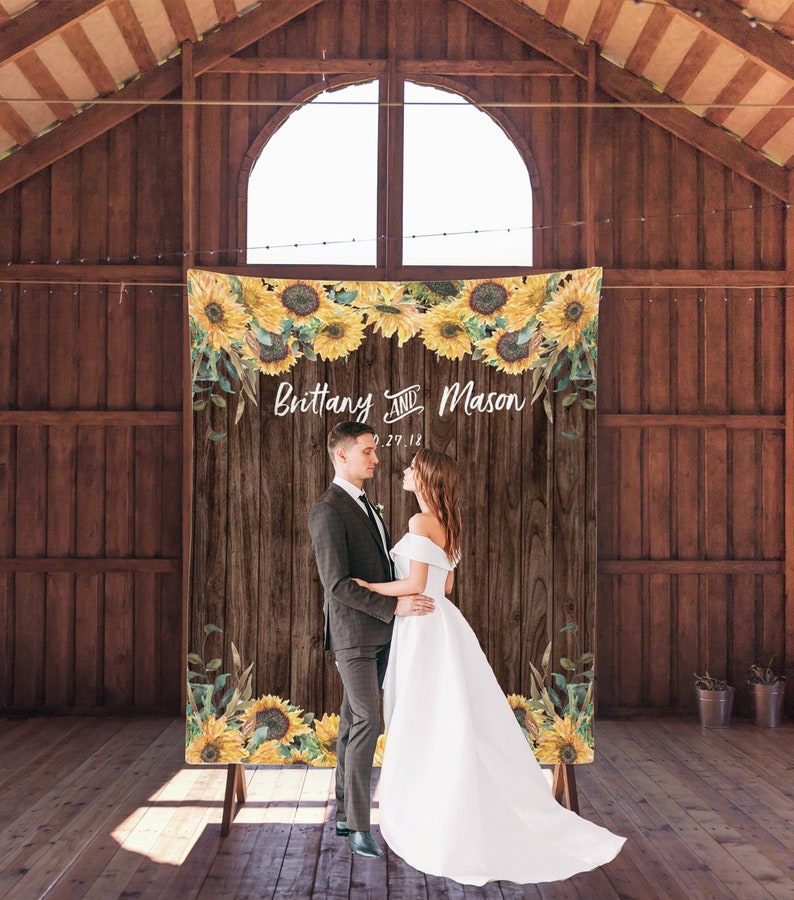 [138] Darker sunflower themed wedding background.
---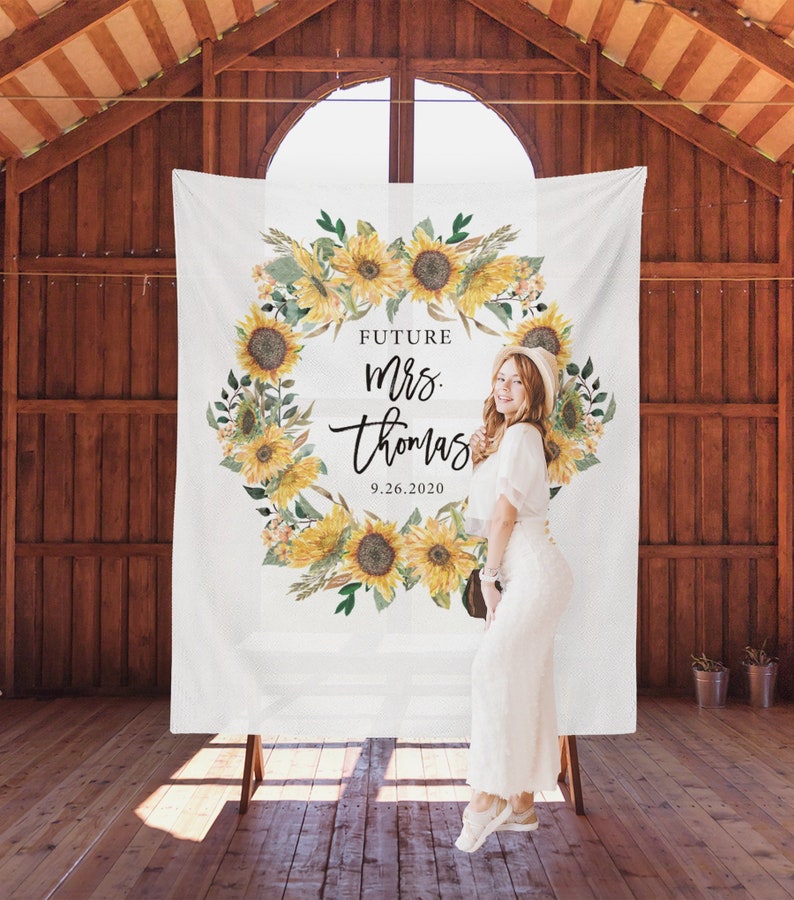 [139] Bridal wedding shower sunflower backdrop.
---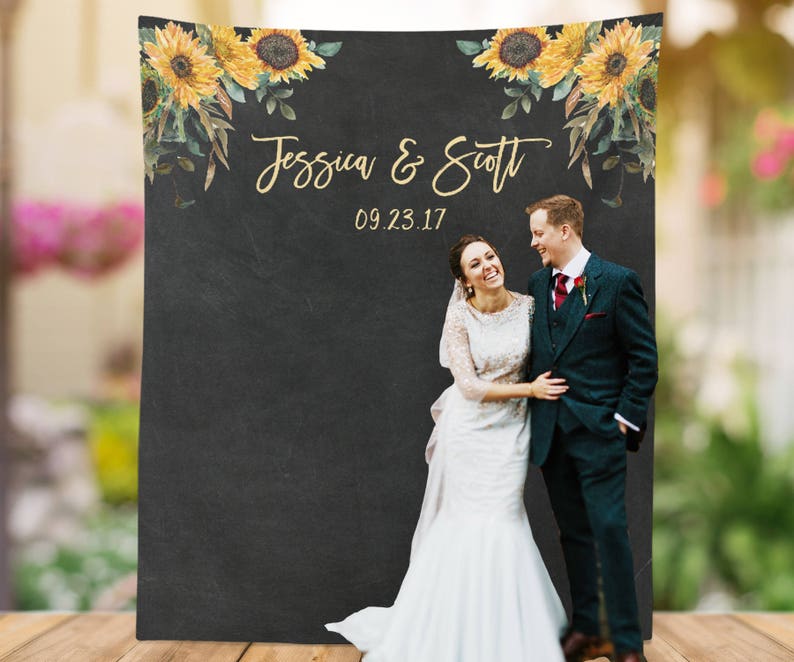 [140] Black background sunflower wedding backdrop.
…
K
Sunflower Wedding Cookies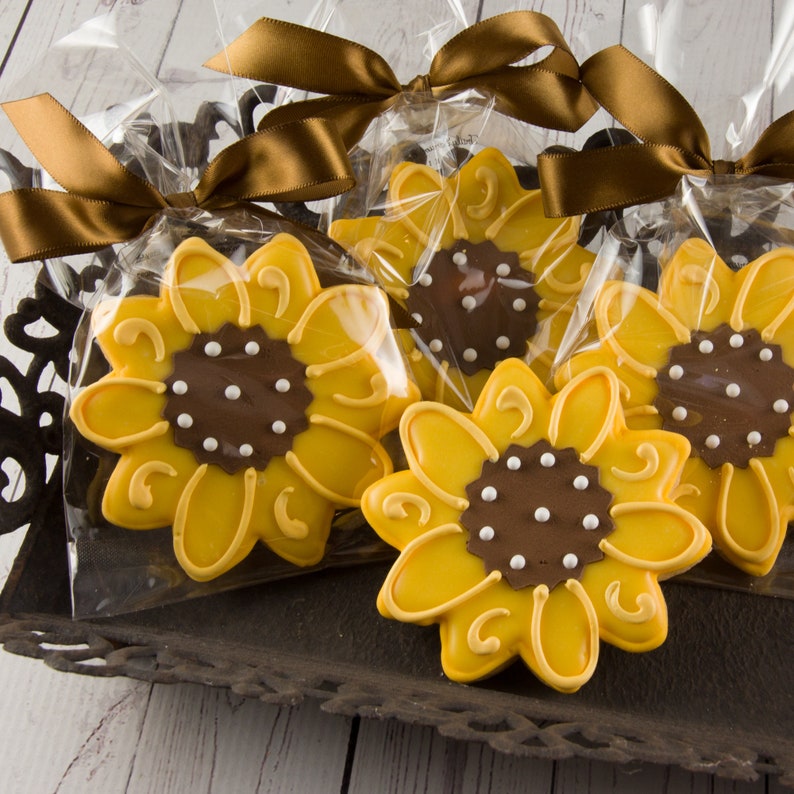 [141] Prepared with the highest quality ingredients including King Arthur Flour, Land O'Lakes Butter & Premium Vanilla Extract. Each cookie is hand decorated with a soft, delicious glaze, then embellished with royal icing details.
---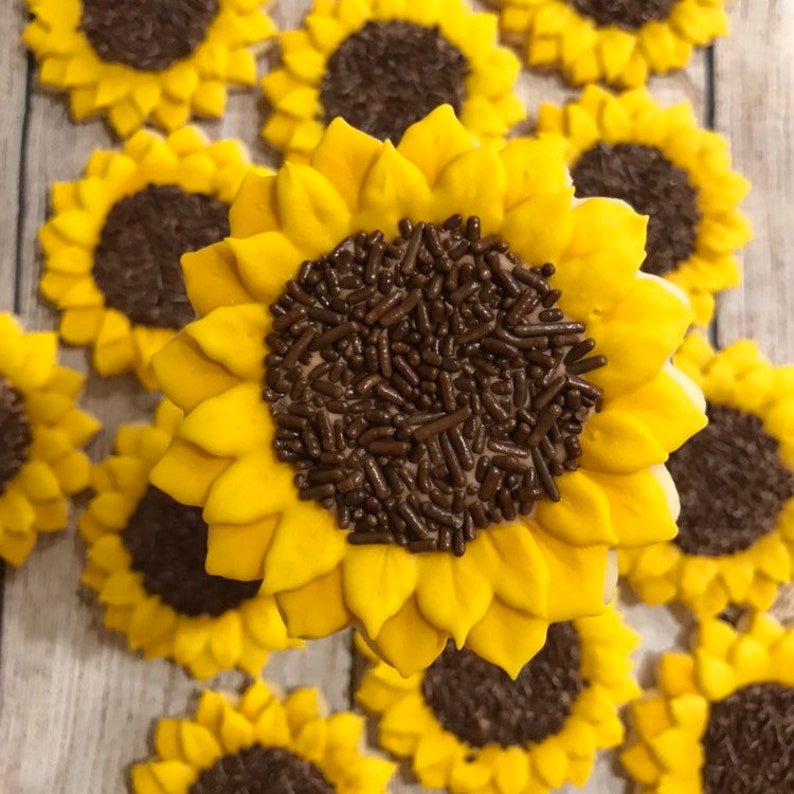 [142] Beautiful sunflower design cookies with lovely, realistic details. Love the idea of using sprinkles in the center.
---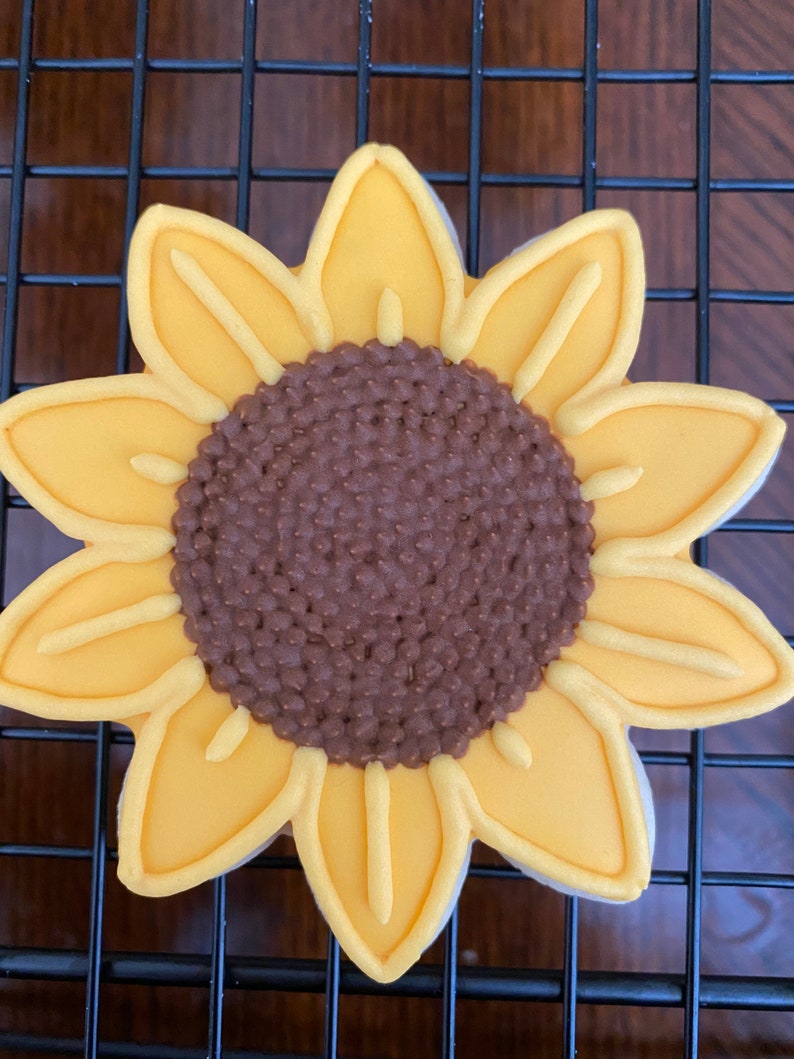 [143] The line work on these sunflower cookies is impressive. The use of dabbing to accentuate the center texture makes for a nice effect.
---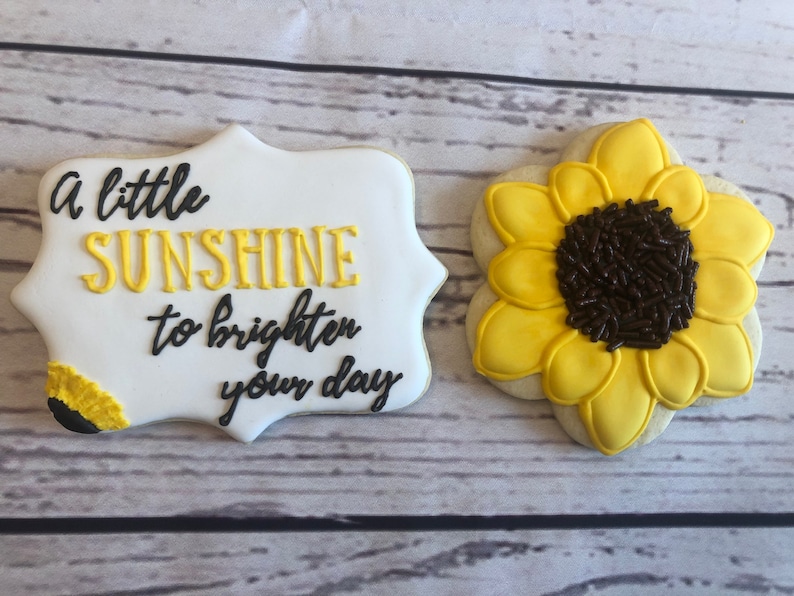 [144] These cookies are not a perfect sunflower shape. But the icing used to color out the petals to form the shape is cute. The included quote cookie is cute. These are dairy free.
---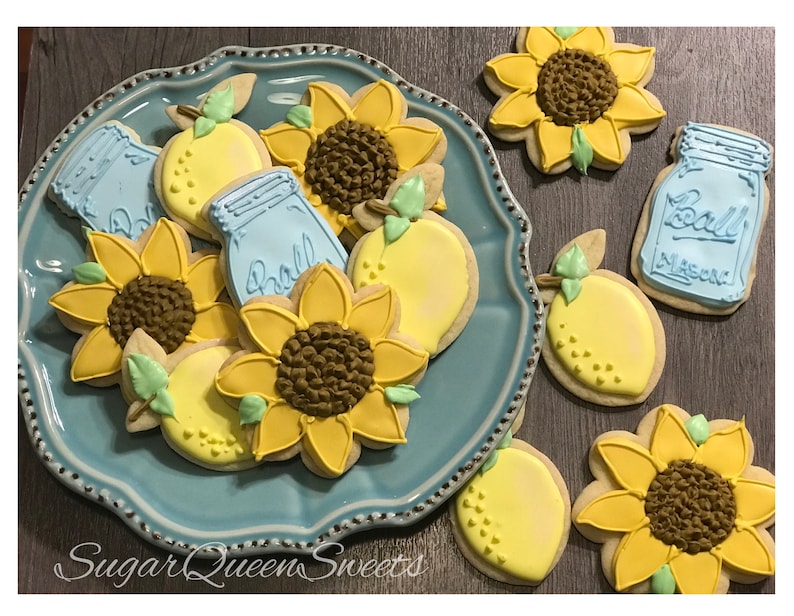 [145] It is very common to use sunflowers together with mason jars for a rustic effect wedding centerpiece decor combination. These sugar cookies include both sunflower cookies and mason jar cookies. Which is interesting. The lemon cookies make them even more so.
---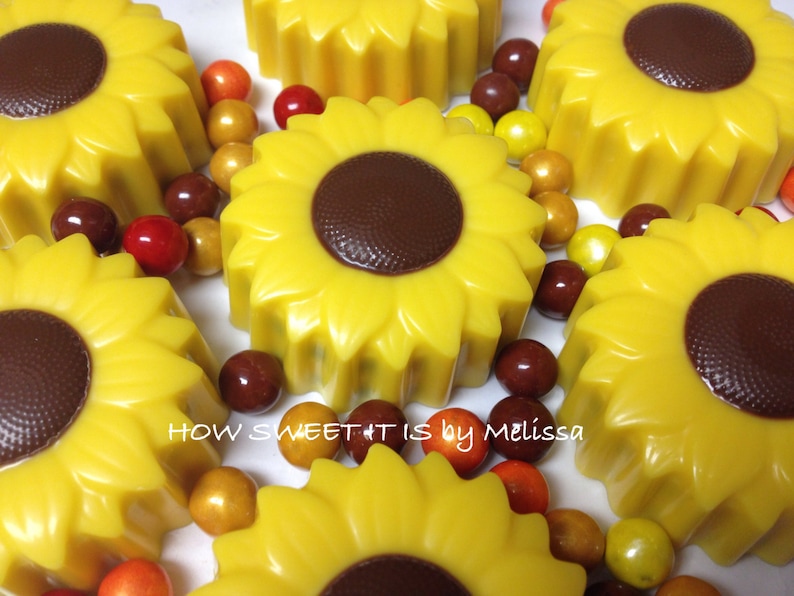 [146] Double Stuffed Oreo cookies covered with a uniquely thick sunflower design on the outside. The yellow chocolate and milk chocolate center makes this a delicious and beautiful piece.
---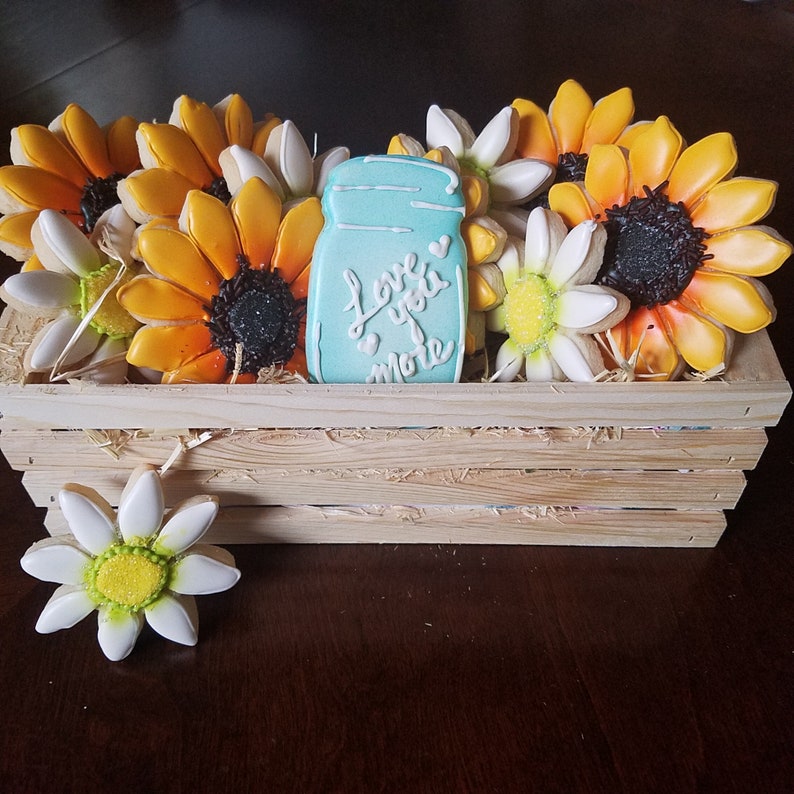 [147] More mason jar cookies in combination with sunflower cookies. The use of crate for the photography makes for a great idea in combo with the cookies.
---
[148] The rough textures on these sunflower cookies makes for a fun and interesting design.
---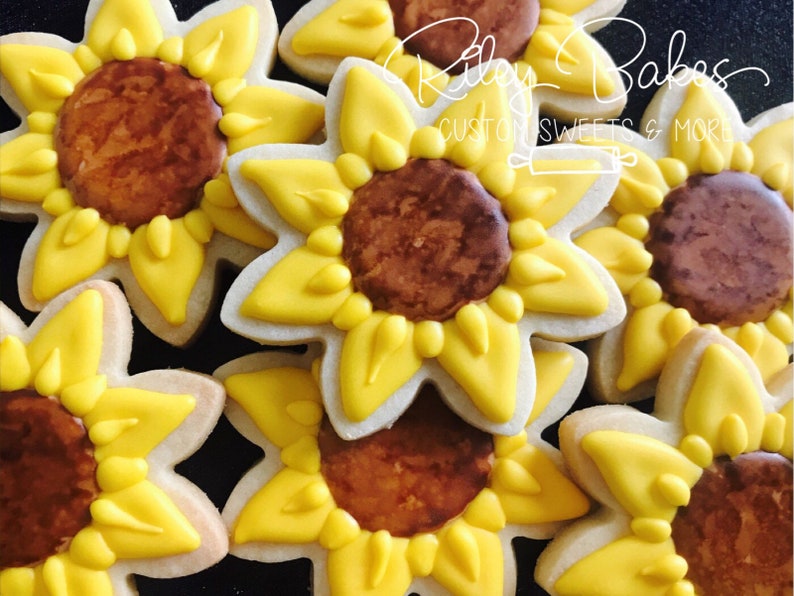 [149] These sunflower cookies are icing colored just before the edge of the cookie. This creates a very interesting white outline effect like they are stickers.
---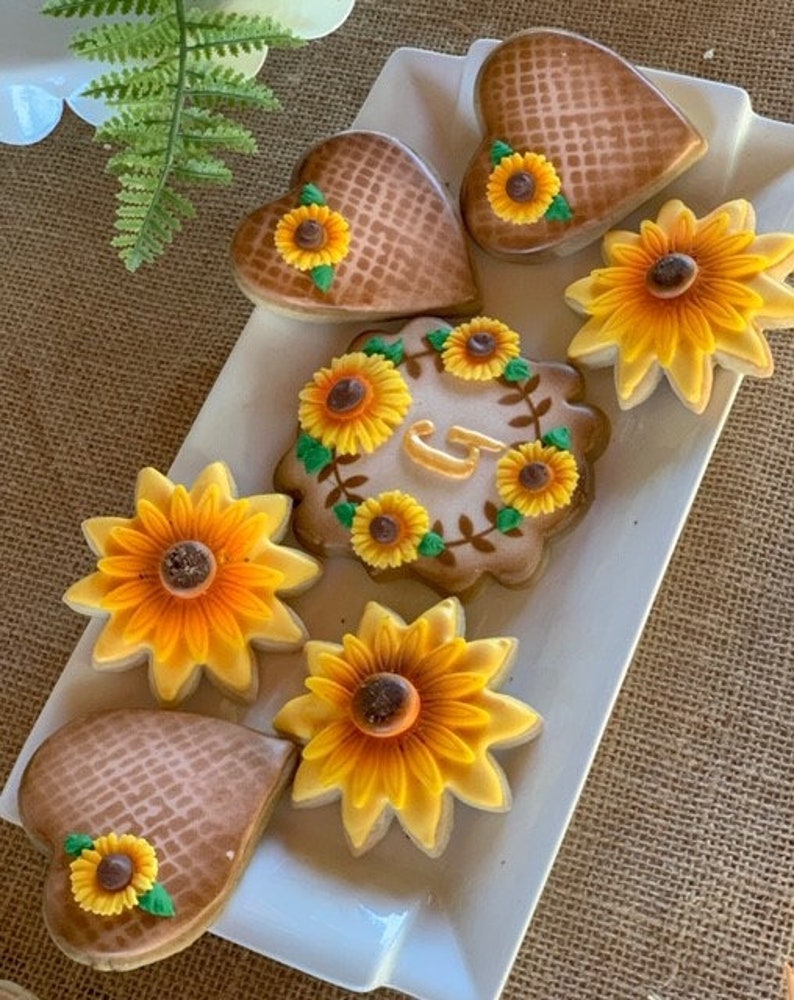 [150] The sunflower cookies are nice, as well as the heart-shaped cookies with a sunflower embellishment. The cookie in the center with a sunflower wreath and monogram is especially interesting. Makes for a nice set.
---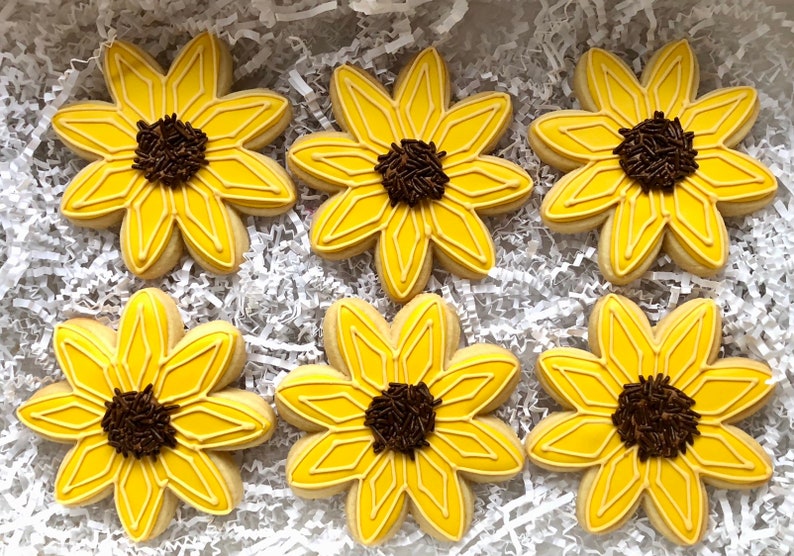 [151] The outline of these sunflower cookies is more geometrical. Works well for weddings that are designed to be on the more modern end of the spectrum.
---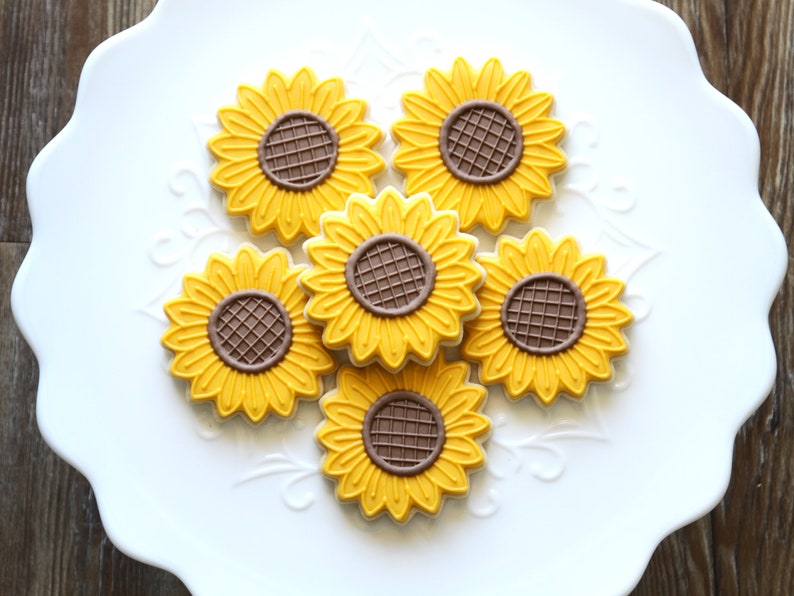 [152] The criss-cross effect at the center of these sunflower cookies makes for a very cute and interesting design. The petals are similarly outlined.
---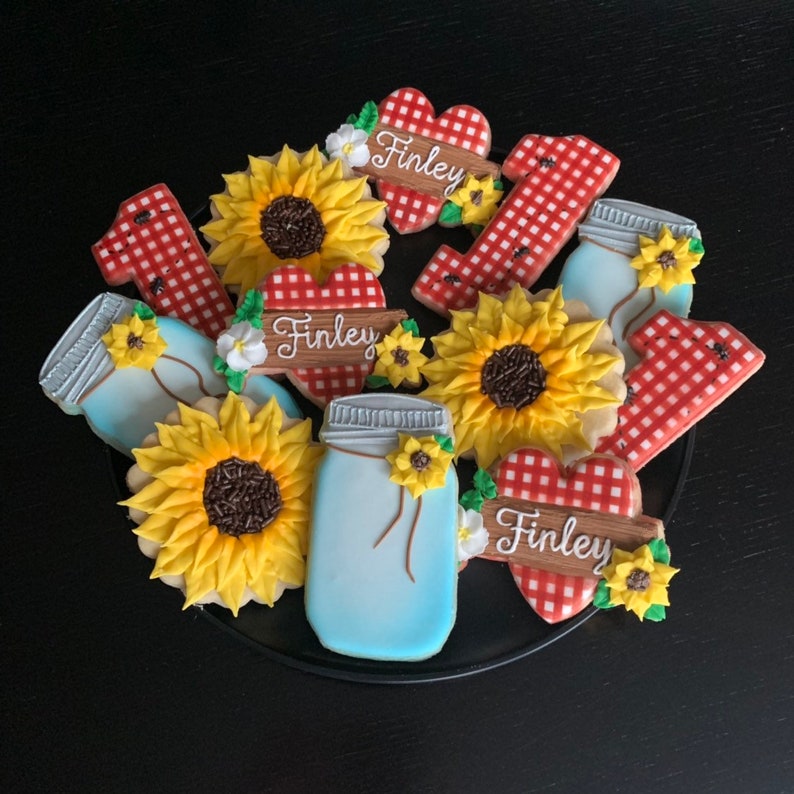 [153] Another sunflower cookie and mason jar cookie combination set. The addition of gingham pattern is interesting, especially the heart shaped ones that you can choose from. The addition of sunflower and string to the mason jar cookie is a brilliant level of detail.
---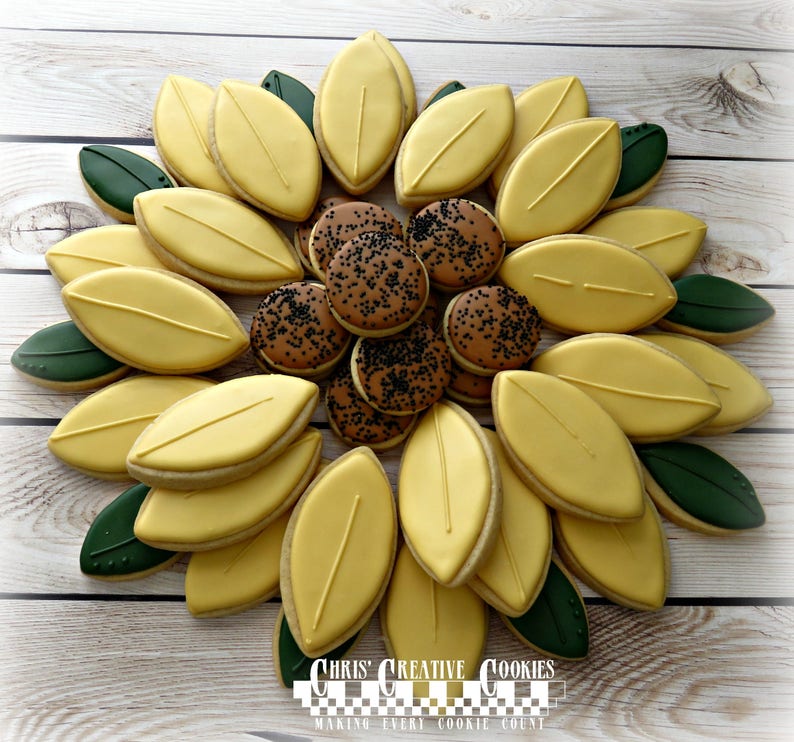 [154] An extremely creative design, with green cookies for the leaves, yellow cookies for the petals, and chocolate cookies in the center. Incredible sunflower.
---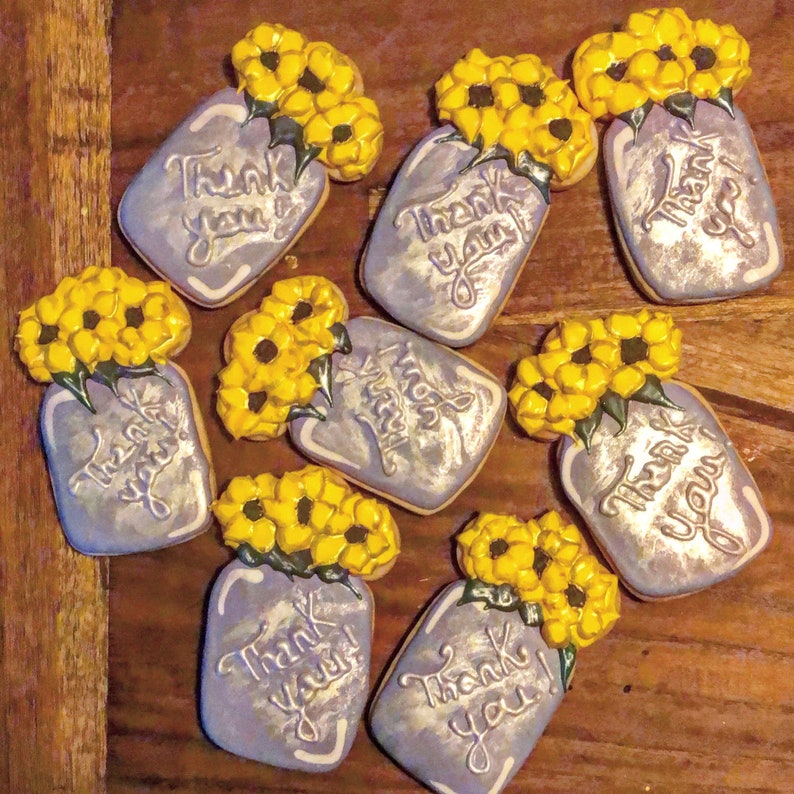 [155] A combination of sunflower and mason jars in one cookie, with added Thank You message layered on top. Makes for an interesting different to most cookies which separate the sunflowers and mason jars into two.
---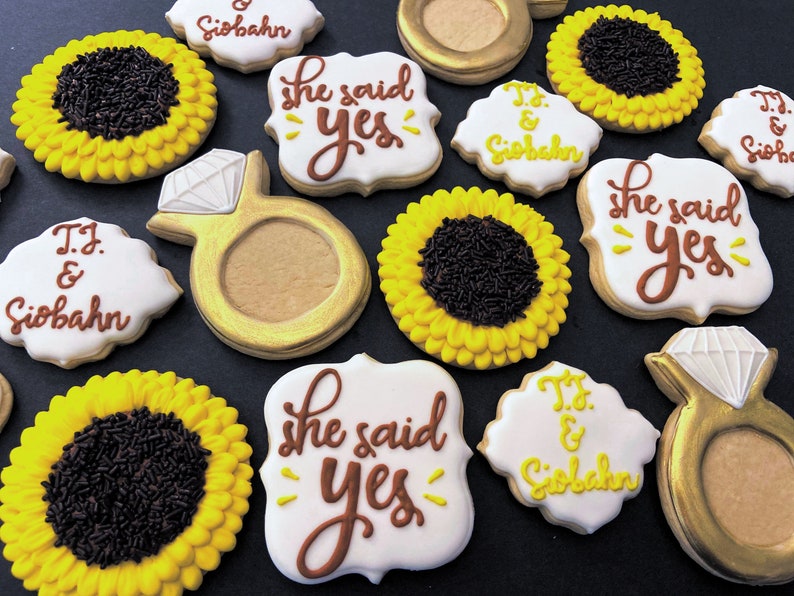 [156] Interesting sunflower wedding cookies. The wedding ring cookies and quote and name cookies are lovely as well..
---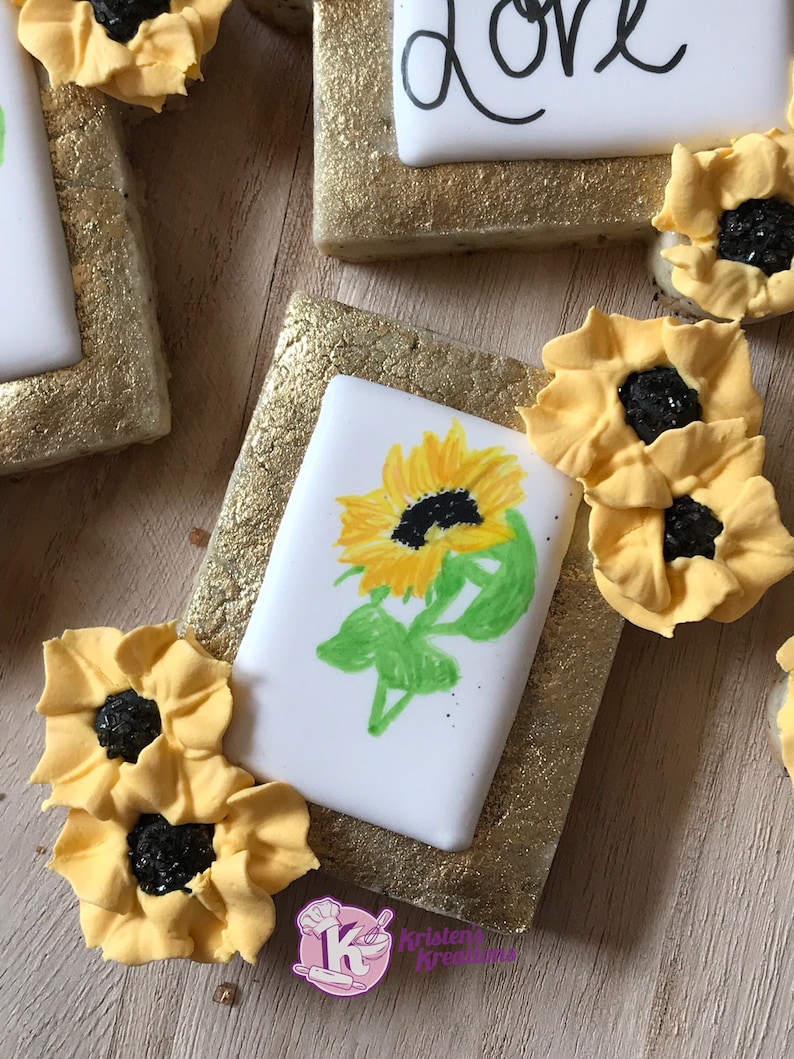 [157] Very interesting design with a portrait of a sunflower as the main cookie, and sunflower accents on the bottom left and top right.
---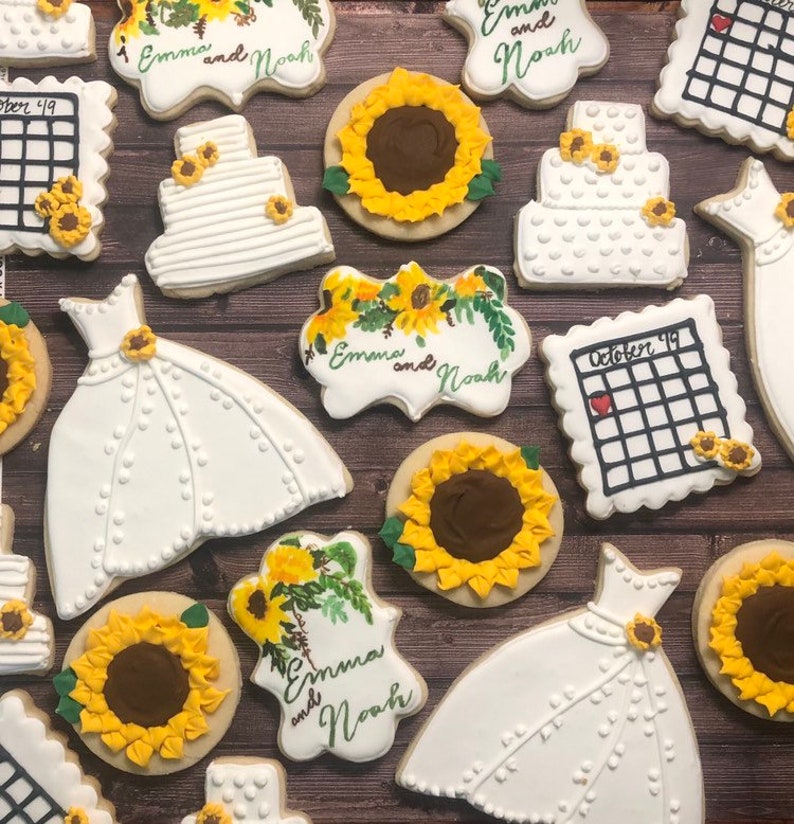 [158] Interesting collection of sunflower wedding cookies with brilliant levels of detail. The added sunflower to the wedding cake and wedding gown cookies is lovely. Also, some nice calendar cookies for remembering the date.
---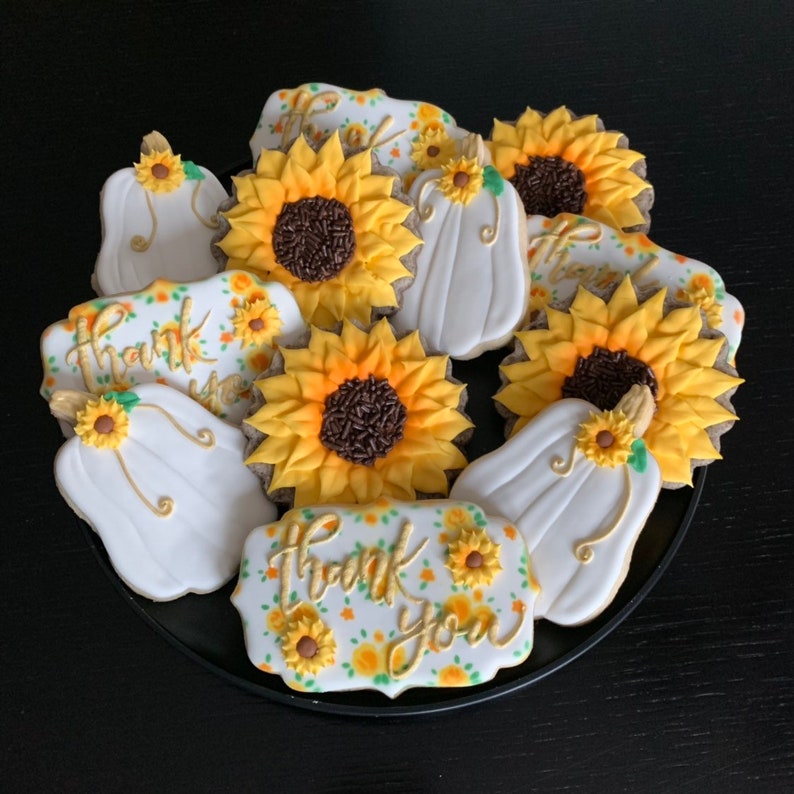 [159] Interesting addition of pumpkins to these sunflower sugar cookies. Makes for a great fall theme set.
---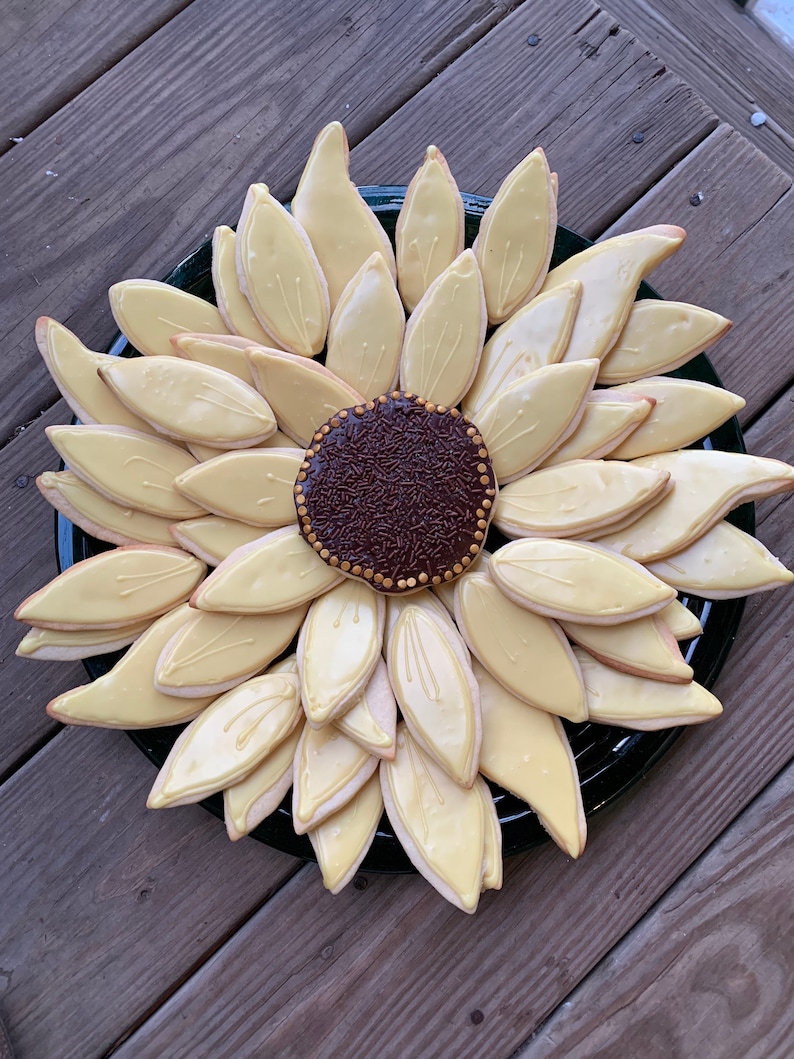 [160] Another creative design with the many cookies making up one big sunflower pattern. The random irregular shape of the petal cookies makes this look amazing.
…
L
Sunflower Floral Arrangements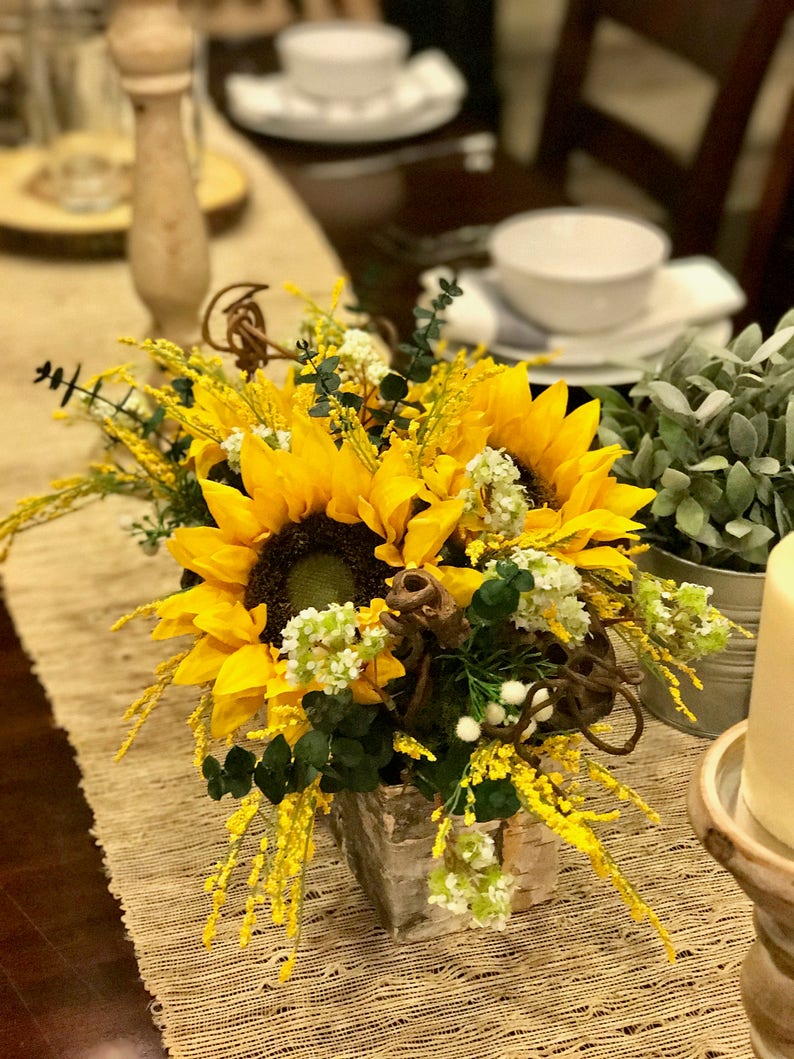 [161] Includes sunflower, snapdragon, yellow privet, dry baby eucalyptus, wildflower, blueberry stems, lotus pods.
---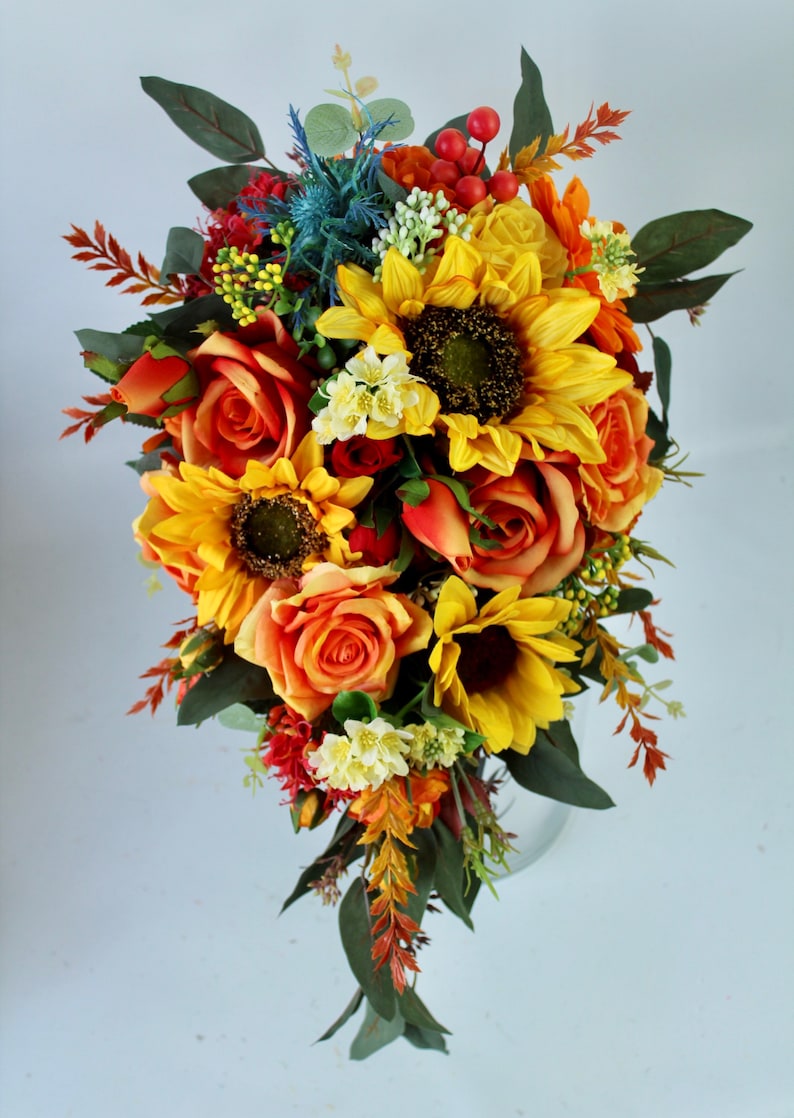 [162] Rustic sunflower cascade.
---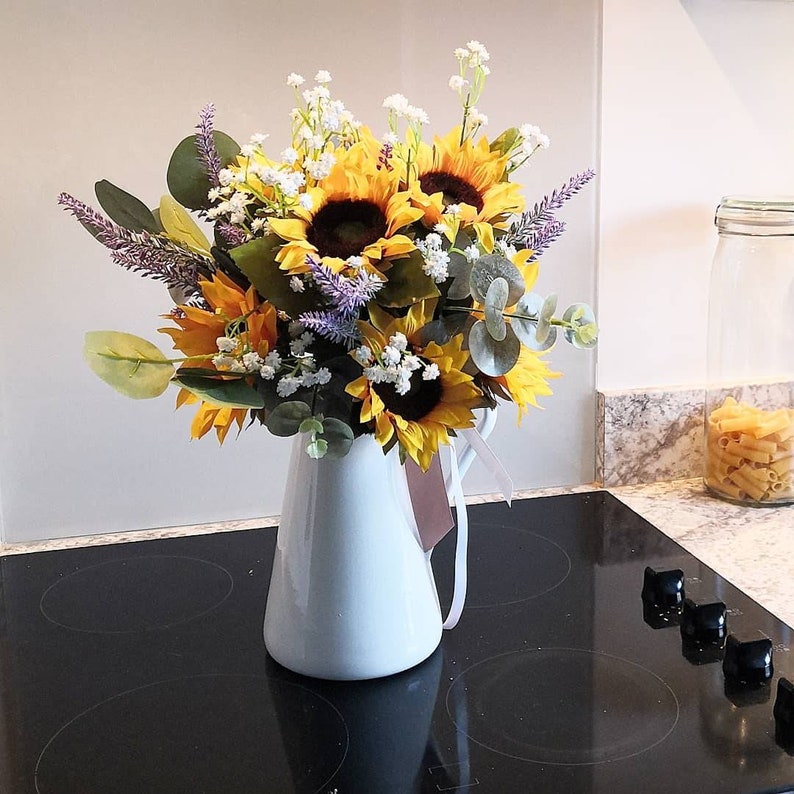 [163] Hand-tied Wild Lavender and sunflower bouquet with baby's breath and eucalyptus foliage in a jug.
---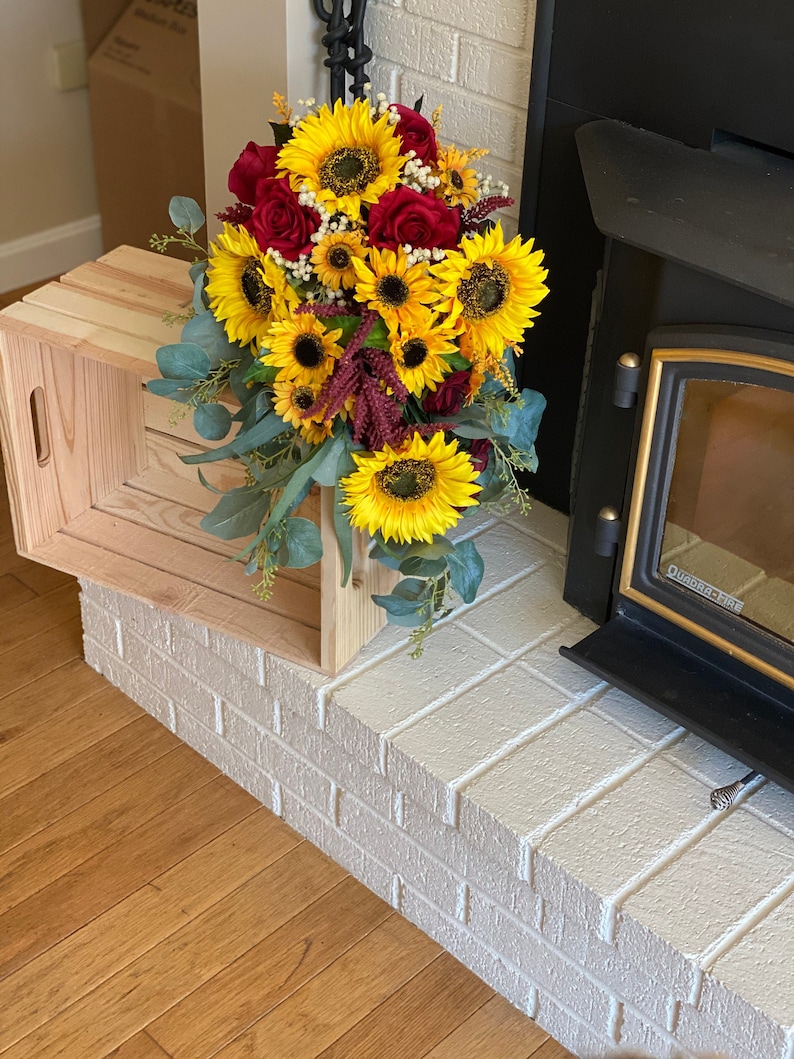 [164] Rustic sunflower and greenery bouquet with burgundy roses and eucalyptus.
---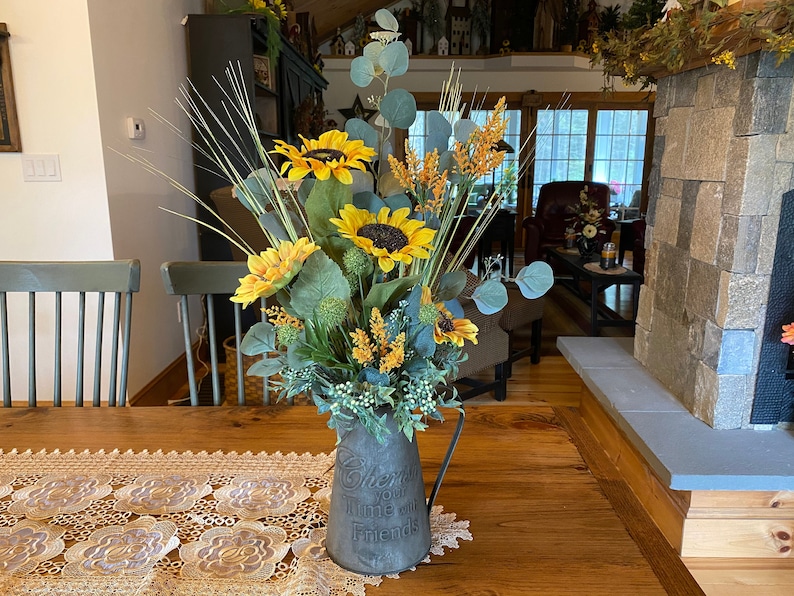 [165] The galvanized watering can serves as a vase for a unique and eye-catching floral arrangement.
---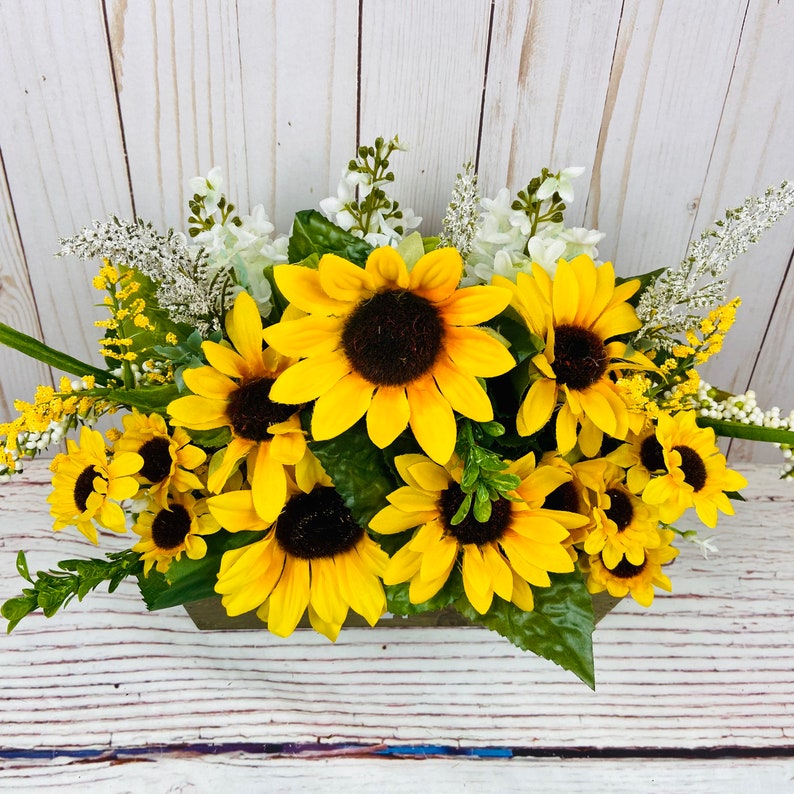 [166] Large and miniature sunflowers and a variety of yellow floral stems and ferns fill up a rustic wooden box.
---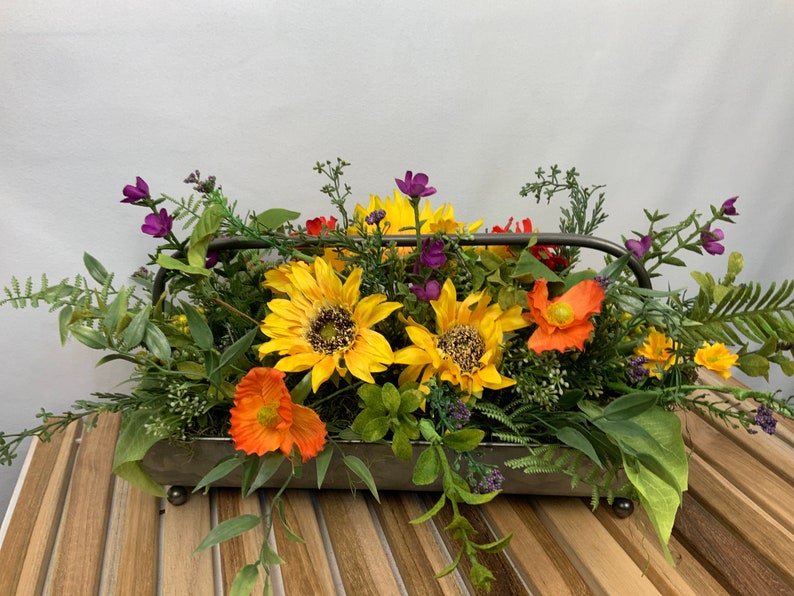 [167] Sunflowers, wildflowers and greenery fill this farmhouse style metal container.
---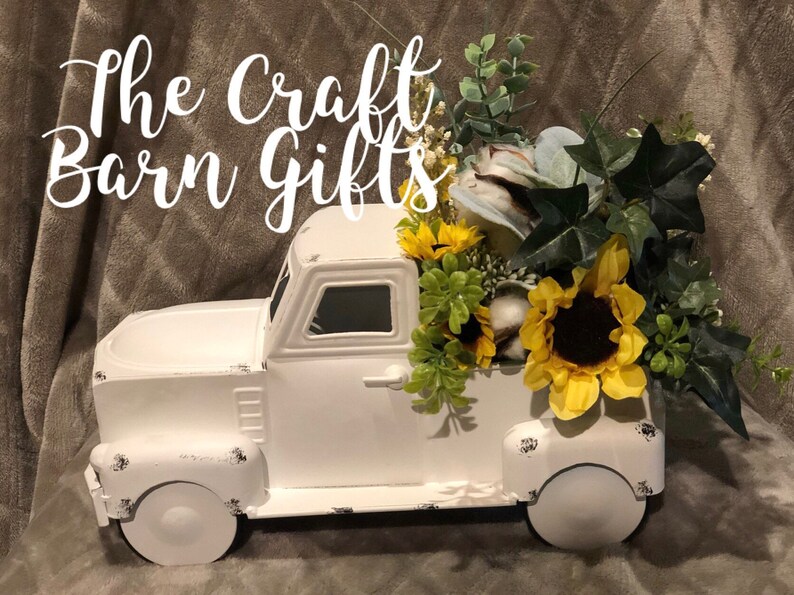 [168] Vintage white metal truck, farmhouse decor, sunflowers.
---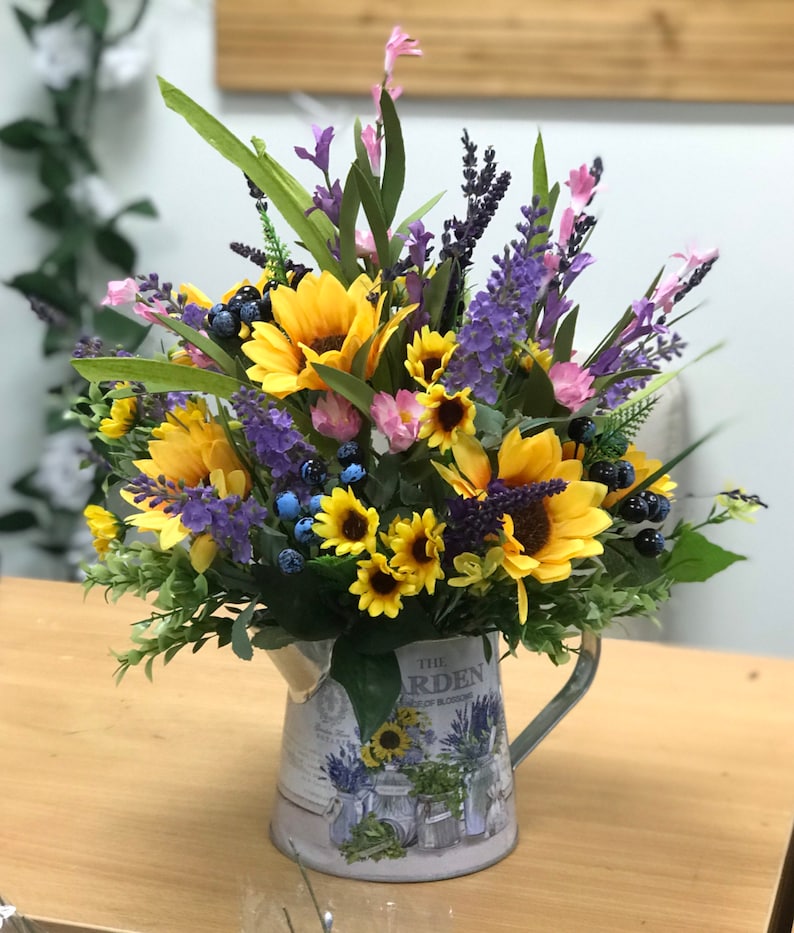 [169] Golden yellow Sunflowers, Mini yellow sunflower Sprays, Lilac Lavender, Deep purple lavender, Purple & pink wild flower sprays, Blue Berries, Dried lavender sprays, Various foliage. Professionally arranged and set with dry oasis into a stylish chic white aluminium jug with a picture of sunflowers & lavender with the wording 'The Garden, essence of blossoms'.
---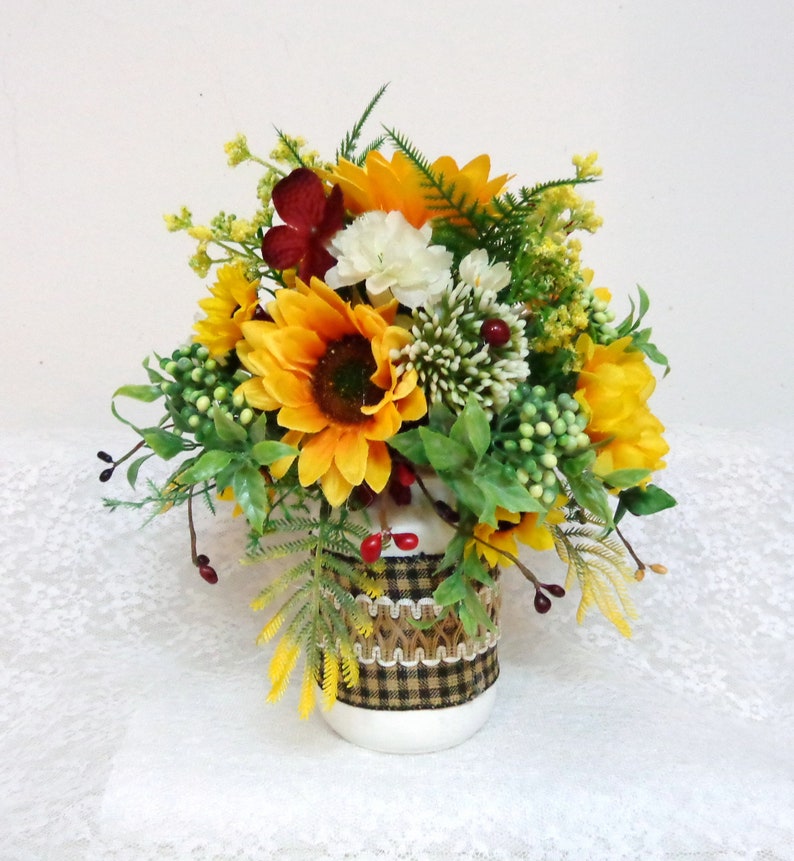 [170] Hand painted glass jar, silk sunflowers, white daisies, berries, greenery, foliage, black/cream homespun ribbon, burlap beige/cream ribbon.
---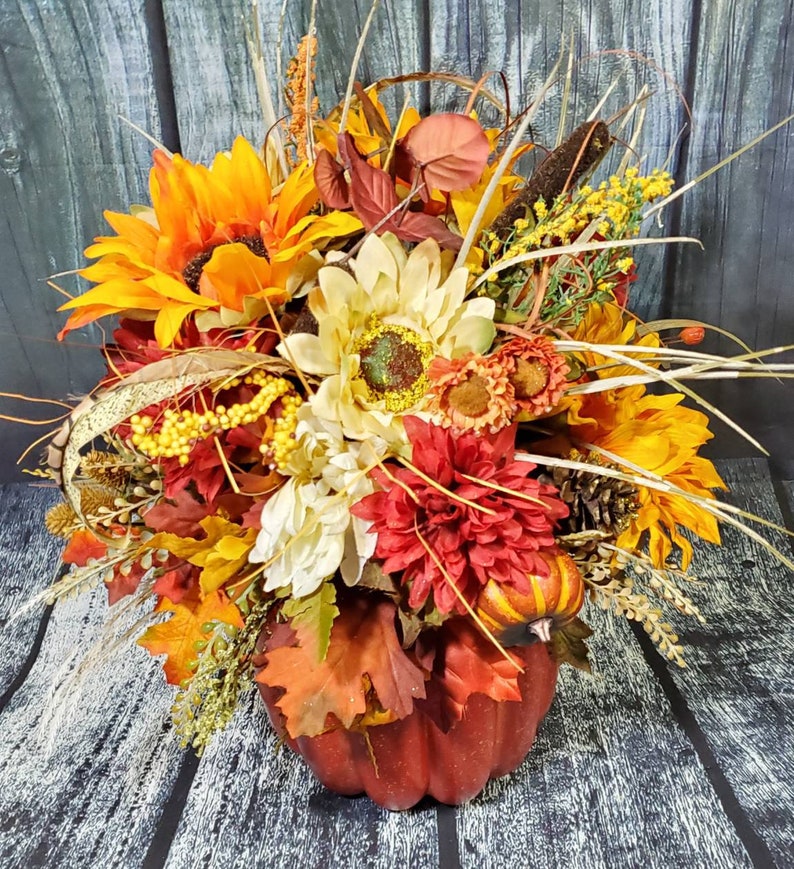 [171] Foam pumpkin adorned with mixed Fall folaige including cat tails, feathers, assorted sunflowers, and wildflower sprays.
---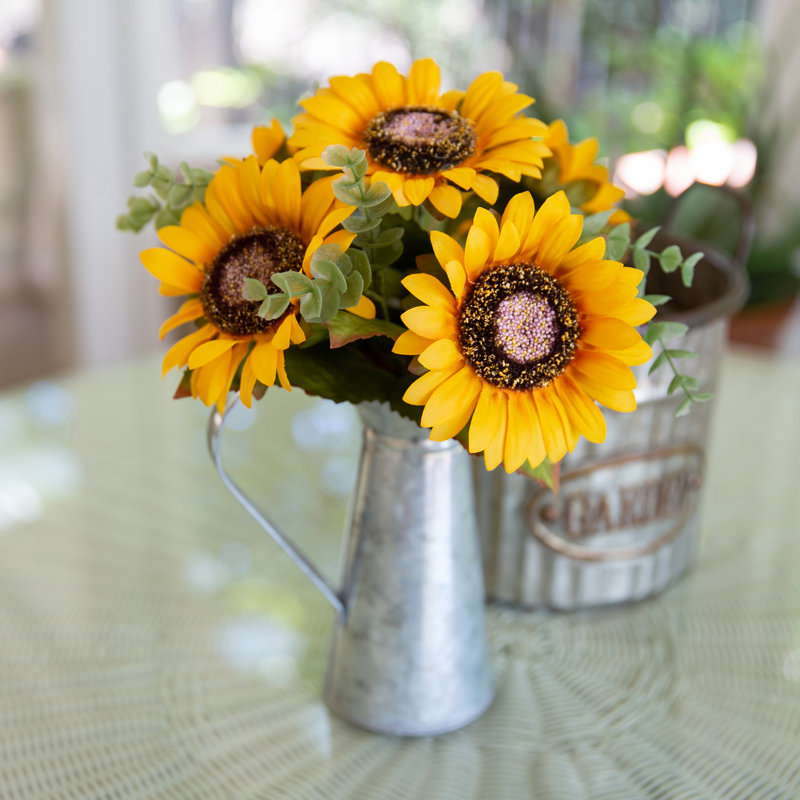 [172] A little ray of sunflowers in a pitcher.
---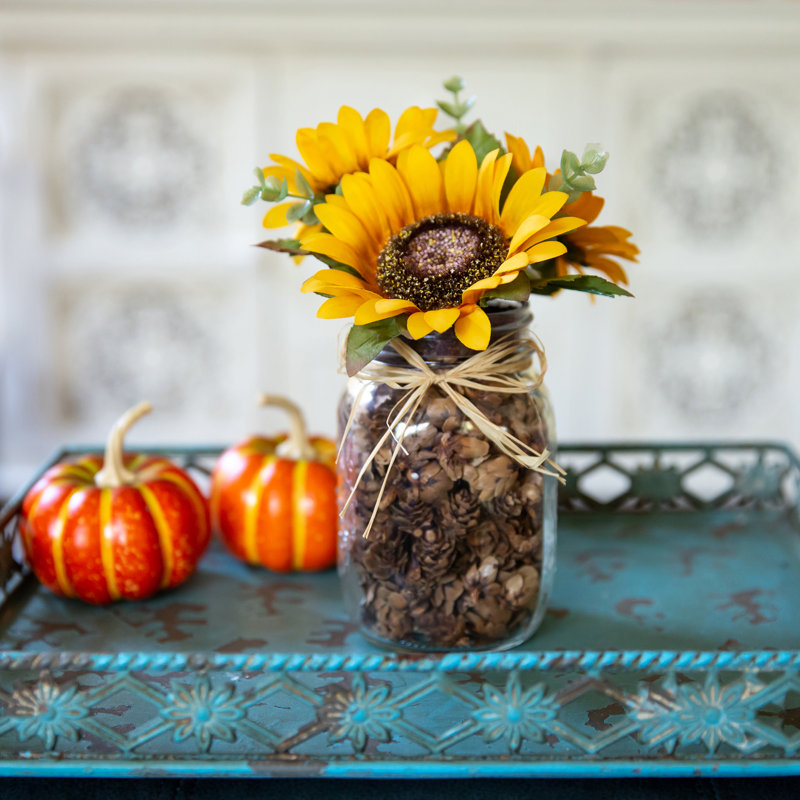 [173] Farmhouse design for traditional Fall harvest décor.
---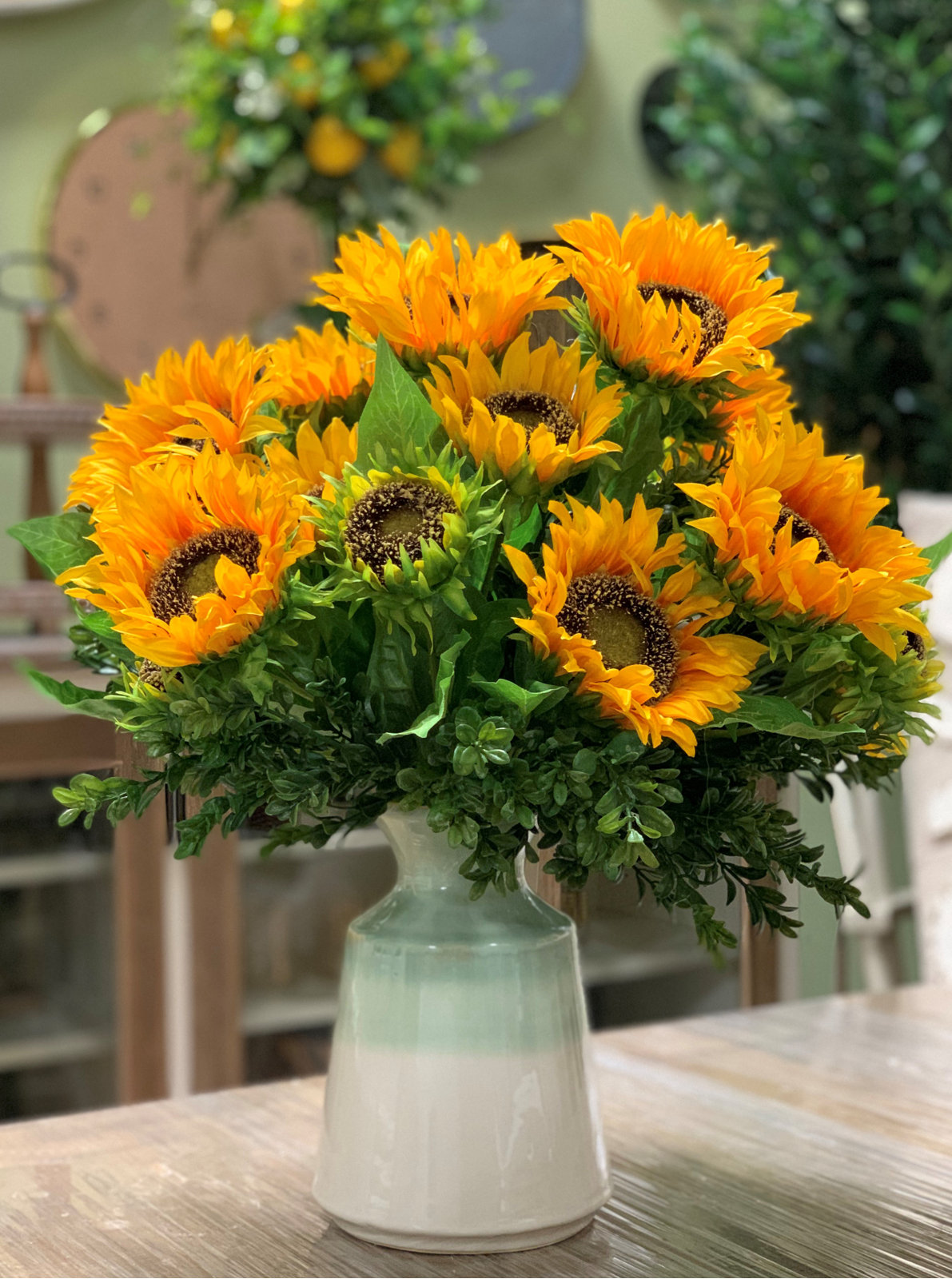 [174] Simple full sunflower and green arrangement.
---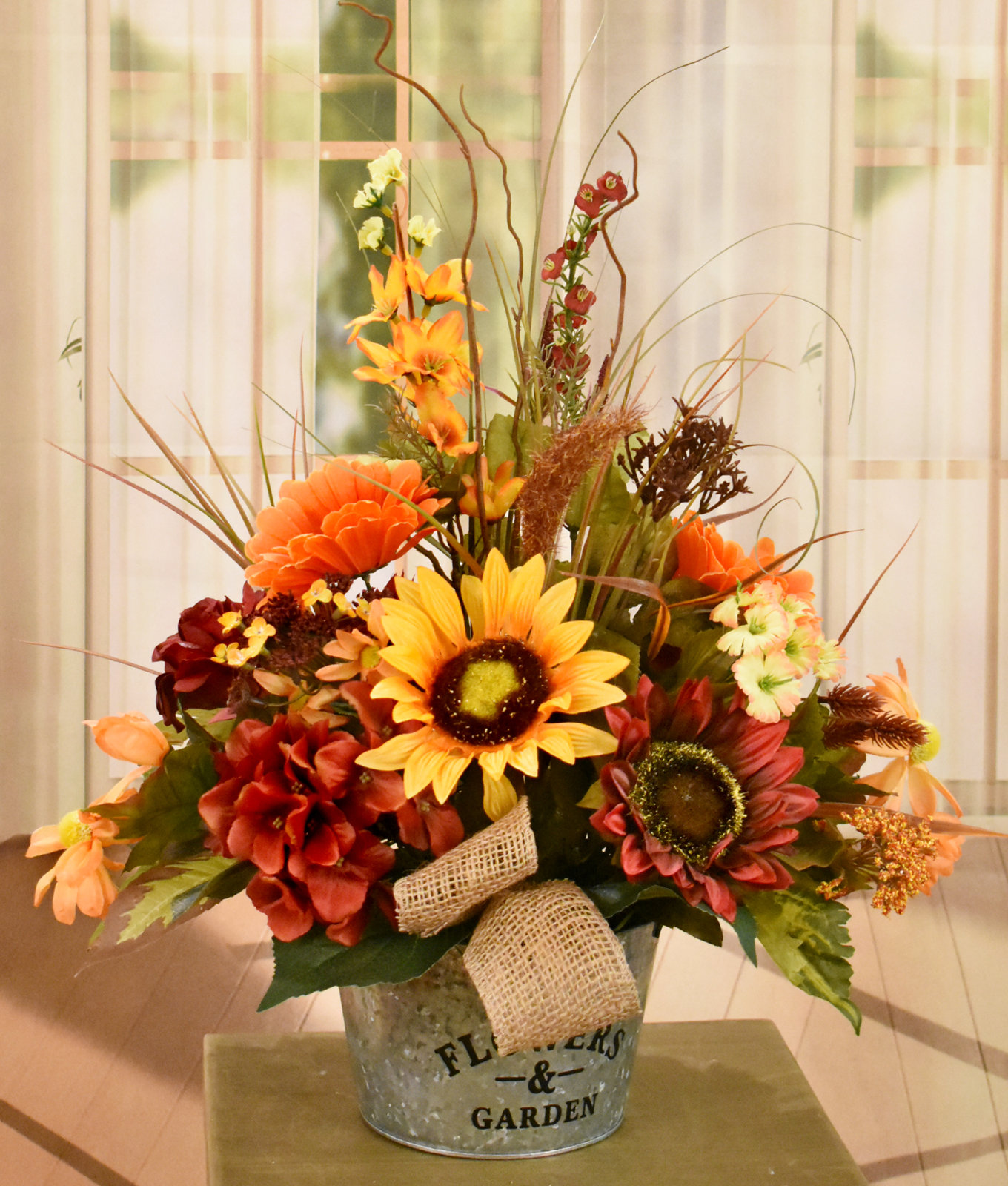 [175] Burgundy and gold sunflowers, mixed wildflowers, and grasses. Accented with burlap ribbon, set in a metal galvanized tin vase.
---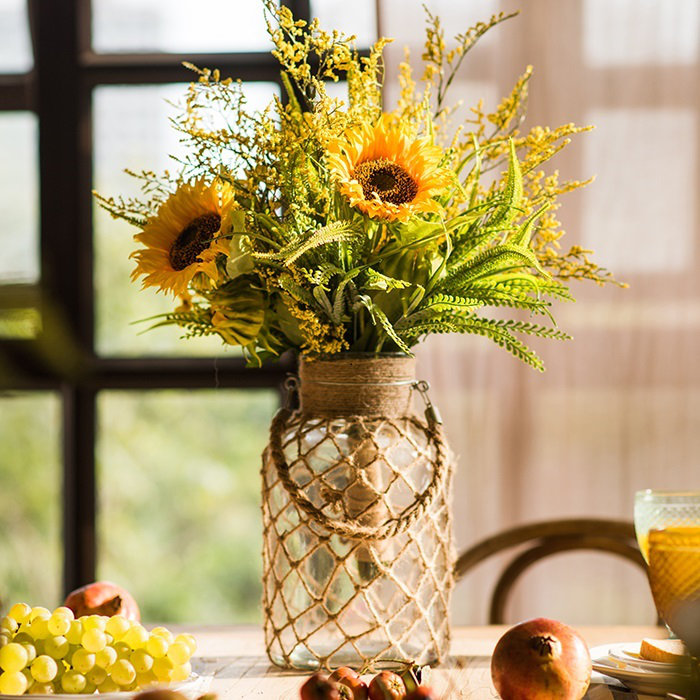 [176] Handmade plant arrangement. Rope pattern wrap around the mason jar.
---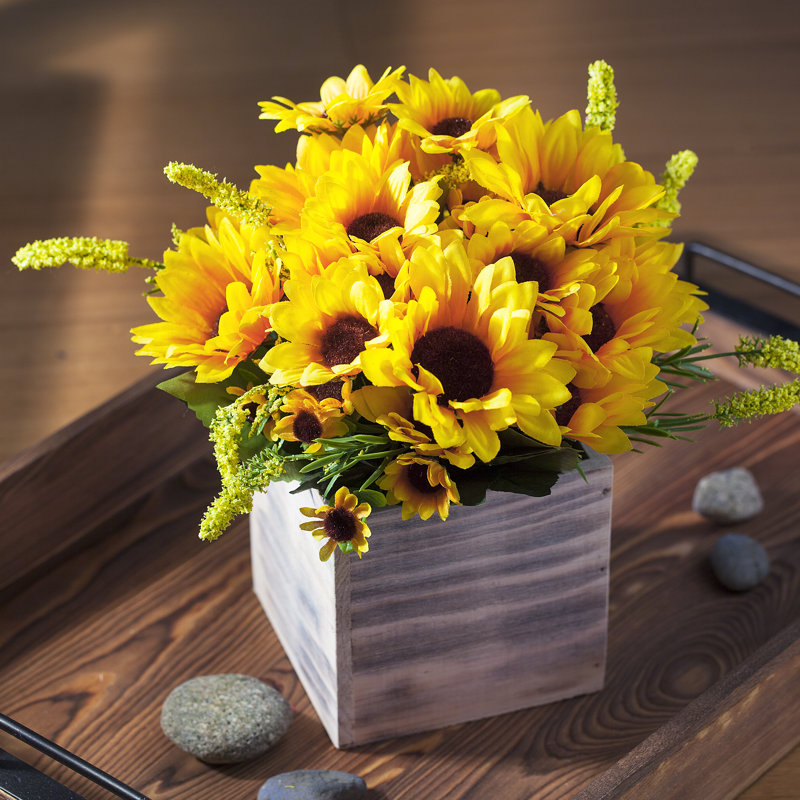 [177] Mixed sunflowers and hydrangea in cube planter.
---
[178] Sunflower mix floral arrangement in watering can.
---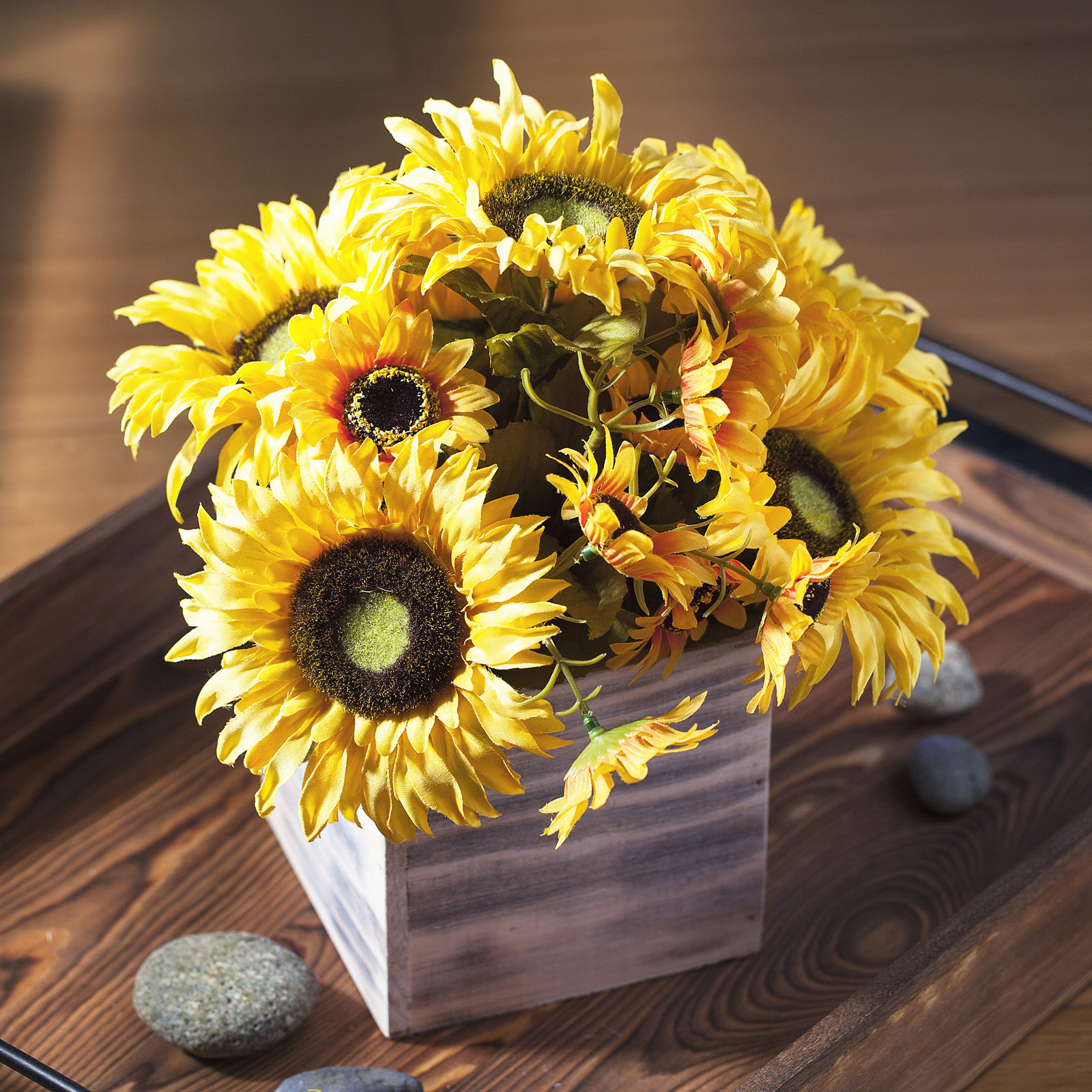 [179] Huge sunflowers in a planter.
---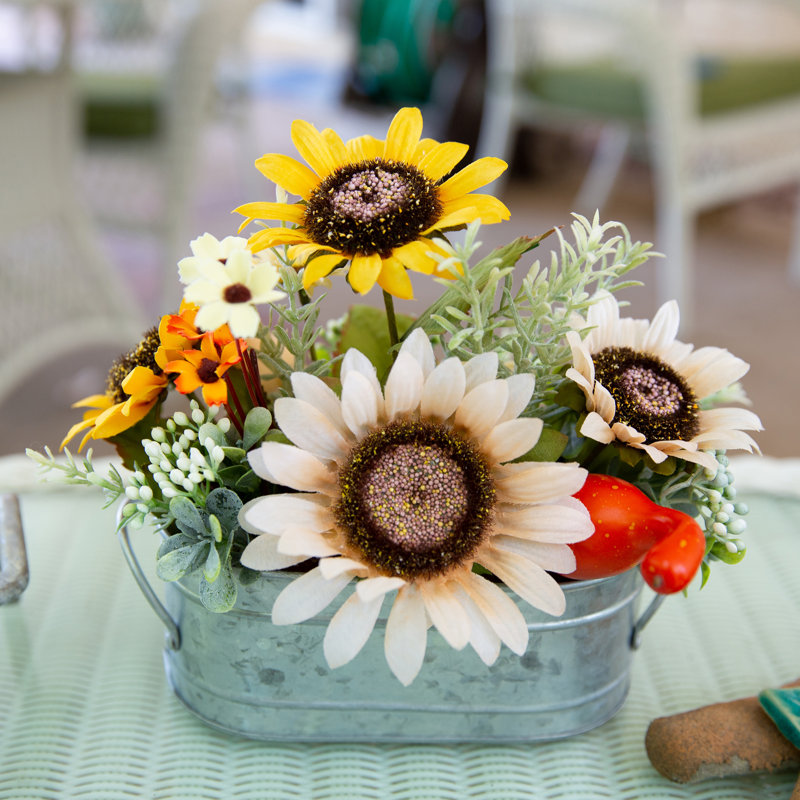 [180] Sunflowers and Pumpkins Mix Floral Arrangement in Tin Pot.
---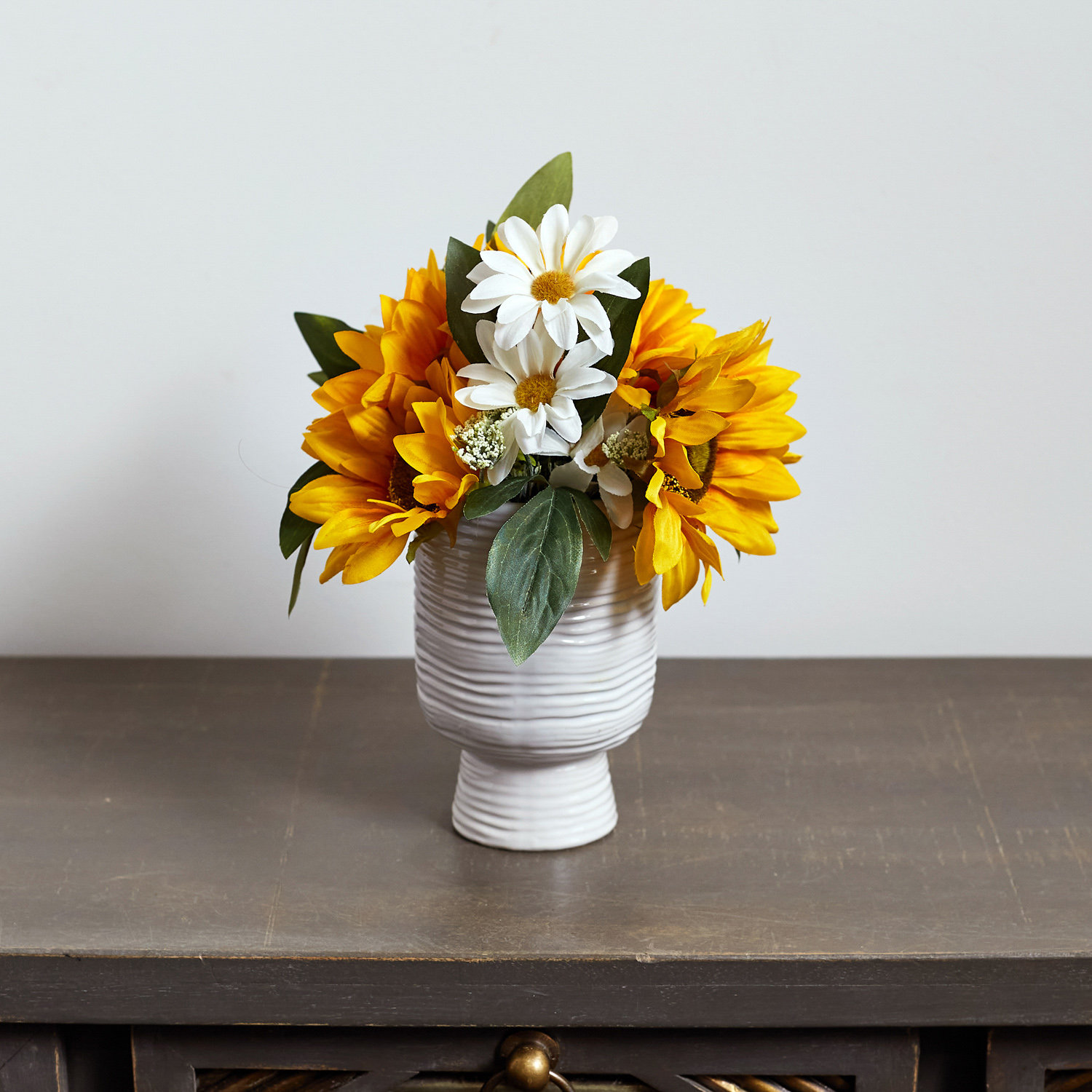 [181] Yellow Sunflower & White Daisy Spring Summer Floral Arrangement in Ceramic Vase.
---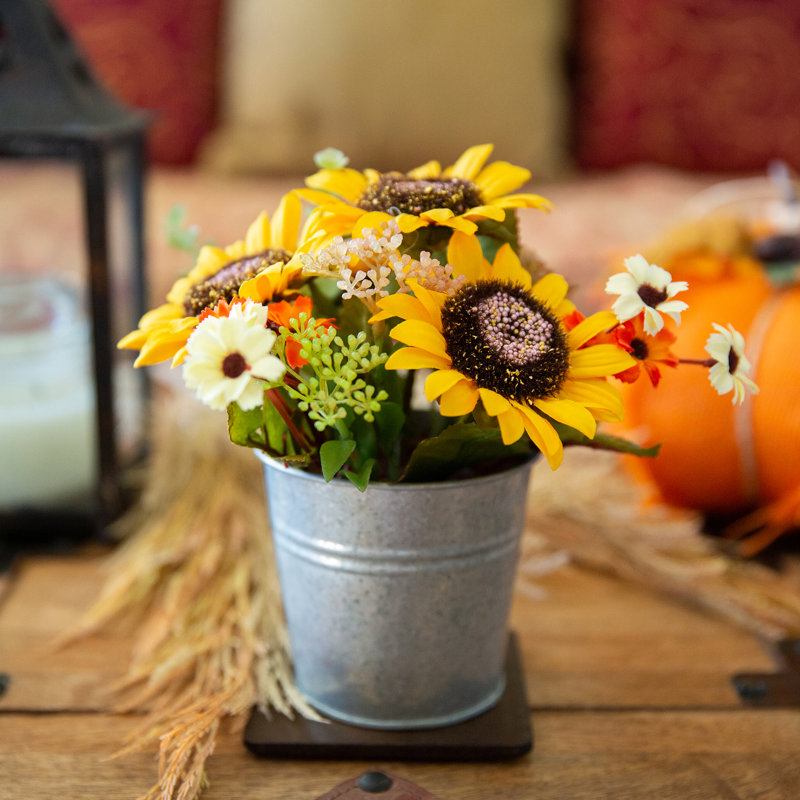 [182] Contemporary design for traditional Fall harvest wedding décor.
---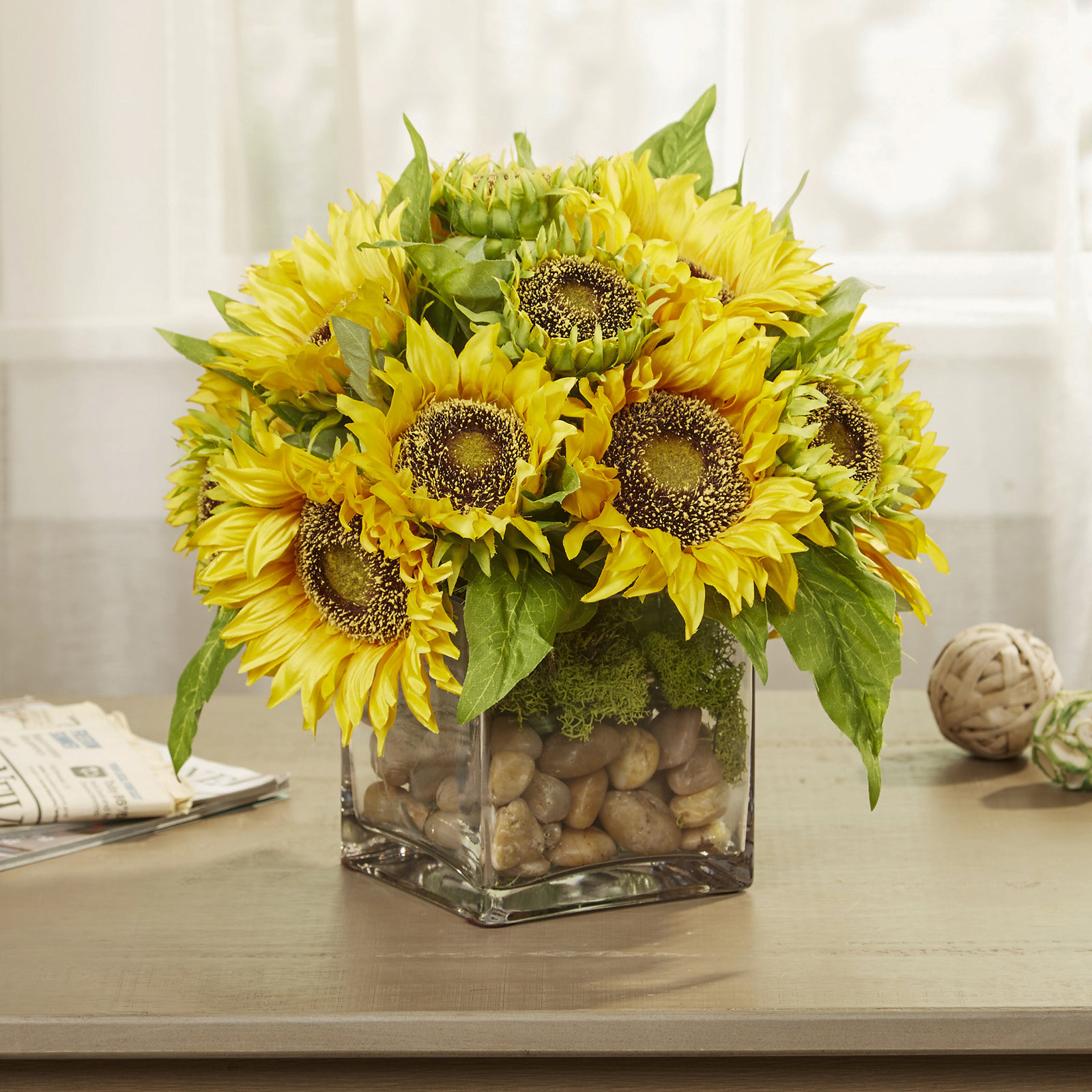 [183] Sunflowers floral arrangement in transparent glass vase.
---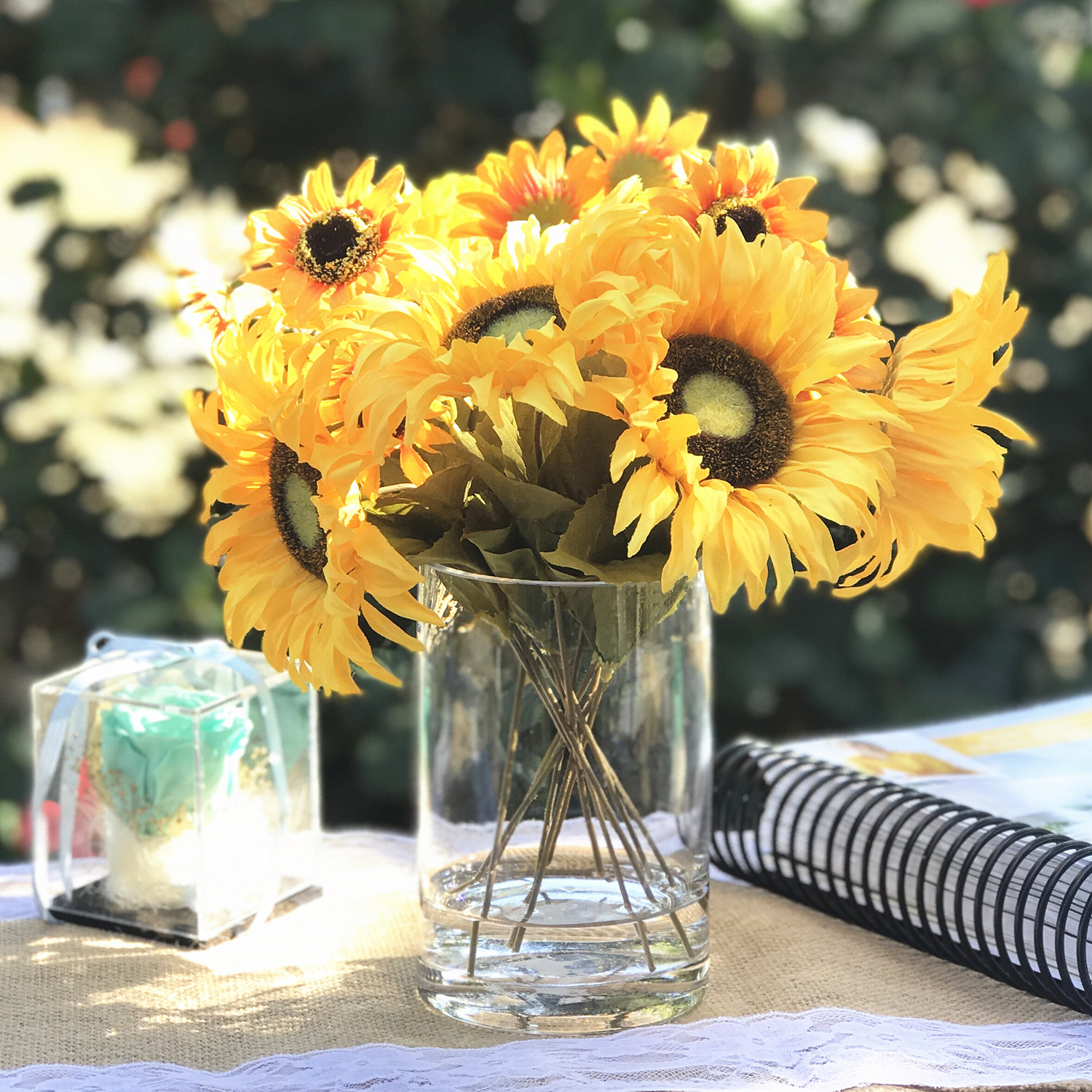 [184] Simple glass vase arrangement.